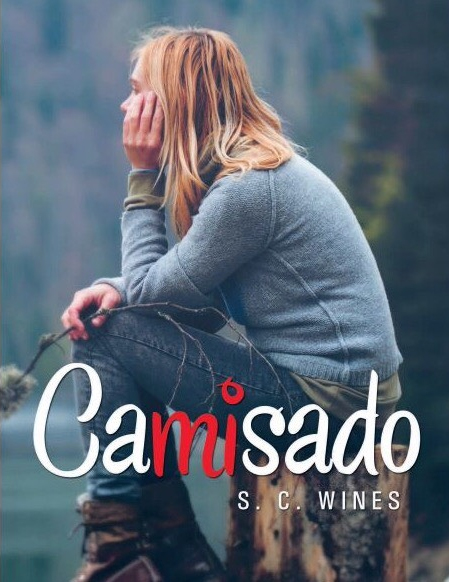 Obtaining an Associate of Arts degree is a good indicator it is time to step out into the unknown and pursue a dream. With an Associate of Arts degree from Eastern New Mexico University in hand, Sarah Wines used her political science classes and subject material to create the world for her new novel "Camisado."
"ENMU gave me the courage and confidence to drop everything, move back home and follow the dream I had been told was unrealistic," said Sarah.
"[Dr. Acheson-Brown] probably doesn't know this, but I always looked up to his 'follow your dreams and live the adventure' attitude he possessed."
Growing up, Sarah found happiness in exploring worlds of books, television and writing. She loved to read "Junie B. Jones," "The Chronicles of Narnia" and the "Harry Potter" series. She wrote fan-fiction for "Kim Possible" and entire episodes of "CSI."
She did not have many friends as a kid due to her family "bouncing around" from military base to military base while her father was in Navy.
"I developed severe depression and anxiety as a teen. The only thing that brought me any actual joy was writing. I wrote almost every day; poems, short stories, half-finished novels… but I rarely shared it," she said.
Sarah was criticized for paying too much attention to books and was often told that writing was not a realistic career choice.
"I was told to find a real job by one of my English teachers [in high school]. That broke my heart, but a small part of me understood it took time and money to dedicate your life to writing something, which may never [publish]. I reluctantly listened and put writing aside. Looking back, my mental health suffered after abandoning my dream," said Sarah.
While in college, she pursued her interest in human nature and behavior, eventually developing plans to become a human rights attorney.
She is passionate about intersectional rights, meaning the rights of those who do not hold power-based positions in society or those who are considered less-than by default and have to work twice as hard to get half as far. Much of her novel is riddled with the same subtext.
"I finally settled on political science with a minor in sociology [because] I still felt a need to help those who needed it. I loved the classes, the subject material, and the people. They were a huge support. It was a valuable opportunity to get to know people whose lives and opinions were different than mine," said Sarah.
She used and stretched the inspiration of "What-If" and worst-case scenarios from her constitutional law class, taught by Dr. Steven Brust, to begin her novel. Her classes were an "amazing push" that placed her back on track.
Sarah said that writing was by no means a cure for her anxiety and depression, but more of a self-medication process, which made her feel like she was succeeding.
"Art is healing. Never stomp on a dream especially if it is your own. Art is not a magic fix to your problems. Take care of yourself, too."
Last December, she graduated with her associate of arts degree and started writing "Camisado." By May, Sarah finished writing the novel and, by June 14, she became an official self-published author.
Sarah is now her own boss in charge of marketing, promotions and creating a fan-base.
"It allows for more creative control, quicker turn-around and more profits. I am the only person accountable for my success of failure. It is a lot of pressure, but very fulfilling," said Sarah.
"My father helped edit, offered ideas and invested in the publishing process. He has always been a huge supporter of my dreams.
"Camisado" is a young-adult dystopian novel about a teen girl named Ember, who fights for the rights and liberties of her hometown in the post-American world of Adira from within the military system.
"The Adiran society is run by a select [lucky and wealthy] few [who place profit over humanity], while others are forced to live in poverty [based on the situation they are born into]. The government goes to great lengths to cover up the terrible conditions of Ember's poverty-stricken community," she explained.
Sarah's inspiration for the novel stems from life around her. Sarah's Twitter page hints she placed Fall Out Boy, Panic! At The Disco, My Chemical Romance, and Hamilton references in the novel.
The title of her novel is a French military term meaning surprise attack during the night, which comes from the Midnight Camisado event in the story.
Her book is filled with references from America's social issues, like the Flint Water Crisis and xenophobia, archetypes of the life of outside "The Hunger Games" arena and "Starship Troopers," along with characterizing Ember around herself.
"[Ember] is coded to have my mental illness, my attitude and my hunger. When a very close friend read an early draft, she could not believe how much [she] was like me. It is [a psychological relief] having a projection of myself leading a rebellion and saving the world," she said.
Sarah believes in the ideology that everyone is someone and everyone matters. She says Luna Lovegood [from "Harry Potter"] made her see that being different or strange was not bad, so she enjoys writing about celebrating differences through fantasy.
"I want people to be spoken to. I want to make a difference through my art," she said. Those who have read her book say they adore it and everyone she knows is excited about it.
Sarah currently resides in Dodge City, Kansas, and she is working on the sequel.
"Camisado" is available on Amazon, Barnes & Noble and Xlibris under the pen name S. C. Wines.
Follow her at Facebook.com/CamisadoTheBook