Eastern New Mexico University alumni Geovanny "Geo" Lujan and Jennifer Sedillo are making their mark behind the cameras in Denver, Colorado. Lujan is a freelance camera operator and his fiancée, Sedillo, works at two local news stations as an operation technician.
Lujan broadcasts live college and high school sports, including football, soccer, basketball and volleyball. He also broadcasts games for the United Soccer League's Colorado Springs Switchbacks team.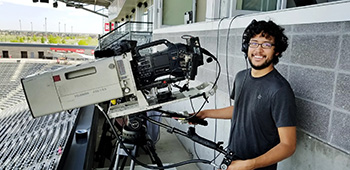 He works with a company called Ingrum Sports Production Network to cover sports in the Denver Metro, in Colorado Springs, Pueblo and Greeley.
"I am responsible for a tight replay camera. I focus on a few players at a time and make sure the action is always tight in my frame," explained Lujan. "I have to build and break down my camera, as well as run all the cables and equipment necessary for a live broadcast."
Lujan, who received a bachelor's degree in communication with an emphasis in broadcast production with a minor in graphic design from ENMU in 2015, said Eastern gave him "hands-on experience" to prepare for life after college.
"When I finished college, I felt ready and prepared to work in the field that I wanted because I have been doing it for years. I believe that is the big advantage of going to ENMU."
During his time at Eastern, Lujan worked at the PBS station in the Communication Building. He ran the camera and shot high school games for the "SportsLook" program.
"The Chase" photographer was named to the Dean's List every semester and won a "few photography awards with El Portal. I was even selected to show one of my photos in an exhibition in Santa Fe that showcase art by artists under the age of 25.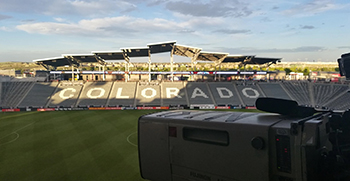 "I loved my time at ENMU. I believe that I would not be where I am today if I went to another school," said Lujan, who chose to attend ENMU partly because that is where his future wife, Sedillo, wanted to go.
"I wanted to move out and experience college away from home. It was also really affordable.
"The thing that made a difference for me was the fact that ENMU was a small school. I had a lot more opportunities to grow and learn. I left ENMU with years of real-world, hands-on experience, which I know I would not have had at a bigger school."
Lujan, from Albuquerque, is a first-generation college graduate. His parents moved to California from Mexico in the 1980s. His mother is a special education teacher and his father is a truck driver.
"I grew up with my parents telling me that hard work pays off if you try hard enough and, if it doesn't pay off, you try harder next time," said Lujan, the oldest of three brothers.
"My role models are my parents. I want to be successful because they sacrificed so much for my brothers and me. I want to make sure they see their sacrifices pay off."
The Summa Cum Laude graduate moved to Denver with his fiancée, Sedillo, almost two years ago and "loves it."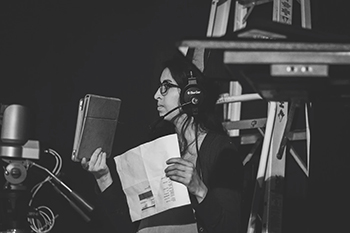 Sedillo, who graduated Summa Cum Laude with a bachelor's degree in communication and a minor in graphic design in spring 2015, works as an operation technician for two local news stations in Denver: Good Day/Fox31 and Daybreak/Channel 2.
She started with floor directing, where she communicated with the anchors/hosts to inform them where to go, what was coming up and if a story was changing.
"The goal is to make sure everything runs smoothly in the studio," explained Sedillo. "I make sure guests are on time and mic them up, I have to build and take down sets and, sometimes, I have to run a handheld camera and jib camera."
Sedillo is also responsible for running the teleprompter, operating the robotic cameras and running audio.
"The best part is you get to eat food, have a few drinks and sometimes pet cute baby otters that are brought into the studio."
She explains her most recent position, a technical operating center operator, as "a glorified router.
"When we send out our field photogs and reporters, I am the one that tunes them in through satellite or portable transmitters. I make sure there is a clear, solid signal, route them into our control booths and then monitor them."
She also moves live cameras, monitors sister stations, keeps updated on breaking news in case the producers/directors want to incorporate it into their shows, tunes in live satellite interviews, connects and monitors the chopper for the city, rolls feed that is sent to the station and makes sure everything is available to the control booths.
"It can get a bit hectic," said Sedillo, who worked at KENW while attending ENMU.
"Working at the PBS station at Eastern was the number one reason why I was semi-prepared for my current job. My boss, Richard Rivera, who is now retired, constantly told my fellow employees and me what to expect if we were to continue in the television industry.
"He had the experience and the knowledge and he shared it with us. I believe the best advice I received from Richard was, 'It's all about who you know.' Obviously, it is good to know what you are doing and have the necessary knowledge, but building a network it what truly helped me get my foot in the door out here."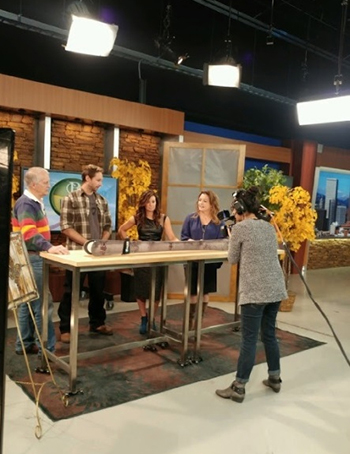 She chose to attend ENMU because it was a "smaller university with smaller class sizes where I felt I would get a more personal education.
"I was very fortunate to have the professors I had at Eastern. Patti Dobson was my amazing advisor who made sure I stayed on track with my curriculum and was always encouraging.
"Roger and Amanda Gatchet were the cool/dynamic duo professors. They always had useful information to share in their classes which helped a lot post-graduation.
"There was also Chad Painter, who taught some of my favorite classes: 'Media Law' and 'Media Ethics.' I took away knowledge from those classes that I believe is necessary for multiple fields."
Sedillo, who was born and raised in Albuquerque, explained that the practicum courses helped her get the "hands-on experience I needed after college."
The middle child of five said her "childhood was very modest, so that taught me how to appreciate everything that I am fortunate enough to have now. My parents were always very supportive and never forced me to do anything. They taught me how to make decisions for myself.
"Growing up, I learned the importance of keeping your family and friends close, because life is hard and having a security blanket makes it a little easier. Even when you move away."
Sedillo and Lujan are making the most of their Colorado experience, by hiking, going to an "awesome" brewery and driving to mountain towns where Lujan takes photos.
"One of the most beautiful places I have ever been to is Maroon Bells in Aspen, Colorado. I was only passing through, but ended up staying for 5 hours because it was so beautiful," said Lujan, whose hobbies include playing guitar, making videos and exploring the mountains.
The couple is currently planning their honeymoon.
"I was thinking Costa Rica or Panama," said Sedillo. "Hawaii would be nice, too. So would any European countries. It will most likely be Costa Rica or Hawaii."
They are also planning their career paths.
Lujan's career goals are to "see how far I can go. Hopefully, I can travel the world and get the opportunity to work in as many places as possible. The next goal at the moment is to run a camera for one of the major professional sports here in Denver."
Sedillo is "still learning a lot so I don't really have an 'ultimate' goal. I definitely want to work my way up the totem pole, but that's going to take time. I'm always keeping my eyes open for new opportunities."