Karen Sanchez Gonzalez, who graduated from Eastern New Mexico University with bachelor's degrees in political science and Spanish in May 2017, plans to attend Southern Illinois University School of Law this fall.
She chose to pursue law to help people.
"Helping people has always been my focus, but I never really knew how I would accomplish that. I had law school in the back of mind but, to be honest, I did not think I would ever be able to make it.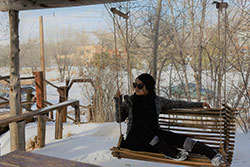 "I started taking classes with Dr. Frederick Greene and learned that I was fascinated by law and that I wanted to make a difference in the justice system."
Karen explained that Dr. Greene, an associate professor of business law and management at ENMU, guided her throughout the "whole process. If it was not for Dr. Greene, I honestly do not know if I could have done it. He took numerous hours outside of his classroom to help me prepare for law school."
She said that Cris Watson, who is the executive secretary of the Office of Planning and Analysis and attended law school, helped her "prepare for my next chapter in life."
The former ENMU Spanish Club member is "excited to take classes that focus on exactly what I want to do. I am excited for all the hands-on experience I will be receiving and, of course, to move across the country."
She prepared for law school during her senior year by studying for the LSAT exam, getting recommendation letters from her professors and submitting a personal statement.
"It was a very stressful year, but I somehow survived it," said the Chi Omega member.
Her first option for law school was the University of New Mexico School of Law, but, when she was not accepted, she began looking for options out-of-state.
"One school, in particular, caught my eye," she said about the Southern Illinois University School of Law. "They were willing to help me with my tuition and Dr. Greene highly recommended the university.
"As I started looking more into it, I realized that was the school that I wanted to pursue my law degree in."
The former member of the ENMU Pre-Law Club and the Political Science Club hopes to "change legislation that will positively impact the lower-income community. I will open my own law firm and make a positive impact in my community."
Karen was born in El Paso, Texas, and raised in Mexico for the first eight years of her life.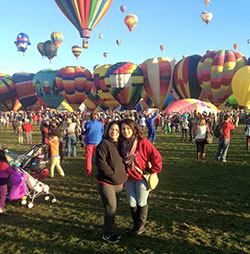 "It was very difficult moving to a new country and learning a new language. My parents had just enough to put food on our table," explained Karen, whose mother is a housekeeper and father is an electrician. "We moved to different parts of the country because they could not find a place to settle that they could afford.
"However, my parents pushed hard and never gave up and were able to give us the best shot at the American Dream as possible by supporting us throughout our education.
"My parents are my biggest role models. They struggled so much to provide us with a decent life," said Karen, who has a younger brother in high school. "No matter how many obstacles came their way they overcame them every time and were able to accomplish their American Dream.
"I am extremely proud of them. I hope that one day I can be just like them and not let anything get in my way of accomplishing my dreams."
Her interest in politics began early. During her high school years, Karen volunteered for the "Obama for America" campaign.
"I instantly fell in love with helping my community and having a voice in the political world," said Karen, who met former Vice President Joe Biden.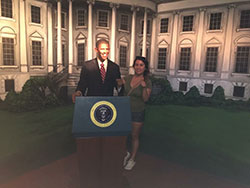 The ENMU Helping Hand Award recipient for 2017 chose to attend Eastern because she wanted a "small campus where you could have one-on-one time with your professors. Also, a campus where you felt right at home and I knew ENMU could offer that and much more.
"ENMU has honestly been the best decision I have made," said Karen, who was on the Dean's List from fall 2013 to spring 2017. "I had professors that actually cared about their students and went out of their way to make sure we were succeeding both in their classrooms and in the professional world."
She praised the people she worked with in Academic Affairs, as well.
"Not only were they my co-workers, they cared about my goals. I have met some of the best people at Eastern New Mexico University."
Karen's hobbies include traveling, hiking, taking pictures and dancing.
Her favorite places she has traveled are Guatemala and Paris.
"They have so much to offer culturally and the landmarks are fascinating. Everyone is so nice. I would love to go back and explore some more."
Karen will be traveling to Cancun in August, before starting law school.