Dr. Patricia Thatcher, an Eastern New Mexico University Greyhound Grad and retired staff and faculty member, volunteers as a board member, interview coach and judge for various pageants.
"In the late 80s and early 90s, I became interested in volunteering in the Miss America system when I was asked to be a host mom for one of the Miss Portales contestants," she said.
Since she was four weeks old, Dr. Thatcher has lived in Portales. She graduated from Portales High School and attended ENMU.
Dr. Thatcher received her bachelor's degree in history in 1969 and her master's degree in English in 1970. In 2003, she received her doctorate in rhetoric and linguistics from the Indiana University of Pennsylvania. After working as a teacher and administrator in the Eastern New Mexico area's high schools and universities for 39 years, she thought volunteering for scholarship pageants seemed like a good fit.
"There's so much more to beauty pageants than what people think; the girls have to be articulate, interview well, be physically fit, and have an amazing talent. I am involved with pageants and enjoy it so much because these women are well-rounded and very intelligent," Dr. Thatcher explained.
Beginning as a host mom, she began coaching contestants in interviews for their state and national competitions. Dr. Thatcher prepared contestants for possible questions judges might ask about their promoting platforms or charities they are involved in. She also preps them on current events for the private and on-stage interview competition phases.
"They are questioned about current events and how they feel about what's going on in the world," she said. "I helped judge a pageant in Omaha, Nebraska before the 2016 election. It doesn't matter [which candidate the judges planned to vote for], it is if the girls can speak, relate and back up what they're saying. It's an intensive interview."
In early September, Dr. Thatcher helped judge the 74th National Sweetheart Pageant in Hoopeston, Illinois. Originally, the pageant began as part of the National Sweetcorn Festival and grew into the National Sweetheart Pageant.
After competing in the Sweetheart pageant, a lot of girls go on to win their state pageant [in the Miss America pageant system] the following year.
After receiving the opportunity to judge the Sweetheart pageant, the executive committee asked Dr. Thatcher to be the head judge. "I didn't apply for that particular part, but that was awesome for me," she said.
Judges need to be as prepared for the competition as contestants need to be. Two to three weeks before Sweetheart, they receive the contestant's applications, biographies, platforms and pictures.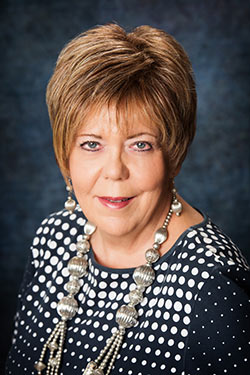 Dr. Thatcher has learned a lot about the girls' majors like engineering, math and aerospace. As part of her platform Cuddles for Kids, one contestant partnered with Children's Miracle Network to present teddy bears to patients. One contestant supports and honors returning veterans.
Another contestant volunteers with Alzheimer's patients for her platform "Memories Through Melodies." The Maryland Sweetheart contestant is a graduate of the Coast Guard Academy, has been deployed seven times and currently serves as an officer in the Coast Guard in Washington, D.C., all while having time to compete in pageants. She made top ten.
Judges also need to be up-to-date on current events.
"I was getting frustrated with the news, so I had to take a break for a few days. Then before the competition, I thought I better listen to the TV in the background while I get ready so I'm up on my game," she said.
As head judge, her job was to make sure everyone was on time and where they needed to be. She asked the first interview question, kept interview time and conducted a speech at the end of the pageant.
She spent a lot of time preparing questions for each girl. "I reviewed each state contestant and I wrote three questions for her to answer, then I had a general question about the First Amendment," Dr. Thatcher said.
"We interviewed Kentucky Sweetheart, and she's a mining engineer major. Oh my gosh, she knew everything. We asked her about coal and the viability of it, and she knew it."
Twenty-two girls representing 22 states competed at Sweetheart. Dr. Thatcher says out of the 22, 14 of the young women have reached out for feedback so that if they want to compete again, they can.
"I've always enjoyed helping young women achieve their goals—academically and personally. Pageant volunteers and judges should enjoy working with young women [for a clear desire to mentor and serve]."
Dr. Thatcher's favorite aspect of her experience in Hoopeston was watching the young women grow and to see their overall confidence go up.
"You cannot imagine [the difference to step up their game] from prelim night to 'I made top ten' night by watching the walk, the talent and their faces light up when they're interviewing. The competition is just so much more competitive," she explained.
She said people "should pay attention" to the National Sweetheart Pageant because of the "genuine people and the wonderful small-town atmosphere. I cannot say enough about the support the executive committee and entire town of Hoopeston give to the contestants, their parents and the judges."
"It is different from any other pageant I've been involved in [because the small community is involved]. They housed the women in private homes with home-cooked meals. They also took care of the judges' lodging and food."
On the day of the parade, judges and contestants' outfits were coordinated with a matching Corvette to ride in. Dr. Thatcher wore black and white and was placed in a black Corvette during the parade.
As part of preliminary scoring, the contestants dress up in a costume which represents them or their states and explain their costume to the judges.
The judges crowned Lauren Cabaniss, South Carolina Sweetheart, as Miss National Sweetheart on Sept. 3. She won over 4,500 dollars in scholarships and other prizes. First-through-fourth runner-ups won small scholarships and prizes.
Dr. Thatcher plans to continue mentoring young women in the pageant world and judge the occasional pageant. She plans to stay as active and healthy as possible.
She is married to Chuck Thatcher, who received his bachelor's degree in business administration in 1968. You may find Dr. Thatcher bowling, swimming, dancing or playing bridge.