Editor's Note: Ninth Judicial District Judge Donna J. Mowrer will be giving a presentation titled "Pathway to the Judiciary - from Greyhound to 'Your Honor'" with United States District Judge Robert C. Brack on Sept. 28 from 9:30-11 a.m. in the Zia Room of the Campus Union Building.
The purpose of the presentation is to encourage ENMU students of all majors to consider a career in the law and to discuss law school. Since both of the judges giving the presentation are Greyhound Grads, it is evident that a degree from ENMU can lead you to a wonderful career. The judges will tell them about their journey from Eastern to law school and answer any questions students may have.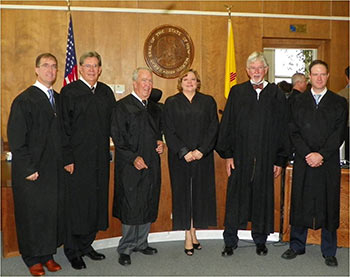 Judge Donna J. Mowrer was the first woman appointed and elected to the bench in the Ninth Judicial District in Portales. The Ninth Judicial District Judge in Division IV, who graduated from Eastern New Mexico University in 1987, was appointed in August 2011 and sworn in on September 11, 2011.
The Greyhound Grad has a general jurisdiction docket, which means she handles "all types of cases from lower court appeals to felonies, misdemeanors, civil cases, domestic relations cases, abuse and neglect, juvenile delinquency, literally any type of case.
"Every day is different and unique, part of why I love the job. I can be presiding over a criminal trial one day and hearing a motion for summary judgment in a civil case the next day," explained Judge Mowrer.
While being a judge is a "difficult job," Judge Mowrer finds that it is "filled with personal rewards for me. One of the most enjoyable things I get to do is to finalize adoptions. I love making 'forever families' official."
Since 2012, the district has held a National Adoption Day celebration in November where they finalize adoptions for the entire district
Judge Mowrer has also been involved with Drug Court, a program that helps offenders obtain and maintain sobriety while serving time on probation in the community, as a sitting Drug Court Judge since 2012.
Her career goal is to see the Drug Court expand to help juveniles who struggle with addiction. She also believes a Veteran's Court program to assist military veterans would be beneficial.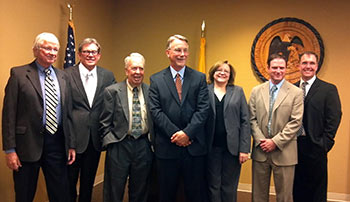 Judge Mowrer was born at Edwards Air Force Base in California and lived in the Philippines before coming to Clovis in 1970. Her father was a member of the United States Air Force and was stationed at Cannon. He chose to remain in Clovis when he completed his service, working as a newsman for several local radio and television stations. For a time, he owned a local newspaper. Her mother worked alongside her father.
The Greyhound Grad, who was the first person in her immediate family to graduate from college, has twin brothers who are two years younger than her and a sister who is seven years younger than her.
She discovered her love of law in seventh grade, when a student teacher had her class do a mock trial. "I knew then that I wanted to be an attorney," said Judge Mowrer, who was involved in the Curry County Teenage Republicans in high school and knew she wanted to major in political science.
Judge Mowrer chose to attend ENMU because it had a "fantastic" forensics/speech and debate program and it was "close to home and affordable."
She worked at the ENMU Police Department under Chief George Reynolds. The Zeta Tau Alpha member held several executive council offices. The student senator served as Floor Whip and was a member of the Judiciary Committee. The member of the ENMU Speech and Debate Team received a Talent Scholarship in Speech, a Curry County Federated Republican Women Scholarship, recognitions for ASENMU Floor Whip and several awards from Zeta Tau Alpha.
Being a member of a women's fraternity helped her "hone leadership, problem-solving and people skills. These women are still some of my closest friends."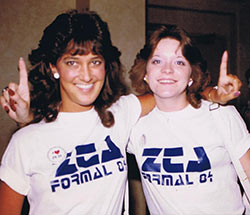 She was "consistently challenged to think differently and more analytically" by Dr. Anthony Schroeder in the Department of Communication. Her favorite professors were Dr. Schroeder and Dr. Navin Sinha, who taught political science, because they "encouraged me frequently."
Judge Mowrer said that the most important aspect of ENMU is that is a "small school with big ideas and caring professors."
She worked several jobs to pay for school. She worked full-time for the Portales News-Tribune, starting in 1984. She was named the city editor and covered ENMU, while "still trying to attend, sometimes part-time."
While sitting out of school for a semester to focus on work and plan for her wedding, Judge Mowrer received a call from the office of ENMU President Dr. Robert Matheny requesting she come by that afternoon.
"Assuming I was getting an exclusive interview, I went to the meeting armed with my camera and my pad," explained Judge Mowrer. He asked her to sit down and said he noticed that she was not enrolled in school that semester. He then inquired if she needed any financial assistance and wanted to make sure she was going to return to school.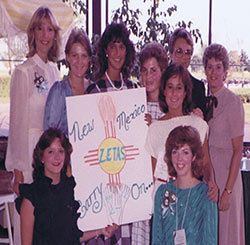 "I knew then I would certainly return and redoubled my efforts. I was so humbled that the University President had singled me out to make sure I returned to school," said Judge Mowrer, who received a bachelor's degree from ENMU in political science with a minor in speech communication in December 1987. "I saw the same caring with my own children when they attended ENMU. Anytime I ran into Dr. Gamble, he would ask about my children by name. At Eastern, you are a real student that is cared about by the faculty and staff."
She said being a Greyhound "prepared" her for her job as a judge, because she "learned critical and analytical thinking" from her speech communication and political science professors. She also learned the "importance of belonging and community."
She added that being involved in Zeta Tau Alpha prepared her for her career, she learned to "follow through and compromise to solve any situation."
Judge Mowrer's advice to students interested in her career field is to "take a variety of courses even some outside of your comfort zone. The law touches every aspect of your life and the study of the law is just as varied.
"Don't think you can only go to law school if you are a criminal justice or a pre-law major. I did not understand the depth of the law until I went to law school and discovered physicians, nurses, engineers and scientists were my classmates."
She also advises students to be involved in extra-curricular and community service activities, because law schools "look for investment in communities and personal growth."
Judge Mowrer worked at the Portales News-Tribune from August 1984 to May 1986 as the city editor, covering the police beat, school board meetings and all news items. She wrote many articles "celebrating ENMU" for the University's 50th anniversary.
From July 1988 to August 1989, Judge Mowrer served as the Executive Director of Youth Opportunities Unlimited, an organization that provided alternatives to detention for troubled youth and after-school programs.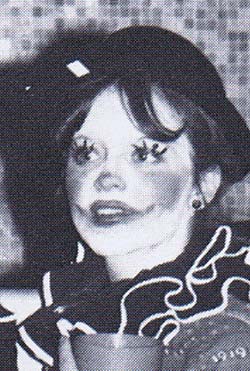 She worked for the Children Youth and Families Department, formerly called the NM Youth Authority, from December 1988 to July 1998. She started as a juvenile probation/parole officer and ended as a JPPO Supervisor, having also served as an Acting Chief Juvenile Probation Officer.
Judge Mowrer attended the University of New Mexico Law School from August 1998 to May 2001. She graduated magna cum laude and Order of the Coif. She was in the top ten of her graduating class.
During her time in law school, she was a research assistant and class tutor for Contracts, Torts and Criminal Law. She also received the "Irwin Stern Moise Award in Legal and Judicial Ethics" and Clinic Honors.
Before becoming a Ninth Judicial District Judge, the Greyhound Grad worked in the Ninth Judicial District Attorney's Office from August 2001 to August 2011. She started as a law clerk before she was sworn in as an attorney and ended her career there having served more than seven years as a Deputy District Attorney. She prosecuted cases ranging from petty misdemeanors to felonies, including several murder trials.
She was named "Prosecutor of the Year" in 2010 for the Ninth Judicial District. She also received the "Zeta Tau Alpha Certificate of Merit," the second-highest honor bestowed by the Fraternity.
Judge Mowrer has been a group facilitator at the National Judicial College in Reno, Nevada, several times and assists with training new judges from across the United States.
She attends Central Christian Church and volunteers there. The member of Altrusa International of Portales, a local service organization, regularly volunteers with the Emergency Food Assistance Program and assists in distributing food once a month in Portales.
She is still involved with Zeta Tau Alpha as member of the local alumnae chapter and as a National Officer serving on the National Anniversary Committee.
Judge Mowrer has been married to her husband, Jesse, for more than 30 years. They have two daughters: Angela Hall, who works in ENMU's Office of Financial Aid, and Marissa Mowrer, who is working on an MBA from ENMU and is an independent writing consultant. They also have a golden lab mix named Honey who is more than 15 years old.
Being a Greyhound Grad runs in the family: Judge Mowrer's husband, his father and both of her daughters have graduated from ENMU.
Her hobbies include gardening, reading and travel. She also collects political buttons.
Judge Mowrer is "most influenced by my relationship with Jesus."
Her "biggest" role model she had in the law was the late Judge David W. Bonem.
"He was honorable, honest, caring, compassionate and humble," she explained. "When I decided to go to law school, he was honest with me about where he thought I should go and then provided me invaluable advice and, later, internship experience.
"After law school, it was extraordinary to practice before him. His compassion never wavered. When he saw a need, he set out to fill it. He had three big passions in life: his Lord, his family and baseball, in that order!"