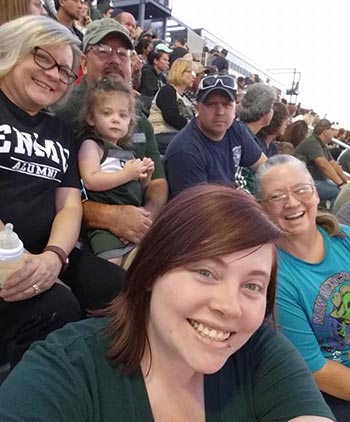 Angela Hall, who graduated from Eastern New Mexico University with a bachelor's degree in archaeology and anthropology with a minor in history in 2014, has returned to Eastern as a financial aid specialist.
She chose the position because of the opportunity to "help guide students to get all the help they could in paying for college and getting a degree. I enjoy being able to help guide students who may not have otherwise had the guidance to get through the process of getting Financial Aid."
Her goal for the position is to "help each student as much as possible each time I talk to them."
The Greyhound Grad enjoys interacting with students. "There is such a diverse student base here; every student I meet comes from a different background, and I truly enjoy getting to know each of them," she explained.
"The people in the Financial Aid office are great to work with," Angela added.
Her favorite thing about ENMU is the diversity. "Even though we are all different I really enjoy how much each individual and group or office works together and does what is best for the student and the University," she explained. "I saw it a little bit as a student, but now that I am behind the scenes I really see just how much each office works together to ensure each student gets what they need to out of the University."
Angela was born and raised in Portales. She looks up to her mother, who is in law, and her father, a retired firefighter, on a "daily basis for how to live life, love my family and work hard."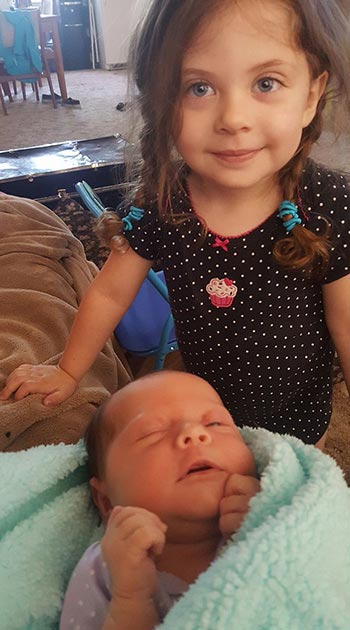 Her sister is an ENMU graduate, will be getting her MBA this year and owns a technical writing business. "She is my best friend, and I am excited to watch her grow into the awesome person she is," said Angela.
Angela's husband is a firefighter who graduated from ENMU with a bachelor's degree in music performance. The couple, who met while attending college, have two girls, a three-year-old and a five-month-old, and two dogs, a Shiatsu-Pug mix and a Husky-German Shepard mix.
Before joining ENMU as an employee, she stayed at home with her oldest daughter. Before that, she worked at a flower shop.
Her hobbies include hanging out with her family and watching movies and television shows. To relax, she likes to crochet and knit. "I also 'collect' fountain pens. I use quotes because I am much more into the functionality of the pen rather than the look or price. I love the way they write and feel in my hand. It is a very different experience from that of using a ballpoint pen."
The Greyhound Grad's favorite place she has traveled was Romania. She went there to do some excavations and study human remains when she was a junior in college in 2013.
She excavated for two weeks in an area that was a church structure before a mudslide and researched human remains from other excavations for the remainder of her time there.
"It was such a dreamy place to be in the little town I was in," she explained. "Everyone was so relaxed, they walked everywhere, woke up late and went to bed early. They had expresso on every corner, and everyone just took their time and did everything well.
She chose to study anthropology and archaeology at ENMU after taking an "Intro to Archaeology" course.
"Honestly, I was not sure what I wanted to do when I started college. I took my basic classes first and looked for general education requirements that sounded interesting."
After "stumbling upon" the "Intro to Archaeology" course, she ended up "loving the class and the people involved. I was never sad I had to study or attend the lectures.
"I decided if I was going to get a degree, I wanted to get one that I enjoyed. And I did thoroughly enjoy all four years of the archaeology and anthropology program."