MariaElena Martinez came to Eastern New Mexico University with one goal in mind, to become a professional wrestler. She graduated with honors and with a bachelor's degree in communication with an emphasis in broadcast production in May 2017.
"I always wanted to be a professional wrestler, and my mom was always supportive of it as long as I got my degree," said MariaElena. "So I decided to get a degree in broadcast production because I figured I would get a degree in something that would benefit me [and my dream] in the long run."
Her degree encompasses everything from writing scripts to running cameras and editing footage, which is everything one would need to know in the professional wrestling business. Her plan was a perfect fit because she could either be in front of the camera wrestling or behind the camera filming.
MariaElena was born in Taos and raised in Costilla, New Mexico, until she was 16 years old. She had a simple childhood. Her father was a cop, and her mother was a stay-at-home mom. She was always a fan of wrestling, which she attributes to her late father.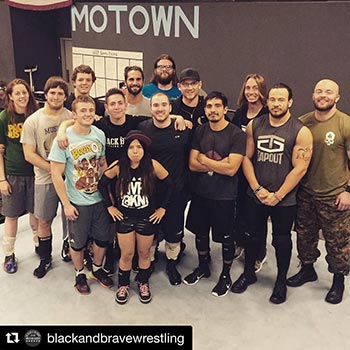 "My brother, father and I would always watch wrestling or be into wrestling. It was always our bonding time as a family," she said.
When she was nine years old, her father passed away. This left things financially strained for her mother. Life was tough following their loss, but watching wrestling was always something she could to do cope and get through the tough times.
"I am very thankful the degree I received because it will help me in the wrestling world," MariaElena said.
During her sophomore year at ENMU, she was working in the library when by random chance, Luis Aleman, president of the MMA club, came in to print flyers. Asking about the club, MariaElena decided to give the club a shot.
"I didn't have much self-confidence [in wrestling] because when you think of wrestling, you think of big buff dudes, and I am 4'10" and on a good day, 100 pounds," she laughed. "My primary trainer, Rafael Alvarez, told me that I might be small but I could kick some butt, and that helped my self-confidence."
MariaElena started saving money her sophomore year to attend wrestling school. Before winter break of her senior year, she decided it was time to begin her training. She moved to Moline, Illinois, to attend the Black and Brave Wrestling Academy for a 12-week program while she finished her last semester at ENMU online.
"One of my favorite wrestlers, Seth Rollins, owns the Black and Brave Wrestling Academy. I trained with him, Marek Brave, and Matt Mayday," she said.
Learning the basics, she graduated from the academy in April, but is still attending to grow and learn more. It was a challenge at first for MariaElena because she had never played sports. She was not athletic growing up; she was more of an academic student.
"I had to work a little bit harder than say someone who was an athlete or wrestler in high school. It was a challenge, and I wanted to prove everyone wrong. I never expected it to be easy," she said.
"It never came without any struggles. I did not get to wrestle right away [after graduating] because I had a bad sprain on my right ankle. It was either I wore a boot for two months, or I had surgery and attended physical therapy. I chose the boot."
Now, eight months later, MariaElena is an independent wrestler named Valentina Loca living in Davenport, Iowa.
"Valentina Loca isn't just a character. They tell us that the best characters are those the audience can relate to and are genuine. I would say I am chill and super crazy, so Valentina Loca is just an over personification of myself or me turned up to an 11," MariaElena said.
As an independent wrestler, she takes bookings from all over the Midwest. She has competed in over ten matches in Indiana, Iowa, Illinois and Nebraska. One Dec. 15, she traveled to Dallas for another match.
"One of my first matches was in front of the biggest female wrestling companies inside the United States, called SHIMMER," she said. "It still blows my mind that RISE, another large female wrestling event, allowed me to get my first start."
All of MariaElena's roommates are wrestlers, so she often tags along with them to their matches across the Midwest. Traveling and exploring new places is one of her favorite aspects of being a wrestler.
Recently, a reporter from KWQC in Davenport messaged her to see if she wanted to be a part of a piece the news station was doing on women's professional wrestling.
"The reporter came to the academy to film and interview me, left and told me she would let me know when the story ran. The next thing I knew, I was getting texts and notifications on my phone from everyone telling me congratulations, and I was so surprised and humbled by it all," she said.
For now, MariaElena is focused on getting better and staying healthy. She says that if you put in the hard work, then you can accomplish your dreams and inspire everyone.
To follow her journey, go to @SWestSpitfire on Facebook, Twitter and Instagram.