When Tim Morrow attended ENMU from 1969-73, the school not only won national championships in rodeo in 1969 and 1973 but offered rodeo as an intramural sport.
Mr. Morrow won saddles twice for winning the intramural rodeo "All Around" championship. His events included bareback riding, ribbon roping (which included grabbing a ribbon from a calf's tail), calf roping and bull riding.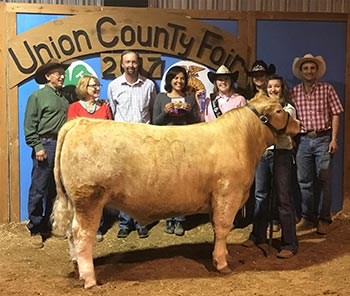 After growing up near the tiny village of Des Moines in northeastern New Mexico, Mr. Morrow transferred to Raton High School his senior year to play football.
The linebacker also played guard on the basketball team and ran the 220 and 440 in track, as well as relay events.
After graduating in 1969, he came to ENMU to major in agricultural business.
"It was a good choice," Mr. Morrow said. "I was blessed to be there, and met a lot of good students and staff."
The ENMU rodeo team was coming off a national championship under Coach Willie Britton, who also worked in the Business Office. (The basketball team was also coming off its only NAIA national championship.)
Mr. Morrow participated in a couple of varsity rodeos but says the team was so loaded they didn't need him. ENMU also won a national championship in 1973 and finished in the top three or four in between the championships.
"Eastern was the premier rodeo program in the nation," Mr. Morrow said. "Kids from around the country came to Portales to be on the rodeo team."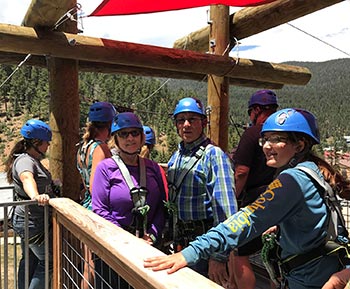 The ENMU grad also played intramural basketball with guys from the rodeo club.
"We got beat in the championship game every year but one by the football players from Kush," Mr. Morrow remembers. "The total point difference in all four games was six points."
Mr. Morrow earned money for college by working as a work-study student caring for the rodeo stock. He remembers students working for the Stuart Ingle and Worley Mills families, who he says employed many ENMU students.
Another job was branding cattle for the Lewis Cooper family, whom ENMU's rodeo arena is named after. Mr. Cooper died in a car wreck.
Beginning in 1972, Mr. Morrow served on a committee that worked to raise funds to build the Lewis Cooper Rodeo Arena.
When not on campus, Mr. Morrow remembers hanging out in Dub's Pool Hall, Les's Coffee Shop and a drug store in Portales that served fountain drinks.
While attending ENMU, Mr. Morrow and his wife, Jill (whom he knew growing up and married on July 11, 1970) lived on Ivy Street across from Lindsey Elementary.
Mr. Morrow was part of a group of three friends they jokingly called the "Ivy Street Motorcycle Gang." The three of them lived next to each other, but none owned a motorcycle, so they had to borrow them, including a dirt bike.
He also fondly remembers basketball games in Greyhound Arena when ENMU was a national powerhouse.
"The arena was packed for every game with students, employees and the community," Mr. Morrow said. "You didn't miss a game. We couldn't afford to do anything else anyway, and it was the way we entertained ourselves."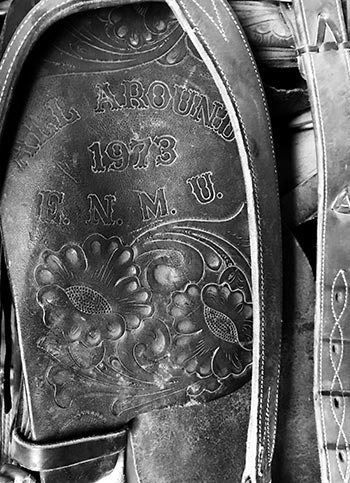 Mr. Morrow also has fond memories of trainer Bill Joy, who was the trainer for every sport, including rodeo. Mr. Joy has been to the ranch to visit the Morrow family.
He also remembers a funny tale about retired football coach Bill Richardson.
"Coach Richardson loved 'calf fries,' so we went by at 3 a.m. and rung his bell to drop them off. He told us in the future to just drop them off on his porch without waking him up."
After graduating from ENMU in 1973, Mr. Morrow came home to work on the family ranch near Capulin (pop: approximately 40). Capulin, just 3 miles south of the Capulin National Monument, has one country store. Residents either go to Raton 32 miles west or Clayton 52 miles east to shop.
His grandfather started the ranch in 1926, although his great-grandfather started the ranching tradition by buying land in the late 1800s before New Mexico was a state.
"Every generation has added and lost land," Mr. Morrow said. "But, in the end, we've added more than we've lost."
Since Mr. Morrow already had an agricultural background before coming to ENMU, he says his business minor helped him most in his ranching career.
"My business classes helped me learn how to be savvy in handling money," Mr. Morrow said. "Everything you do relates back to the almighty dollar."
At the age of 66, Mr. Morrow says he wakes up every morning glad that he gets to keep doing what he has been doing since he was five or six.
"Lots of people would like to stay home on their family ranch, but can't afford to. They have to go out and get jobs," Mr. Morrow said. "Unless you have a huge ranch or oil wells or something, about the only way you can do it anymore is to have a spouse who has an outside job with a steady paycheck. My biggest success was my wife who had an off-ranch job."
Mr. Morrow, who is a part-owner of Five-State Livestock Auction, has no plans to slow down.
"I want to keep working as long as I can and enjoy it. It's not a job; it's a way of life."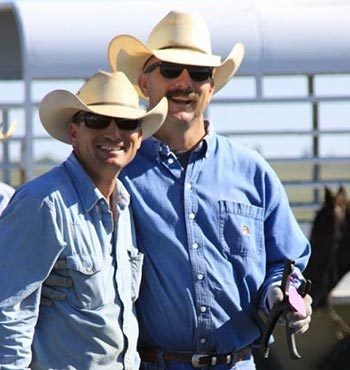 He has two sons, Chris and Cody. Cody met his wife, Janice (Friend), in Communication Services at Eastern. They and their daughter, Gavin, who attended ENMU's Child Development Center, live and work on the ranch.
Gavin recently won the Union County Bred Steer Contest with one of her grandfather's ranch-raised steers. Janice has her own public relations/marketing company, and they design and manufacture stock show-themed tee shirts under the name Fair Play Brand.
Chris is a successful veterinarian. He lives in Amarillo with his wife and two children. If Mr. Morrow had his way, both sons would take over the ranch.
"I'm not worried about me, but I'd like to afford my boys the opportunity to do what was afforded me: a chance to stay on the ranch and carry on the family tradition. I wish both of my children could have been with me my entire life. I'd like to walk off and say here it is boys and watch them keep it going."
Mr. Morrow, who had three brothers and a sister (only she is left), says his dad would be amazed at what's going on today with land values, computers and technology.
"Computers haven't always done mankind a favor. With everyone on Facebook, young people don't even look up to see what they're missing and could be enjoying. We got on horses and were gone for several hours just riding. Parents today would be scared to death if their kids were gone for several hours riding horses."
Mr. Morrow, who still competes in team roping events in the region, says that people who don't live in rural areas and make their living off the land don't understand how that way of life contributes to their lives.
"The American way of life was built by rural America. Less than two percent of Americans live off the land now. In the past, everyone at least had a relative that worked the land. We don't have that anymore.
"They think you just go to the store and get food. Crops and milk and meat have to come from somewhere.
"They think you can live on renewable energy alone. We're not that smart yet. We still need carbon-based fuels to run the machinery to grow food and create electricity.
"People are taught how we get those things are bad, but we have to feed ourselves. The world isn't going to feed us. We're lucky to live where we do."
He says he has a reputation for "being kind of tough. When I'm gone some will miss me, and some will be glad I'm gone. I've never worried about what people think of me."
Mr. Morrow has a simple philosophy for being happy.
"If you work hard and take care of your money, you'll have a pretty happy life. If you don't, you'll have a pretty miserable one."