Fans at Eastern New Mexico University had the opportunity to design Greyhound gear on Saturday, Feb. 17 during the final home games for men and women's basketball.
Austin Patterson, a former wide receiver at ENMU, brought t-shirt printing equipment and his business partner, Austin Wade, to the Greyhound games to live-screen print for attendees.
Fans were able to choose the type of t-shirt they wanted, pick from a variety of ENMU graphics and watch their t-shirt be printed, foiled and dried in front of their eyes.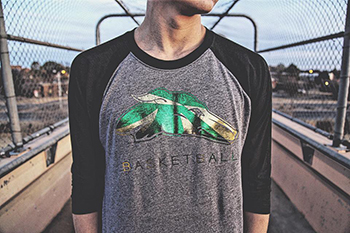 After graduating from ENMU, Patterson worked at a car dealership and helped Wade, who was working in the car industry and at a print shop doing sales work. Patterson was printing shirts in his garage, so they decided to quit their jobs and become their own bosses.
Both Austins partnered up to form the t-shirt company Ink Theory, which officially started on Jan. 1. They have been in business since Jan. 18 when they received their printing equipment. They bought and moved into a warehouse in Albuquerque on Jan. 2.
Doing the live screen-printing event at ENMU's basketball games was one way to help advertise their new t-shirt company.
Originally in the creative process of designing logos, they were going to name the company In Theory but then decided to call it Ink Theory.
"I had a t-shirt company here [in Portales] called Easy T's, and we are still in a transition to Ink Theory. We still have a license to sell to Eastern," explained Patterson.
"I appreciate everyone who is always supportive. Eastern is always supporting their alumni, and you like to give back if you are one."
Patterson, who graduated May 2017 from ENMU with a degree in digital filmmaking and graphic design, knew from ten years of age what he wanted to do.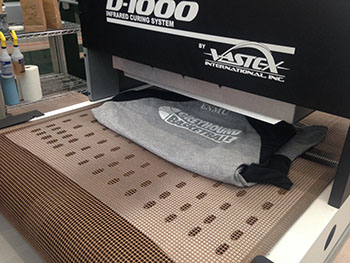 "I liked video editing… I would say everything at Eastern definitely shaped the way I've done things. I liked networking the biggest, and getting out there and meeting people started everything for me really," he said.
Throughout his undergrad career, Patterson had a YouTube channel called I AM New Productions, which he also used to help promote some of ENMU Athletics' events.
Eventually, he decided he wanted to get some merchandise to sell to people through his channel, but he explained that it would be upwards of $170 for 12 t-shirts. Going to trusty YouTube, he looked up how to print shirts.
"I bought $15 worth of shirt-printing equipment and printed 12 shirts for $12 instead of 12 shirts for $170, and I was like, okay, let's do this," he said.
Ink Theory t-shirt prices are based on quantity, and they are always happy to price match and compete with the lowest prices.
Operating at just five weeks in, they are about to break even on investments and have multiple clients.
They recently completed 350 shirts for Drama Fest at ENMU.
For more information, go to the Get Ink Theory website or follow them on Facebook.