Tony De Luz, who graduated from Eastern New Mexico University in 1983 with a bachelor's degree in commercial art, says his "amazing professors" have been the foundation for his successful career.
"I had some amazing professors. Vern Acker was my advisor and main design and illustration instructor. To say he was tough is an understatement. He was from the golden age of illustration, the 40's and 50's, and he taught me lessons about craftsmanship and creativity I carry to this day," Tony said.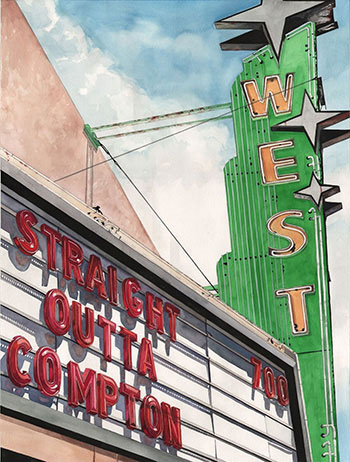 "I owe my professional career to him; God rest his soul. And we went one whole semester without speaking to each other! We butted heads over some issue or another, neither of us giving in. But I always felt he cared deeply about me, and the feeling was mutual."
Dale Hamlett was his instructor for drawing, figure drawing and painting.
"He really created an atmosphere where I could develop my painting style, and I got to do some wonderful stuff under his tutelage. And he was an amazing painter in his own right. Lovely man," Tony said.
"Other professors who had positive influences were English professor Penny Stewart, ethics professor Howard Ross and dance teacher Peter Kentes.
"I took a class with Peter one summer, and he almost made me like dance! He was the first cool adult creative type I'd met. As it turns out, I married a dance student from ENMU."
Dana Morales, who attended ENMU from 1982-84, and Tony were married on June 22, 1985, in Albuquerque. After a career in TV news in Boston and Phoenix, she teaches dance out of the converted garage/studio in their home.
Tony has a busy and varied career in the commercial art world.
His paintings are photorealistic in style, with his main influences being Rembrandt, Norman Rockwell, Edward Hopper and Richard Estes.
He works mainly in gouache, a medium which he was introduced to at Eastern. He has created digital and traditional illustrations for a variety of uses: editorial art for magazines such as Inside Sports, advertising art for USA Today and Absolut Vodka and art for children's books with author Marissa Bonilla in Sedona, Arizona, where he lives.
The books are available through their website, mariandapress.com. He has also created storyboards for a variety of companies around the country, including for Colorado Springs ad agency Sandia Advertising, owned by fellow ENMU art graduate Bernard Sandoval.
His illustrations are represented by Joanne Hedge, who works out of Los Angeles. He is looking for a gallery to represent his paintings.
Tony has created architectural renderings for a variety of uses and clients and worked full-time for a company in Scottsdale just before the building boom went bust in 2008.
He does graphic design full-time for a casino, designing advertising, signage and animated graphics. He is also involved in writing content and overseeing design for their website and social media.
Among Tony's favorite ENMU memories were "playing football on the field next to Lincoln Hall, meeting the guys who would become his Sigma Chi Fraternity brothers, making lifelong friends and meeting my wife, Dana Morales."
Tony says he originally became interested in art when he was four-years-old and "can remember people encouraging me to do artwork. My mother, older sister and younger brother also had artistic skills. I grew up in some pretty rough neighborhoods in Boston, places where there wasn't typically a lot of encouragement to pursue an art career. I never knew anyone in art or commercial art growing up; I had no idea what an advertising agency even was! But good things always happened when I did artwork."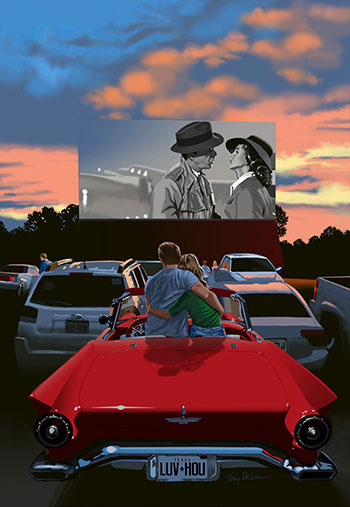 After graduating from ENMU, his first job out of college was at a clothing store. He was also shopping his portfolio around and getting discouraged. While at the clothing store, he created colorful signs to show where the different things were.
A few ad agency people would come in from time to time, and one of them hired him to do some TV storyboards.
"From the minute I discovered that world which was completely unknown to me, I was hooked! I also got a chance to create some architectural renderings thanks to a man named Thomas Schaller," Tony said.
"He is one of the best architectural illustrators in the world and is renowned for his skill. He got me a chance to do some pen and ink drawings for a developer, and I was off and running."
Not long after that, in 1985, he was hired by a Boston advertising agency, Hill Holliday Connors Cosmopulos, to create storyboards and marker comps. He worked on campaigns for clients like John Hancock, Infiniti and Molson Beer. After being laid off in 1989, he became a freelance illustrator and was able to get back to painting, having shows and selling artwork. In 1992 he created an Olympic Baseball postage stamp for the U.S. Postal Service; later in the same year, he was invited to create art for Absolut Vodka.
He now works full-time as design and production supervisor at Cliff Castle Casino Hotel in Camp Verde, Arizona. Though he has a full-time job, he also runs his own freelance art business. He did just illustration for seven years in Boston, and "absolutely loved it!"
He also had his own printing and design business in Sedona, Arizona.
"It was very well received, but I just wasn't enjoying it as much as I thought I might," Tony said. "Working for yourself, you know just where the money's coming from and where it's going. You're not at the mercy of a boss or the ever-changing requirements of the human resources department.
"The challenge, of course, is in turning down work, trying to manage family and work life and figuring out which clients to cultivate and which to cut loose. It can seem like you're always working. But it is a lot of fun!"
Tony graduated from high school in 1978 at the Boston Latin School. He participated in track and football, as well as taking art classes at the Boston Museum of Fine Arts.
He remembers getting out of the beginning of football practice for the art classes. "Don't think I didn't get teased about that!" he laughed. "But my performance on the field made it pretty clear I would go further in art than I would on the gridiron. Also, during my senior year, I spent 10 weeks in an art program at the prestigious Phillips Andover Academy. John F. Kennedy Jr. was a senior there the same year. My art teacher, Theresa Craddock, and football coaches Paul Costello and Steve Cohen, were big influences."
Outside of work, Tony has studied Kung Fu and enjoys his family, including his four-year-old grandson.
His wife teaches ballroom and social dancing and tried to teach him the foxtrot, East Coast Swing, etc., "with varying degrees of success. I'm a difficult student!"
He is into fitness, especially weightlifting.
"At 58, I'm not going to be able to do what I did 30 years ago, but I get after it pretty well," Tony said. "Martial arts, a wife who teaches dance and a strong level of motivation have kept me in fair shape. It's a challenge, but I'm grateful for good health and my friends and family."
Among Tony's happiest moments have been the births of his four children and his grandchild.
"I've had some level of professional achievements, but nothing compares to holding your children for the first time!" Tony said.
"Among my saddest moments has been the death by suicide of my brother Abram, 13 months younger than me, in April 1983. I was about to graduate from college, the first in my family to do so, but it didn't matter. I was unable to get back to Boston for his funeral. A fellow art student very generously offered to pay my way to go back, but I didn't want to take him up on it. I still feel terrible sometimes that I wasn't able to have kept him from taking his own life. I would have loved for him to meet his nieces and nephews."
Tony grew up in Boston, Massachusetts, with two brothers and a sister. He later found out he had a half-brother.
"We didn't have a lot and lived in some pretty rough areas," Tony said. "My parents were separated, and my father passed away when I was 12. My mother and her mother were very instrumental in my life. My mother worked as a health aide at a hospital, eventually becoming the office manager for the respiratory therapy department at Beth Israel Hospital, where my daughters Isabella and Celeste would be born.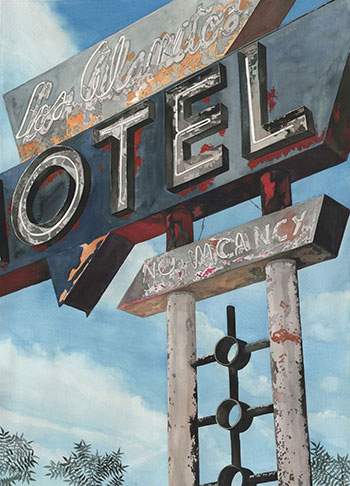 "As a kid, I was always playing baseball, basketball, badly, and football in the schoolyard across the street from my house. I would be out there no matter the weather looking to get a game together. The football games were the best; tackle football in the snow, etc. I would make friends because of sports. My high school, Boston Latin, changed the trajectory of my life profoundly, as I met influential instructors, faced academic challenges and made lifelong friends."
After Dana and Tony were married in 1985, they lived in Boston at first, moving to Arizona 23 years ago. They have lived in Sedona for the last 17 years and have four children: Isabella, 26, Celeste, 23, Gerard, 20, Gabriel, 16, and four-year-old grandson Aiden, Celeste's son.
Isabella graduated from Arizona State University and lives in the Washington, D.C., area. Celeste is learning to be a makeup artist. Gerard works at a restaurant in Tempe, Arizona, and Gabriel is a high school junior in high school.
Dana teaches ballroom and social dance in her garage-turned-studio in their home. Tony is involved in coaching Sedona youth in football and baseball.
They go dancing when they can, and Gabriel dances as well. Tony says they don't travel much, but don't need to because "they live in a beautiful place."
In addition to getting a gallery interested in representing his artwork, he would like to live wherever he and Dana like and create his own art full-time for a living.
"I'll be 60 in a couple of years, but I'm still young! There's still time!" he said.
His "loving relationship with my family is the most important thing of all in my life," Tony said. "My wife, children and grandchild are the light of my life. My mother has been my biggest role model and has always believed in and supported me. She's 87 and in ill health now, but she has always been a shining example of perseverance and patience for me. My sister and brothers are very important as well."
Tony says to be successful and happy in life "you have to be your own person. Stand up for what you believe, be loyal to your friends and family. Forgive those who have wronged you. If you don't, it's as though you are a prisoner of that wrong.
"You cannot run away from things. Whatever problems arise, you have to show up, and face them head-on. While money pays the bills, it doesn't guarantee happiness.
"Don't go into a career chasing the almighty dollar. Try to do something you love. People say life is short, but in reality, as the comedian Chris Rock said, life is long. And if you don't at least try to do something you love, you'll regret not doing it. Take care of your body. It's the only one you have!"
Tony says he is "very proud of my association with Eastern New Mexico University, Sigma Chi Fraternity and taking the first plane flight of my life at 18 to leave Boston, landing in Amarillo, and taking that bus ride to Portales. I wouldn't change a thing."