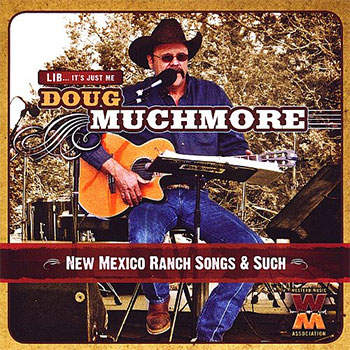 Doug Muchmore, who graduated with a bachelor's degree in university studies from Eastern New Mexico University in 1978, wrote many songs for his enjoyment and that of close friends before accepting a dare to sing at an open-mic night in 2008 at Molly's Bar in Tijeras, New Mexico.
"I bundled up some of my originals and got in a recording studio and did an album," Doug said. "That album, 'New Mexico Ranch Songs,' did pretty well on CD Baby and was featured in the May 2010 issue of New Mexico Magazine. I sent a copy of that CD to Carolyn Cline, another ENMU grad, a good friend and an awesome music performer.
"She was a Greyhound cheerleader, Miss New Mexico and is very talented and helpful. She knew Ronny Cox (ENMU graduate who is a famous actor and folk musician) and suggested I send him a copy which I did. I got on his email list for his music site. He offered a two-week trip to Southern Ireland to find the roots of Western Music.
"It was a trip of a lifetime, and my friend Debbie Haycraft went with me. I was glad for that because she has traveled the world and that was both helpful and fun. We did lots of sightseeing in a very nice coach bus with a great guide and very fun, talented and famous ENMU grad Ronny.
"I also got to play in some of the pubs; what a thrill that was. Ronny, and now friend Brian Kalinec, multiple Texas Music Award winner, and I really enjoyed ourselves!"
Doug says he was always kind of a "closet musician as I was quite bashful except to just a handful of close friends. I loved the Roger Miller Show, Glen Campbell, Lawrence Welk, Hee Haw and nearly every music show on TV in the day."
According to Doug, music has become ultra-competitive because of digitization, lack of live music, many DJs, karaoke and a dilution of entertainment.
"It is difficult to make much money at it anymore from what I'm told by those who have done it for a long time," Doug said "I've only been at it in public for about 10 years, and I agree. Most of us play for tips and little if any from the venues. But, if we love music, it's the new reality we must accept, I suppose."
Doug says artists have to jump through a lot of "hoops" to get the final product in recording, booking venues, associations (Academy of Western Artists and Western Music Association) and because of "politics" in music today.
"Frankly, it can get quite cutthroat, critical and divisive," he said. "The satisfaction in recording is knowing you got it right. In performing it's the connection with your audience, when you know they are not just hearing you but listening. It has become an addiction for me and, hopefully, a healthy one."
In her article about Doug in New Mexico Magazine, Emily Drabanski wrote, "When it comes to Western music, you can't get a sound much more authentic than you hear on Doug Muchmore's 'New Mexico Ranch Songs and Such.' Muchmore's songs have a timeless, classic quality written in the days of the Old West. Muchmore sings in a voice that's beautiful and resonant, yet understated. He offers a pleasant break from contemporary country music, which is sung with a lot of scrichin' and preaching.' Muchmore is more reminiscent of Ian Tyson or Michael Martin Murphy, particularly when either sings story-songs to acoustic accompaniment."
Doug recently recorded his second CD, "Enchanted Anthology: Painting New Mexico's History, Homage and Happenstance in Song!" Among the 12 songs are "Oh, New Mexico!," "Enchanted Drover," "Ballad of Kid Billy," South Highway 55," "Pinon Hillbilly," "Working This New Mexico Ranch" and "TexMexaroo."
Mel Minter, music journalist for Albuquerque The Magazine and Musically Speaking, said, "This earnest 12-track paean to New Mexico ranch life rides in on Muchmore's warm, hospitable vocals, as easy on your ears as your favorite saddle is on your backside."
Julie Carter, author of Cowgirl Sass & Savvy, said, "Dough has reached down to the roots of New Mexico and pulled up an 'Enchanted' list of songs that will sing you to his world in the West."
Richard Martin, six-time New Mexico Music Awards winner, said, "Doug Muchmore is a true New Mexico songwriter with the soul of a cowboy."
Doug returned to ENMU in 1988 to take more classes in education. He did his student teaching in 1989 and taught for 20 years in Albuquerque.
"Eastern was an awesome experience," Doug said. "I loved the small class sizes, the fantastic educational environment and the professors and staff were excellent."
Doug's best memories from college include "the concerts, sports events, intramurals, Sigma Chi Fraternity, parties and the feeling of friendliness there."
Doug owns a ranch near the Gran Quivira National Monument close to the geographic center of New Mexico.
"It is a very remote setting among very large ranches and forest leases. It is about 6,500-foot elevation and mostly wooded with pinon, juniper and ponderosa," Doug said.
He has boarded horses and grown replacement heifers through the years, as well as leased pasture to a neighbor.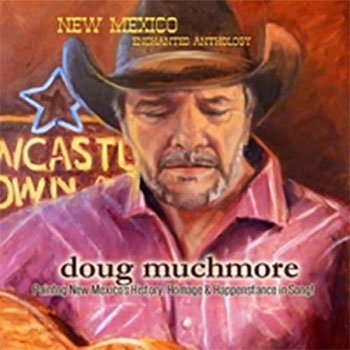 "Winters can be hard as it takes about 25 to 30 minutes to get out to the paved highway and requires a lot of preparedness to live there. It can be lonely, but it is a beautiful place to be. Some friends who have visited find it peaceful and really enjoy it; others find it too quiet and remote. You can usually, literally, hear your heart beat much of the time. The Milky Way at night is also wonderful because it is so far from light pollution."
Doug's hobbies include camping, fishing and enjoying the company of good friends.
Born in Delaware, Ohio, Doug's parents were students at Ohio Wesleyan University. His dad was a successful realtor and his stepmom, who raised him like her own, was involved in the business as well.
When he was a toddler, they moved to Tucson, Arizona. At age six, his family moved to Albuquerque, where he grew up.
"We had a very busy but happy household. No complaints now and lots of love," Doug said.
"My dad was a very energetic 'old school' man when it came to work. I started carpenter framing when I was 13 in the summers, and it was very hard work for a young guy. I used to cuss him for that, but I'm glad now. Work ethic is probably best learned young in my view. I enjoyed myself for the most part.
"We all have a journey and mine was quite hard at times, but I don't regret much. I've always had some awesome friends, not a lot of them but very loyal ones and I'm grateful for that."
His priorities for the future include staying engaged in and improving his music and family and friend relationships. It is the relationships with quality people he values most highly.
He says his philosophy of life is to "Live it. Sometimes you'll be the windshield and sometimes you'll be the bug — but just live it!"
Doug has one word for how he wants to be remembered: "Fondly!"