Amy Carter, who received a bachelor's degree in theatre with a minor in digital filmmaking from Eastern New Mexico University in 2017, has been interested in acting since the fifth grade.
"My fifth-grade class was welcomed by the high school to watch their performance of 'Oliver,'" said the 2014 Portales High School graduate. "That was the first time I had ever seen a play, and I became infatuated with Nancy played by Heather Stroud.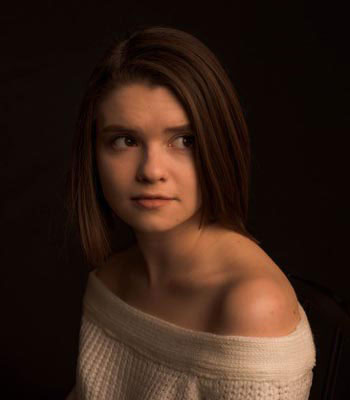 "The next year the high school was putting on a production of 'The Sound of Music' and needed to cast younger children. I played one of the kids with Heather playing my older sister, and I've been doing theatre ever since."
Amy, who was involved in theatre and choir in high school, says her ENMU instructors were dedicated to helping students in any way possible.
"If we asked for help they went out of their way to provide it," Amy said. "The classes required a lot of dedication, especially in terms of scheduling, but I feel they prepared me well for my current career path."
Amy says her "fondest memories of Eastern are the people I had the opportunity to meet; my classmates, my instructors and everyone who worked with me at my on-campus job. The plays and films I worked on were amazing experiences, but it's the people that come to mind when I look back."
She recently finished a month-long run as Sister Mary Robert in Albuquerque Little Theatre's "Sister Act." She was cast in the show the day after graduation and "loved every minute of it."
Following her ENMU graduation, she had an audition for "Sister Act" the next morning. She drove to Albuquerque a few hours after the ceremony. A week later they told her she had the part.
Some of her favorite roles have been playing Olive in "The 25th Annual Putnam County Spelling Bee" and Audrey in "Little Shop of Horrors."
"The main challenge for me is breaking out of my comfort zone," Amy said about acting.
"Acting well is impossible without vulnerability, and as much as I've tried to get around that in the past, you really can't leave anything in. You have to be comfortable with the possibility of looking stupid or messing up.
"The best part of theatre acting for me is hearing the audience responding to the show. Knowing they are invested in the story is the best feeling for me. Ultimately, I would love to be an actress without a day job because while acting is currently my top priority, it doesn't pay the bills or offer any financial security."
Her happiest moment as an actress was having a little girl come hug her after a show.
"She believed I was that character and it really brought me back to seeing Heather in 'Oliver.' The saddest moment in my career was after the final performance of a show that I felt I never fully clicked into. I felt like I didn't do the show or the character justice and after that, I've worked much harder to make sure that never happens again."
Outside of acting, Amy loves aquatic life and houses a beta fish, named Quinlan after a character from Star Wars, in a ten-gallon tank at home. She has a cat named Rooney Mara after the actress because she and her roommate love the American version of "The Girl with the Dragon Tattoo."
She also enjoys cooking, graphic novels, punk music and, recently, she and her brother have taken up ice skating.
Amy and her brother were born and raised in Portales, a block from ENMU. She says her parents were strict but always completely supportive of their interests even though they had no experience with them.
Amy says she has traveled a fair amount but would like to travel to at least one new place a year.
"The next destination on my list is Kyoto, Japan, where a friend of mine will soon be studying abroad. I also would eventually like to buy my mother a new car because the only new car she ever had she gave to my brother after he was hit and his car was totaled. As for my dad, I would like to get him a small empty lot to grow pumpkins in because that is something we both have always wanted."
Amy says what is most important to her is feeling useful.
"Having purpose is incredibly important to me, and if I can make someone's life better then I should at least try to."