The Hispanic-Serving Institution - Science, Technology, Engineering or Mathematics (HSI-STEM) grant has been awarded to Eastern New Mexico University by the U.S. Department of Education for two consecutive five-year terms. Greyhound Grad Jessica Curtis serves as the STEM outreach coordinator for the grant.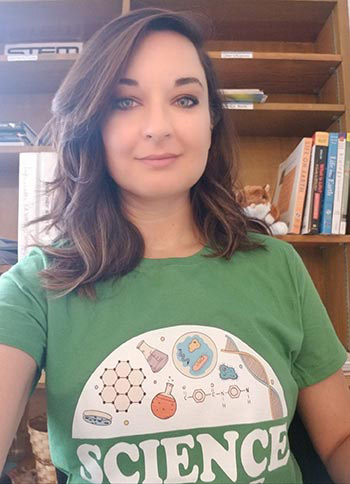 Dr. Kenwyn Cradock, director for the HSI-STEM grant at ENMU, crafted a student success plan to increase enrollment, retention and graduation in baccalaureate STEM programs, particularly for Hispanic, underrepresented and low-income students. Jessica and three other staff members facilitate grant initiatives, including hiring undergraduate researchers and STEM Club mentors and offering internships, supplemental instruction, degree planning and resume/CV building.
As the STEM outreach coordinator, Jessica engages and empowers precollege, military and community college students to pursue STEM education and careers. She posts flyers, shares resources and does outreach to schools, libraries and Cannon Air Force Base.
She is very active on HSI-STEM's social media. The grant's Facebook page recently drew the attention of Betty Williamson of the Eastern New Mexico News, who published a front-page story about the STEM Club.
Jessica also oversees the STEM Club, which was created to help 6-12th graders with projects for the Regional Science and Engineering Research Challenge through faculty, staff and undergraduate mentors. The club also offers activities, demonstrations and help with other STEM-related projects/competitions.
Her favorite part of her job is having a "team of wonderful people who truly believe in students and STEM education. We are consistently brainstorming new ways to help students flourish.
"Another fun part of this job is working with parents and teachers to introduce kids to fun STEM activities, camps, scholarships, competitions, etc. In fact, my son is taking biology with the Portales High School science chair, Ms. Mitchell, and I am coordinating science demonstrations for her classes, so it's a great chance to expose students to STEM."
Jessica decided to take on the position because it seemed like the perfect fit. "Upon reading the job description, it seemed tailored to me. As a veteran and Eastern STEM student, I received the education and experience to prepare for this position," said the Greyhound Grad, who received a bachelor's degree in wildlife and fisheries in 2016 and a master's degree in biology in 2017.
She also felt prepared for the job based on the experiences she had as the public representative for ENMU's Fish and Wildlife Club, presenting research at ENMU's Student Research and Creativity Conference (SRCC) four times and transitioning from an Air Force linguist to a wildlife biology researcher.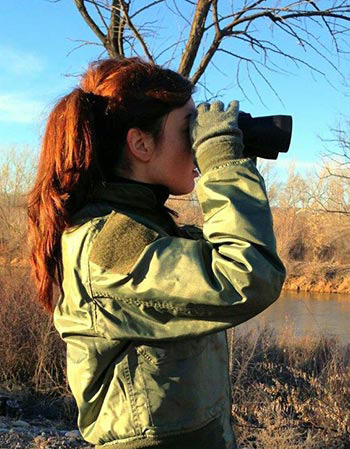 "I felt I possessed a unique skillset to reach out to freshmen, transfers and veterans transitioning into STEM education. STEM fields are highly paid and demanded, yet may seem daunting to pursue," she said. "However, with the right resources, like a STEM grant, it is a worthy and meaningful challenge to take on."
Her goal for the position is to demonstrate progress in student early engagement, enrollment and retention. She hopes to achieve this by attracting students to the grant's freshmen/transfer student orientations and the STEM Club. She also plans to advertise the benefits of pursuing STEM careers: "You can be curious, creative and solve community and global problems," she explained.
The Greyhound Grad believes that helping students feel a sense of belonging in STEM is "key to persistence and success." She assists them with finding financial/academic assistance and research opportunities and hopes to create a support system through the STEM grant.
Her favorite thing about Eastern is the "small, connected campus. I am constantly running around to other offices making schemes to reach and support STEM undergraduates. I have found faculty and staff to be friendly, inventive and excited to help!"
Jessica is from San Jose, California, where her father is a military and family life counselor, and her mother is an escrow officer. She grew up with three brothers, four cousins and a big sister.
In the Air Force, Jessica was a Special Operations airborne linguist. She learned Spanish and was stationed in Hurlburt Field Air Force Base in Florida and Cannon Air Force Base in Clovis, New Mexico. She was deployed to Africa and Iraq and flew on multiple gunships and the CV-22 Osprey.
Her honors in the Air Force include being the first female linguist to qualify on the CV-22 tilt-rotor aircraft and receiving the "Pitsenbarger Award" for leadership and academic excellence, 2x Air Force Commendation Medals and the "43rd Intelligence Squadron Senior Technician of the Year Award."
She earned an associate in foreign language and literature from the Defense Language Institute and an associate in intelligence studies from the Community College of the Air Force in 2012.
In technical school, Jessica was an honor graduate in basic military training, the six-month DLI language course and the enlisted aircrew course. She was the top graduate in the cryptologic intelligence course.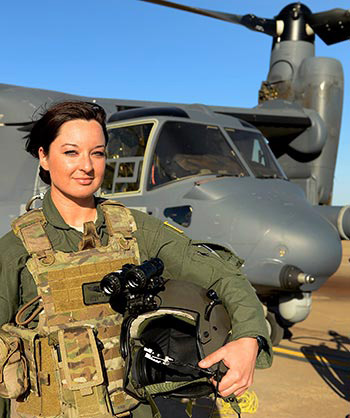 She decided to attend ENMU while her husband, Brock, was active duty at Cannon Air Force Base because she wanted the "full-time, brick and mortar college experience.
"ENMU was the perfect choice. I loved beautiful campus and the small-town community vibe," said the Greyhound Grad, who was a member of Phi Kappa Phi during her time as a student and hopes to become an officer of the PKP ENMU chapter.
Her accomplishments at ENMU include graduating Summa Cum Laude, being named "Outstanding Graduate in Wildlife and Fisheries Sciences," receiving the honor of "Best Oral Presentation: Surveillance of hantaviruses in eastern New Mexico" and "Best Poster: Prevalence of Hantavirus among small mammal communities in Eastern New Mexico" at the ENMU SRCC, being named to the Dean's List for six semesters with a 4.0 GPA and receiving "Best Poster: Comparison of hantavirus prevalence between two eastern New Mexico small mammal communities" and a biodiversity scholarship from the Arizona and New Mexico chapters of the Wildlife Society at their joint annual meeting.
She acknowledged her favorite ENMU professors, who she said had a "tremendous positive impact on my education and success": Dr. Marvin Lutnesky and Dr. Kenwyn Cradock.
"Dr. Lutnesky (now at Texas A&M University-San Antonio) was the most consistently excellent professor I ever had; he has endless knowledge, field research stories and eye-rolling puns. He lives and breathes science and taught me to think scientifically," she said.
"Dr. Cradock, I believe, saw a passion for learning in me since my early semesters here. He inducted me into the Phi Kappa Phi Honors Society, and has been an empowering mentor from undergrad, to grad school, to my current career."
Her son, Noah, just started high school. He loves playing videos games and acoustic guitar. Her husband retired from the Air Force and now runs aircrew training simulations at Cannon AFB. They have two rescued dogs and a cat (Kona, Winston and Mustang), and continue to foster dogs for Cindy's Hope for Precious Paws, a local animal rescue group.
Students and community members interested in joining the STEM Club can attend the meetings on Wednesdays from 4-6 p.m. in Science Building Room 108. Email [email protected] for more information.