Any Greyhound Grad who has moved out of New Mexico has probably faced the dilemma of not being able to easily find green chile. Eric Smith, an Eastern New Mexico University alumnus, has come up with a tasty solution.
Eric, who graduated with a bachelor's in communication with an emphasis in broadcast production from in 2005, often discussed the lack of food from the Land of Enchantment in other areas with his fellow Eastern alumni. "We talked about how great it would be if someone just delivered green chile every month," he says. "Add that idea to the rise in subscription-based food delivery that is so popular these days, and Nuevo was born."
Nuevo, a monthly subscription box, offers a wide array of the "Red or Green?" state's delicacies, from salsas and sauces to traditional dishes to unique snacks.
The box, which Eric launched with his wife, Jordan, in January 2019, has been shipped to almost every state in the country and has been featured in the Albuquerque Journal, KRQE News, KOAT News and more.
Eric shares details about the box, as well as his favorite dining spots from his days as a student in Portales: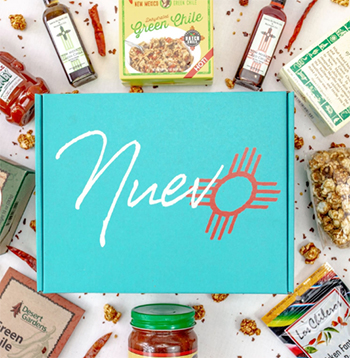 How do you curate each box?
We spent months getting ready to launch the box. We had to make connections with local food vendors and convince them to work with us. After we established a list of products, we started making each box. We try to provide something traditional like carne adovada or sopapillas and something unique like red chile honey or green chile jelly in each box.
What are some of your favorite items that have been included in previous boxes?
My favorite item is the green chile peanut brittle... a little sweet and a little spicy!
Tell us about the online community you've created for Nuevo.
We know that not everyone likes to cook, so we have a lot of ways that we help our customers make great New Mexican dishes. Every month we produce recipe videos that use one of the items from that month's box. These videos take me back to my roots at ENMU, where I learned great video editing techniques! We also have a monthly newsletter with recipes, and each box comes with a recipe card. Finally, we have a subscriber-only Facebook group where our customers share their own recipes and pictures of their creations. It's really a great place to share New Mexico's food culture.
What do you enjoy most about your work with Nuevo?
I love solving a problem for my fellow New Mexicans. SO many people have written us and told us how much happiness the box brings them each month. Life takes us away from New Mexico, but the food is always going to unite us.
What was your favorite restaurant or food in Portales during your time as an ENMU student?
Here are just a few of my favorites: McCarty's green chile chicken burrito, Something Different's Jacked Up Spud and La Paz's breakfast burrito.
If you could recommend one dish or restaurant for people to try during their first visit to New Mexico, what would you recommend?
That's tough! Maybe El Pinto, iconic and traditional, and Dion's, not traditional, but everyone I know loves it! As far as a dish, I would go with a stuffed sopapilla. The sopaipilla is the dish that represents New Mexico for me; smother that in green chile, and I think you have the perfect dish! Green chile enchiladas would be a close second.
Any plans for additional subscription boxes?
Never say never, but I think why Nuevo works is because we really know what kinds of products people miss the most. I think if I tried with another box, it would be harder to connect to the customer.
What advice would you give to a student interested in starting a business?
Just do it! You don't need everything figured out; just jump in and work out the details as you go. It sounds reckless, but if you worry too much about all the things that could go wrong, you will never start!
How did ENMU prepare you for your career?
ENMU gave me the opportunity to grow into my own person. Because Portales is small, and the tuition is affordable, I didn't have to work 40 hours a week and go to school full time. Therefore, I was able to get involved in campus life. Nothing prepares you more for life after college than staying involved in organizations. I learned how to communicate, work with people who are different than me, and I was able to observe many different leadership styles.
Why did you choose ENMU?
My father went to ENMU, and the broadcasting program was top notch. Plus, it was far enough from home but not too far. I grew up outside of Albuquerque.
How did you choose your field of study?
I was always interested in media and loved video editing and anything to do with television, so broadcast production was an easy choice.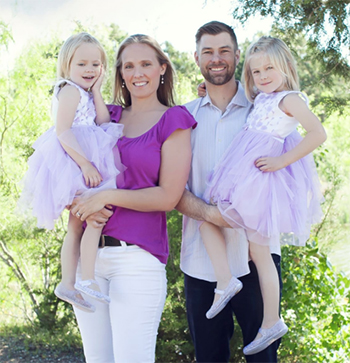 Which activities were you involved in at Eastern?
I was a member of the Kappa Sigma Fraternity and was very involved in student government; I was elected to the Student Senate three years in a row. I was also the lead counselor for freshman orientation the very first year that we called it Dawg Days. The team I was on came up with the name and revamped how we did freshman orientation. Before that, it was called Green and Silver Breakthrough. I like Dawg Days better!
Describe your Eastern Experience.
My experience was great, mostly because of the friends I made through Kappa Sigma. Nothing prepared me more for life and leadership than my time in the fraternity. I also loved working in the Broadcast Center. I worked on "Creative Living," which showed me everything that went into a television show. I helped students with video editing projects as part of my work-study job. It was just a great time in and outside of the classroom.
Tell us about your family and background.
I grew up in Bosque Farms, New Mexico, and went to Los Lunas High School. My wife, Jordan, (co-founder of Nuevo) went to UNM and played basketball for the Lady Lobos. She also played professionally for the WNBA. We have two daughters, Rylee and Alayna.
To learn more about Nuevo, visit www.nuevofoodbox.com/about.