Annajita Rubio graduated summa cum laude with a 4.0 GPA from Eastern New Mexico University this spring with a Bachelor of Science in Biology with an emphasis in Pre-Medicine.
The first-generation college student shares details about her post-graduation plan to attend the University of New Mexico College of Pharmacy and how ENMU prepared her to pursue that path.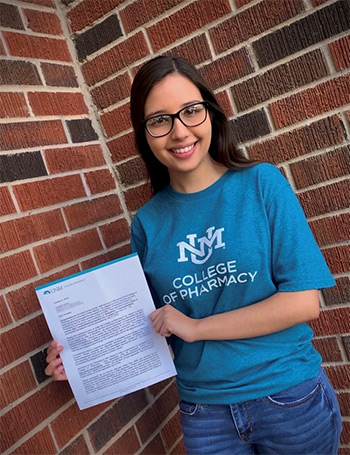 How did you choose your field of study?
I initially chose this degree as a freshman because I wanted to attend medical school after ENMU at the time. However, when I changed my career path to pharmacy school, my flexible degree plan made it very easy for me to keep the same degree for my new career goals because this degree is specifically made for fulfilling prerequisites for many graduate programs of healthcare careers, such as medical doctor, pharmacist, physician assistant, physical therapist, occupational therapist and many others.
I always knew I belonged in the healthcare field and that any career in this field of study would be very rewarding when you are able to see the difference you are making in your patients' lives.
How did you celebrate graduating from ENMU?
I watched the virtual graduation ceremony with my family, which, on the bright side, actually made me very happy to be able to be with my loved ones and celebrate safely together in the comfort of our home. I am currently undecided if I will be attending the fall ceremony since it will greatly depend on my pharmacy school schedule at the time.
Which activities were you involved in at Eastern? Which academic honors did you receive?
I was actively involved in the Caduceus Health Society, a campus organization designed to assist Greyhounds who are pursuing a healthcare-related career, every semester of my time at ENMU. I also served as secretary and president of the organization.
I volunteered and organized numerous Caduceus community service events such as Meals on Wheels in Portales and Clovis, Adopt a Mile trash cleanups and Beautify Portales dumpster painting, Eastern in Action, Baptist and Christian children's homes Pack the Park and Fall Festival, Regional Science Fair for middle school students, Up 'til Dawn, fundraising for American Diabetes Association and various canned food drives and coat drives.
I was an ENMU STEM undergraduate researcher and mentor in Dr. Barlow's lab, where I researched and presented on "The Effect of Sedentary Behavior on Arterial Stiffness in Healthy and Metabolic Syndrome Women." I attended and presented this work at various conferences: New Mexico IDeA Networks of Biomedical Research Excellence, Texas American College of Sports Medicine Conference and the ENMU Student Research and Creativity Conference.
I have been on the Dean's List every semester I have attended ENMU (since August 2016). I was a member of Phi Kappa Phi Honor Society and was awarded two ENMU Foundation scholarships: Dr. Daniel C. Ihde and Mary Nanninga Ihde Endowed Scholarship and Reid Allen Isler Memorial Medical Profession Scholarship.
I represented the College of Liberal Arts and Sciences as a panelist in the ENMU Student Peer Advice Discussion Panel organized by Title V Cooperative Grant.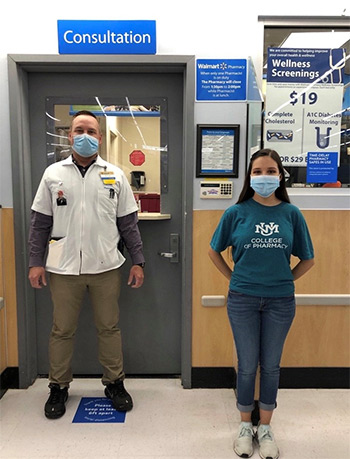 Discuss your experience at ENMU.
My favorite professors and those who mentored me during my time at ENMU were Dr. Matthew Barlow, associate professor of physiology, Dr. Manuel Varela, professor of biology, Dr. Kenwyn Cradock, professor of entomology, and Robin May, lead specialist for the STEM grant.
My favorite classes were Anatomy and Physiology I and II, Medical Microbiology and Biochemistry I and II because I was always able to see exactly how the material I was learning would one day be relevant and important in pharmacy school and even more crucial as a pharmacist who needs to have a very thorough understanding of the human body while working with patients.
My favorite thing about ENMU was the small class sizes that allow students to build relationships with their professors in order to receive personalized letters of recommendation and to have access to opportunities such as undergraduate research in their labs.
How did ENMU prepare you to apply for pharmacy school?
ENMU and Caduceus Health Society allowed me to have many volunteer opportunities to build my application and also provided me with assistance in the form of mock interviews and personal statement writing workshops where I later incorporated those skills during my application process.
The Allied Health Symposium gave me direct information about UNM College of Pharmacy such as application deadlines, interview information and prerequisites and, most importantly, allowed me to network with admissions staff that I later encountered during my application process.
Shadowing and working in Clovis/Portales pharmacies gave me direct experience with patients and other pharmacists and pharmacy staff. I could later speak about these encounters during my interview and personal statement.
I was one of the few applicants who had undergraduate research experience. I have the ENMU STEM grant and Dr. Barlow to thank for that.
I feel very prepared to enter a rigorous doctoral program thanks to the advanced education and laboratory hands-on experience I gained at ENMU.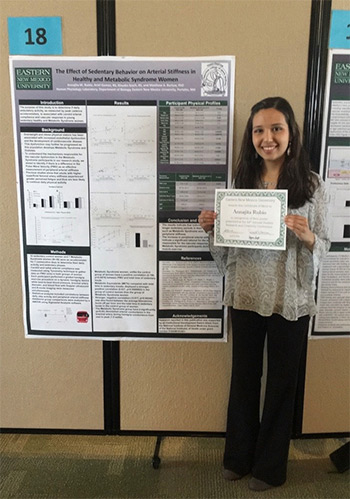 What was the application process like for pharmacy school?
The application service used for most PharmD programs in the United States is through PharmCAS, where you enter information from your college transcripts, your extracurricular activities, upload your personal statement and where your letters of recommendation are submitted by others.
After I submitted my PharmCAS application, UNM contacted me for an interview. Before applying, I had to take the PCAT (Pharmacy College Admission Test) and obtain scores higher than the minimum of my school of choice. I spent months studying for this 4-hour exam.
I chose to apply to only UNM's program through Early Decision instead of regular admissions because I had my heart set on becoming a New Mexico pharmacist. I was accepted Early Decision in October 2019 during my last year at ENMU and was able to enjoy my senior year with peace of mind that I was accepted into my pharmacy school of choice.
How long have you been working at the Walmart Portales pharmacy, and what is your role?
I started out as a pharmacy cashier at the Walmart pharmacy in Clovis in July 2018, where I worked my way up to become a pharmacy technician. When a spot opened up at the Portales Walmart pharmacy, I was excited to transfer in September 2019 to be working closer to school as a certified pharmacy technician.
My favorite part of working in a small-town pharmacy was being able to easily build relationships with patients and being a part of their journey to improve their health and overall lifestyles. I also really enjoyed translating for Spanish-speaking patients and ensuring that they fully understood their medications.
What inspired you to attend pharmacy school? Which part of pharmacy school are you looking forward to the most?
Before ENMU, I didn't truly understand how many careers were in the healthcare field, so when I discovered such variety by talking to professors, other students and healthcare professionals themselves, I knew I should do my own research and shadow these professionals to see if my career interests would change. As I grew and matured at ENMU, I found that the pharmacy profession just felt right and like it would perfectly align with the new career and personal goals I had set for myself.
As a New Mexico native, I am very excited to attend the only PharmD program in the state that I know will be heavily centered around improving the health and well-being of the state as a whole. I know this program will allow me to use the information I learn in the classroom to continue and further deepen my passion for helping others.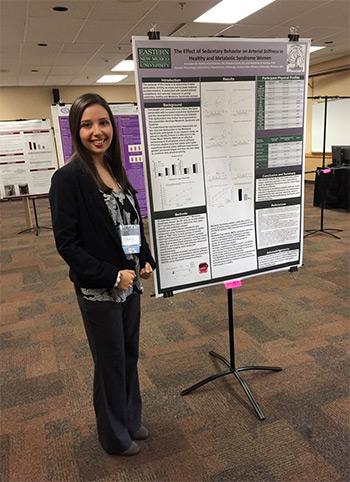 I am looking forward to being a part of Community Outreach Days at The University of New Mexico's College of Pharmacy, where the pharmacy students deliver health services and information to underserved populations throughout New Mexico while also raising public awareness about pharmacists' pivotal role in healthcare.
What are your plans for after pharmacy school? What are your career goals?
As of right now, I plan on staying in New Mexico to practice as a pharmacist clinician, which is a pharmacist that works alongside physicians to provide patients with certain primary care and specialty care services such as prescribing and monitoring medications, performing physical exams and ordering laboratory tests.
Overall, I hope to be a trusted healthcare provider that is able to positively influence my patients' lives and improve the overall health of our New Mexico community.
What advice do you have for Future Greyhounds interested in your field of study?
I want Future Greyhounds interested in a healthcare career to know that it's okay if your plan A that you came into college with doesn't work out or you find that it isn't for you anymore. College is a time filled with personal growth, and you really start to figure out what your true interests are without the influence of others. I advise Future Greyhounds to allow ENMU and their college experiences to mold and shape them into the individual they are meant to be, so when they come across a career that feels right, they will know that they are choosing that path because it is meant for them.
I also advise those who want to work in healthcare to shadow different professions that interest them so that they can see firsthand what the job and lifestyle entail to make sure that they are investing their time and energy into a career that they will wake up for every day in the future and be excited to go to work.
I also encourage future and current Greyhounds interested in a career in healthcare to attend ENMU's annual Allied Health Symposium event where Caduceus Health Society organizes for various New Mexico and Texas healthcare graduate programs to come speak to ENMU students in person about their programs, admissions and the profession itself. I strongly believe that I was a well-qualified and successful applicant for pharmacy school because of the information I received during these events.
Tell us about your family and background.
I was born and raised in Roswell, New Mexico, where I attended Goddard High School. My mother is a housekeeper at a hotel, and my stepfather works in the oilfield. I have two younger sisters, aged 11 and 13. I am very close with all of my family members, especially my grandparents, who want to see me succeed and be happy in life.