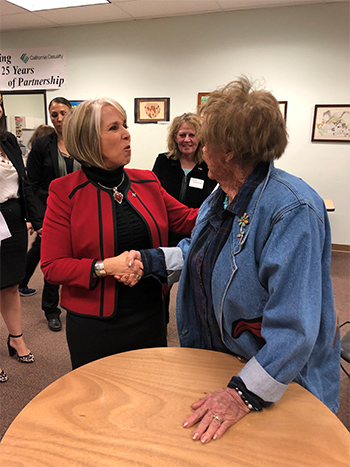 Greyhound Grad Vera Lois Beck Johnson celebrated turning 100 on June 6 at a socially-distanced birthday party with her family.
Lois was very active during her years at Eastern New Mexico University, then known as Eastern New Mexico College, performing as first violin in the College Symphony Orchestra and the Symphonette Orchestra, as well as being a member of the Euterpean Society, an honorary fraternity for music students, and the Madrigal Club, a group of music students selected to study more difficult compositions. She was also in the Glee Club, Violin Choir, A Cappella Choir and Opera. She graduated with a bachelor's degree in education with studies in music in 1942.
Lois was born in Thomas, Oklahoma, in 1920, where she lived with her parents and sister on their wheat farm. During the Great Dust Bowl, her family left Oklahoma and settled in eastern New Mexico, where they continued to farm wheat north of Clovis.
She married Maxwell E. Johnson of Hope, New Mexico, after he returned from World War II, where he served as a Master Sergeant in the Army Air Corps in North Africa, Sicily and Italy. Lois taught elementary school in Hope, Hobbs and Artesia, New Mexico, and retired after a full teaching career. She is a Life Retired Member of the National Education Association of New Mexico, a Life Member of the American Association of University Women and a past president of the Artesia Hermosa Elementary School PTA. She is also a past volunteer for teaching reading to adults in a literacy program. Lois has five children; Whitney, an attorney married to Debra Taylor, Judy, a retired teacher and educational diagnostician for Santa Fe Public Schools married to Stewart Kane, Nora Lee, a retired senior contracts manager for Honeywell International Inc., Nancy, a retired vice president for Wells Fargo Bank National Association, and Noel, an IT director for Honeywell International Inc. Lois has two grandchildren, Noah and Ava, who are both students at Rice University.
The Greyhound Grad discusses her time at ENMU and shares some life tips:
Why did you choose ENMU?
I chose Eastern New Mexico University because it had a very good academic program in the field of education as well as a great music program.
How did you choose your field of study?
I wanted to have a professional career in education and to earn a salary so that I could be independent. I also wanted to study music because I enjoyed it.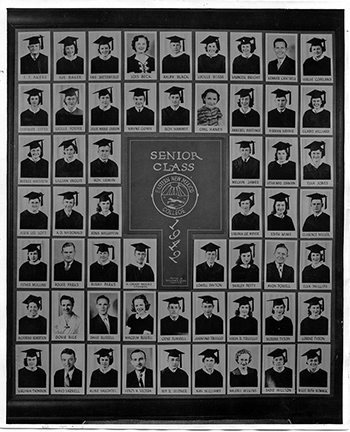 Discuss your experience at ENMU.
I gained a valuable education at Eastern that made a difference to me throughout my life and professional career.
I really enjoyed playing the violin and having the opportunity to be in the various music clubs and travel to other cities and states for performances and events, which was very exciting. My experiences in the Music Department were a highlight of my college years.
I took many music classes and lessons at the University, and I enjoyed my professors because they were excellent teachers. All we were interested in was music, and we wanted to be the best, and we were very good.
You could learn anything, depending on what you liked. Some studies were difficult, and I had to work hard. Other studies were very easy.
How did ENMU prepare you for your career?
Eastern gave me a strong background and foundation in education principles, which I was able to apply in a variety of classroom settings throughout my career. For example, in one of the smaller schools, I taught multiple grade levels in the same classroom. In other schools, students came with varying levels of achievement and experiences. I taught many students over the course of my career, and to this day, I continue to meet some of them in their adult lives, which is a real joy.
What are some life tips that you would like to share at 100 years old?
You can teach others. You have to study hard to accomplish things, and it is very gratifying to teach others how to do something so as to improve their lives or just to make them happy.
What are your hobbies?
Over the years, I have enjoyed oil painting and playing the violin and piano.
Please share an interesting fact about yourself.
I own a small pecan orchard and harvest the pecans which we give to our friends and family.
Lois with the ENMU Symphonette Orchestra.