Katherine Perelas graduated summa cum laude from Eastern New Mexico University this spring with a Bachelor of Fine Arts with an emphasis in graphic design and a Bachelor of Business Administration with an emphasis in marketing. The Greyhound Grad is using the skills she developed during her time at ENMU in her role as a product designer at Integrated Transportation Management, best known for the software MyCarrier TMS, in Scottsdale, Arizona.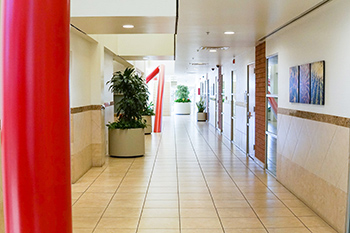 "ENMU not only prepared me with the education I needed but also with the opportunities I needed," she shares. "I graduated with two degrees and several years' experience in three jobs relevant to my major. I was an active member of five organizations, which gave me leadership experience and taught me how to work as a team. The leadership seminars hosted by the Associated Students Activities Board (ASAB) provided valuable knowledge that will help me succeed both professionally and interpersonally."
Katherine was the lead graphic artist for the Office of Campus Life for three years. She was also the graphic designer for El Portal and the marketing coordinator for the ASAB, each for a year.
She was a leader in multiple student organizations, serving as the founder and president of the Arts, Creativity, Education and Design (ACE+D) Club for three years, a member of ASAB for four years and a member of their Graphic Artist Board for three years and president of the Delta Mu Delta Business Honor Society for one year. She was also a member of Phi Kappa Phi and the Entrepreneur Club.
Her other campus involvement included being the photographer for Greek Week, a juror for K through ENMU and a workshop assistant for the High School Art and Design Festival, all in 2019, as well as having her work showcased in 10 galleries.
The 8-time Dean's List honoree received 19 awards during her time at ENMU, including El Portal Photography, Commfest- Graphic Design and Commfest-Photography awards, all in 2020. She also received the Medium School Outstanding Student Designed Apparel Award at the National Association for Campus Activities Central Regional Conference and the ENMU Excellence in Graphic Design award, both in 2019.
Katherine was named the industry champion in the Business Strategy Game (BSG) Simulation this spring, where she placed on a top 100 worldwide list. Her team placed from March 23-29, 2020. Their overall score of 108.0 tied for the 89th best overall score performance of the week worldwide.
"There were many unforgettable experiences to be had at ENMU," she says. "I remember when I was a freshman, my first experience at ENMU kicked off with Dawg Days, the University's 3-day orientation event. I'll always remember the Associated Students Activities Board; how could I forget the organization that brought me friendship, unending entertainment and even my major-related student jobs? As for classes, the typography class taught by Jessica Gerlach will always stand out with me. That class fundamentally changed how I look at type and majorly strengthened my design skills.
"I will keep with me the memories of my favorite professors, Jessica Gerlach, Scott Golem, Bryan Hahn, and Dr. Cory Cole," she explains. "Jessica Gerlach changed the way I think about design and opened my eyes to its possibilities. Scott Golem and Bryan Hahn had an impressive dedication to their students and the art community. Dr. Cory Cole kept what could have been one of my most stressful marketing classes lighthearted and fun. There are many more professors that I would like to thank for their care and knowledge, but it would be too long to list here. Thank you, Eastern New Mexico University art department and business department, for making my learning experience so enjoyable."
Katherine, who is from Alamogordo, New Mexico, chose to attend Eastern because it "was an affordable option close to home. Attending ENMU offered me quality education and, because this University has a wide range of subjects to major in, it allowed me to pursue my double major in marketing and graphic design."
The Greyhound Grad, who received 13 scholarships during her time at ENMU, shares the details of her decision to pursue two majors: "I wanted to start a career that combined creative thinking with my existing interests, such as in the fine arts. I wanted my work to always be changing to keep things interesting and engaging. I wanted to help businesses succeed and have a stable desk job. Following these wants, I stumbled across graphic design. After several classes, it felt like a perfect fit.
"I had also been interested in the business functions surrounding graphic design. I believed that a marketing degree could complement my graphic design degree; a marketing degree may help to communicate with various departments better as well as promote accelerated upward mobility."
In her new role as a product designer, she works with product managers to turn business requirements into designs that seamlessly integrate with the overall application, identifies weak points of the application's UI (how it looks) and UX (how it feels) and targets improvements and creates wireframe mockups, prototypes and high-resolution designs.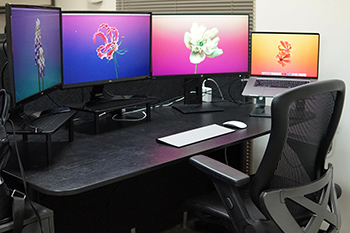 "I wanted to work in a position that would allow me to exercise my creativity and knowledge obtained at ENMU," she shares. "I have had some experience designing the look and feel of websites and knew I was interested in the role and diving further into the industry. It just so happened that this new job also provided me with the stability I needed in a time of crisis; my company works with freight software, and, despite the coronavirus shaking the world's economies, freight must continue to move."
Her coworkers are her favorite part of the job: "Everyone I have met at the company blew me away with their friendliness, compassion and love for their jobs. The people here genuinely and personally want to give their customers and coworkers a great experience. It's contagious. Hearing everyone so excited about their work motivates me and makes me happy to be part of the team."
The product designer offers advice for students interested in working in her career field: "There is often a societal expectation that artists will always be starving or that work will be hard to find. I found my job straight out of college during a global pandemic when unemployment was higher than I had ever seen in my lifetime. The jobs are out there. There is a trick to landing these jobs; you have to want it. College is more than just the degree. It is a time to network, to find yourself, and to get involved. Don't be afraid to say yes to opportunity when it knocks on your door."
Her career goal is to "improve user experiences, help companies succeed and to experience upward mobility as time goes on. Ultimately, I'd like to come home satisfied with the work I do and the connections I make. I hope to elevate people's experiences and make their lives easier. I want to maintain a good work/life balance and be at peace with how far I have come in life."
Katherine's mother, a cancer survivor, is from the Netherlands, and her father's family comes from Greece. Her father works in the Air Force as a civil servant, and her brother lives at home and is attending college at New Mexico State University-Alamogordo.
Her role model is her mother. "My mom influences me," she explains. "She has been through some rough times. She is a 2-time cancer survivor, and even in recovery, she still prioritizes her family and doesn't give up. It takes a strong will to stay positive while repeatedly getting treatment with plenty of unknowns. She motivates me to keep my head up, pursue my dreams and to live one day at a time."
When asked to share an interesting fact about herself, Katherine responded: "I like music, but my hearing is shot; I have genetic hearing loss. That won't stop me from listening or playing instruments, though."
Her hobbies include playing video games and binge-watching shows. "Lately, I've been playing the Elder Scrolls Online and have jumped on the bandwagon in watching Avatar: The Last Airbender," she says. "I like photography, singing and playing various instruments, like the piano and the ukulele."
The building where Katherine works.