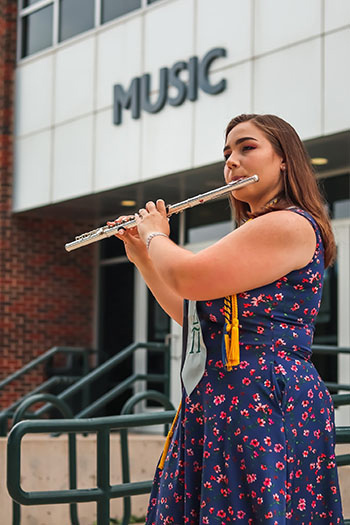 Kaitlyn Grubbs, who graduated from Eastern New Mexico University with a bachelor's degree in music education this spring, is pursuing a master's degree in music education at the University of Missouri this fall.
She discusses her career goals and how ENMU prepared her for graduate school.
What inspired you to pursue music education as your field of study?
I chose music education because I had been in band since fifth grade, and it was one of the only subjects I not only enjoyed but was passionate about. There were other things I enjoyed in school, but none so much as music. All my life, I had been helping my classmates with school, so teaching just seemed like a natural path for me. I think I got lucky following my gut when I was an incoming freshman declaring my major. I definitely picked the right path for me.
How did you choose the University of Missouri? What was the application process like for the Master of Music in Music Education program?
I initially started looking at the University of Missouri because my boyfriend mentioned it to me. I began researching it as a performance major, so I started listening to the flute professors playing and teaching videos. I actually applied and auditioned as a performance major, as well. It was at the advice of the flute professor there, Alice Dade, that I change my intended program to music education. She advised me down this path specifically because of the interview we had following my audition, where she sensed that teaching was really what I wanted to be doing along with performing.
What inspired you to pursue a master's degree in music education? Which part of graduate school are you looking forward to the most?
I always knew that I wanted to get my master's directly following the completion of my bachelor's. I'm looking forward to bettering myself as a musician and an educator and finding my niche in the music world.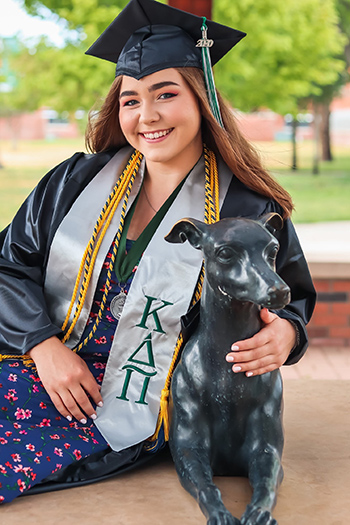 What are your plans for after graduate school? What are your career goals?
After grad school, I want to find a job that will allow me to flourish as a teacher and a performer. I don't know exactly what that will look like just yet, but I'm confident that I will figure it out.
How did ENMU prepare you for graduate school and your future career?
Oh, I don't think there was a single professor that wasn't tired of me asking for advice by the time I was done applying for graduate school, especially Mr. Dustin Seifert, Dr. Pamela Shuler, Dr. Sidney Shuler and Dr. Spencer Hartman. They helped get me through the entire process.
Outside of the actual process of applying for graduate school, I received an excellent education from the faculty at ENMU.
Discuss your experience at ENMU.
I had a very good experience at ENMU. I was getting a great education with the added benefit of all my professors knowing who I was. I honestly loved all my music classes; I couldn't really pick a favorite. The same goes for my professors; they went above and beyond for not only me but all of their students.
I will send a special shout out to a couple, though. Mr. Seifert was my advisor for (almost) my entire time at ENMU, he was my band director, and he taught several of my classes. I don't know what other people's advisors were like, but mine was hilarious, insightful and awesome. Mrs. Cheryl Pachak-Brooks was my freshman seminar teacher and class piano teacher. She taught me the importance of a planner and that I needed to check my email at least twice a day. Mr. Justin Rutland taught me how to play in the double seconds in the ENMU Steel Band, and he taught my percussion methods class. He introduced me to a completely different musical world. Lastly, Dr. Carol Erwin was the best English professor that I've ever had; I took all three of my required English classes with her. She made me look forward to attending a gen ed class! Plus, she was one of the funniest and most engaging professors I had.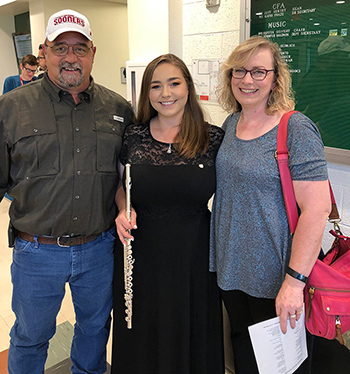 Which activities were you involved in at ENMU? Academic honors?
While at ENMU, I was a member of Kappa Kappa Psi National Honorary Band Fraternity, Phi Kappa Phi and Kappa Delta Pi. Through these fraternities, I was afforded several opportunities to volunteer around campus and in the community. Most notably, through KKPsi, I was able to volunteer multiple times at Portales High School, running rehearsals, sectionals, playing for them, etc. I was also on the Dean's List every semester of my undergraduate career. I was awarded the Pat Henry Instrumental Music Scholarship in spring 2019.
What advice do you have for Future Greyhounds interested in your field of study?
One, learn to manage your time well. Two, you won't ever be less busy, you'll just learn to cope. Three, breathe, you'll get through it; lean on your colleagues.
Tell us about your family and background.
I come from a military family. My father was in the military for 22 years before retiring at Cannon AFB. He still works at Cannon as a civilian in the Civil Engineer Squadron. My mother was a hairdresser, stay-at-home mom, and now works at the Roosevelt General Hospital Clinic in Portales. I have two older brothers that both currently live and work in Oklahoma. My eldest brother, Erett, is also an alumnus of ENMU!
Anything else you would like to share?
GO HOUNDS!! BORK BORK BORK!