Diane Maez, who graduated from Eastern New Mexico University with bachelor's degrees in elementary education and childhood education with a minor in bilingual education in 1989, is a reading interventionist for James Elementary in Portales.
She discusses how her Eastern Experience led to a 30-year teaching career.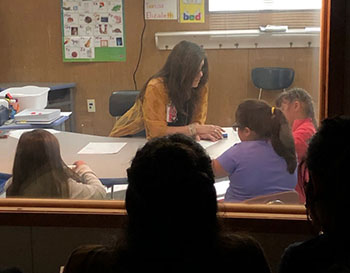 Why did you choose to attend ENMU?
I grew up in Portales and attended Portales schools. Staying close to family and attending a smaller university was important to me. When I visited ENMU, I really liked the way they helped me with all my questions and the support I received. I also received a bilingual scholarship that helped me earn my teaching degree.
How did you choose your field of study?
Becoming a teacher had always been a dream of mine. Many teachers made a difference in my life as I attended school, and that helped me make the decision to be a role model and make a difference for others. My four siblings will also explain how they had to be my students, and I was the teacher for many years. I was a first-generation college student, which was a big challenge at the beginning. However, I knew what I wanted to do and had a lot of support from my family and ENMU to complete the program.
Which activities were you involved in at Eastern?
Part of my experience at ENMU was work-study; I had the privilege to work at the library, and in the math and education departments. I met lots of people and became friends with many of them. I also received a bilingual scholarship while at ENMU. This scholarship helped me financially, along with being able to visit schools around New Mexico to observe their Bilingual Program. BESO (Bilingual Education Student Organization) was a wonderful organization that supported students in different areas of need, like homework, trips, filling out paperwork and just preparing us for the workforce.
Discuss your experience at ENMU.
Attending ENMU was a great experience for me. The education classes were wonderful, and a lot of the classes that I needed to pursue my degree were always readily available. They also helped me with my schedule in order for me to get a full-time job. I also liked the smaller classes, along with the one-on-one help we could get from our professors. Dr. Emslie and Dr. Chavez were two professors that supported me when I decided to pursue bilingual education. I do speak Spanish; however, I had a lot to learn academically.
What inspired you to work in the role of reading interventionist?
In December of 1989, I completed my student teaching in Roswell, New Mexico, and was offered a position as a first-grade teacher starting in January 1990. I had to decline because my daughter had just started kindergarten, and I didn't want to make life difficult for her. I did some substitute teaching for a semester and, the following year, a law was passed that first-grade classes could not have more than fifteen students. Portales Schools needed six first-grade teachers, and I was hired at Steiner Elementary. I taught first grade for 28 years and then decided to become a reading interventionist at James Elementary, which I have done for the last three years. I also trained in Reading Recovery, which helped me see reading from a different perspective. It made a great difference in how I taught reading.
I love teaching and working with students; however, reading is my passion. I love seeing students start school as non-readers and, by the end of the year, reading. It brings such joy and excitement to both students and myself.
As I begin my 31st year of teaching, I feel truly blessed to have been able to work with so many students, parents and teachers.
What are your job duties?
My duty at this time is to work with students in small groups. I target reading skills at each student's level. At times I may help teachers in their classroom with reading interventions or support teachers with any questions that may have.
I am also a mentor for new teachers, which I enjoy doing. This is a great way for teachers to receive the support they might need during the year.
What do you enjoy the most about your job?
Having taught first grade most of my career, most students started school as non-readers and, by the end of the year, they were reading. This brought so much joy to my heart, along with listening to students read.
I also enjoy it when my former students approach me after so many years and say, "Hi, Mrs. Maez," and give me a hug. They also thank me for their first-grade letter that I send them when they graduate from high school. They would write, "What I want to do when I grow up." Many of them have not changed their mind from what they wanted to be in first grade. In fact, some have become teachers, and I actually work with them now.
What are your career goals?
Right now, my goal in this position is to make a difference for as many students as possible. I also want to continue learning how to use technology to help me with teaching online.
What advice would you give a student interested in working in your career field?
Many students hear lots of negative information about teaching. They hear it on the news and from colleagues. Many teachers themselves are negative at times. I have had many student teachers, and as for my career, it has been wonderful. We all have some bad days, but who doesn't? The positives outweigh the negative, and when that one, two or three students come back and visit you to "thank you," it is all worth it.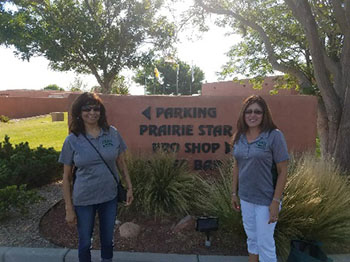 Are you involved in any organizations or volunteer work?
Volunteering for the ENMU Alumni Association has been such a great opportunity for me. I have enjoyed helping with the annual golf tournament and meeting lots of people that have attended ENMU, as well as the new students. I have helped with the reception, as well as registering guests and filling goody bags.
I did teach a religious class for K-2 grades for 20 years. I have also helped with the "Wigs for Kids" organization, which helps children receive wigs when needed because of illnesses.
Tell us about your family and background.
I have been married for 37 years and have two daughters. My daughter Crystal is an occupational therapist (COTA), and Celsie is a teacher for the CDC at Cannon Air Force Base. I was the first generation to graduate from high school and college, which was challenging and a great accomplishment.
Who was your role model?
My dad is my role model because he always wanted me to get an education and always gave great advice about working. He did not have the opportunity to finish his education because he had to work at a young age to help support his family.
What are your hobbies?
I enjoy going to the lake, camping, reading and doing craft activities with my daughters and my niece, A'Jayla.
Anything else you would like to share?
I want to say thank you to all the parents that helped me throughout the years. It has been such a joy to meet so many people.
Celsie, Melissa, Diane and Crystal registering guest at an alumni "Mix and Mingle" event.