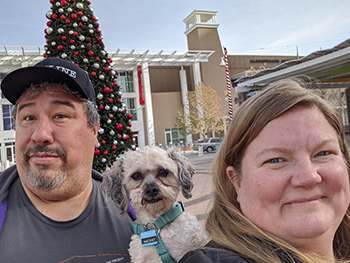 If you've seen the Academy Award for Best Picture-nominated "Hell or High Water," you'll recognize Greyhound Grad Kristin K. Berg, who played a bank teller in a robbery scene. She was also behind the counter in an episode of the latest season of the Emmy-nominated series "Better Call Saul," serving as a shopkeeper.
The skillful actress helps young people hone their theatrical talent in her role as the co-artistic director for Cardboard Playhouse Theatre Company, an improv-based program in Albuquerque, New Mexico.
Kristin, who graduated from Eastern New Mexico University with a Bachelor of Fine Arts in University Theatre Studies with a minor in psychology in 2003, shares how her Eastern Experience prepared her to run a theatre company.
Tell us about the Cardboard Playhouse Theatre Company. What inspired you to take on the role of co-artistic director?
Cardboard Playhouse Theatre Company is a 501(c)3 nonprofit organization that focuses on creating theatre through an improv-based program for youth. We also manage the shows and classes at The Box Performance Space and Improv Theatre. My partner, Doug Montoya, founded the theatre company in December of 2004. I joined as the co-artistic director the following year and helped solidify our non-profit status. We opened The Box Performance Space and Improv Theatre in March of 2007. Even in my youth, I always thought it would be great to have my own theatre company and theatre space. I am very lucky that that dream became a reality. I love working with kids and guiding them to find the joy in theatre that I've had since I was their age.
What do you enjoy most about your job?
What I enjoy most about my job is seeing the young actors I work with forming bonds and theatre families with their castmates. I love seeing them find confidence in themselves and their choices and how those strong choices help guide their real-world decisions.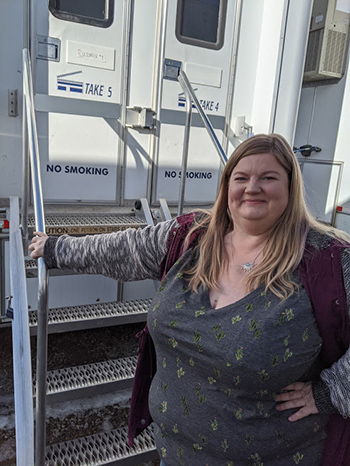 What are your job duties?
Overall, I help guide the artistic vision of the theatre company. I co-produce and direct all of our shows. I design the lights and microphones for our productions. I handle scheduling and conversations with venues. I also handle a lot of the administrative tasks like bookkeeping.
What are your short- and long-term goals for the Cardboard Playhouse Theatre Company?
Our biggest short-term goal is to make it out of the pandemic in one piece. We really want our performers and audience members to be safe, so we are happy to keep everyone home, but we are going through whatever savings we had and by the time this article prints we will have just hosted an eight-hour telethon with the hopes of raising $20,000 to cover overhead until we are able to reopen. Past the pandemic, we would really like to open a permanent home for Cardboard Playhouse Theatre Company. We've been renting venues for the last few years, and it's been difficult to have to move so often. We'd also like to be able to offer a bigger variety of classes and training for our community.
Previous jobs?
I used to work for Albuquerque Public Schools as a drama teacher and for an event management company named Kesselman-Jones. I'm also a SAG-AFTRA actor. You can find me on IMDb. My credits include "Hell or High Water," "Ideal Home," "Better Call Saul," and, most recently, "Roswell, New Mexico."
Tell us about your family and background.
I grew up in Albuquerque, New Mexico, and attended Del Norte High School. My parents owned Fair n' Square Food Store. My younger sister is a school counselor. I used to work in my parent's grocery store during the summer stocking shelves and helping to work the Western Union office. I live with my partner, Doug Montoya, and our dog, Wicket, in downtown Albuquerque.
Why did you choose ENMU?
I chose ENMU because I wanted to have some independence from my family, but still be close to home. I also really liked that the Department of Theatre and Dance (at the time) was well-rounded and had actors take technical theatre classes in addition to acting.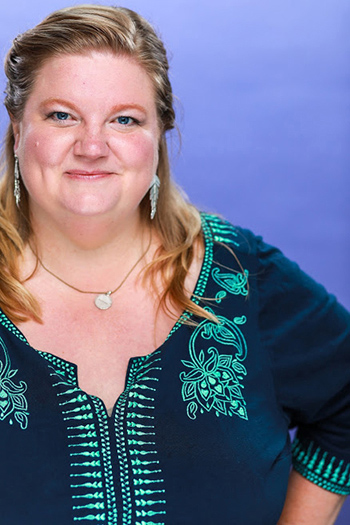 How did you choose your field of study?
I've been in love with theatre my whole life. Theatre allows us to experience empathy and dangerous situations in a safe way. It allows us to be vulnerable in a safe environment. I always knew it wouldn't be a big moneymaker, but I honestly could not imagine myself doing anything else.
Which activities were you involved in at ENMU?
I believe I was on the Dean's List every year for my GPA. I graduated Cum Laude. I was the Box Office manager in the theatre for two years, and I also worked the graveyard shift at the University Computer Center. I was one of the first students to watch the fancy new "Mac Lab" that was only for certain students to use. I was on the lottery scholarship, and I had work-study to cover my dorm with the theatre department during my freshman year. I received an acting award my senior year.
Discuss your Eastern Experience, including professors who stood out to you.
All of my theatre professors at ENMU were my favorite. I loved Dr. Patrick Rucker, Felipe Macias, Janeice Scarbrough and Daryl Philipy. They instilled confidence in me and my craft. Even Shirlene in the office made a huge impact on my college life. Outside of the theatre program, I loved my film analysis class, my many dance classes, psychology and sociology classes. Each of these classes allowed me to experience myself and my classmates in a different light.
How did ENMU prepare you for your career?
ENMU prepared me with many tools for my craft and, because of my well-rounded education, including technical aspects, I feel comfortable in my theatre company making technical decisions, as well as helping to guide the actors to make big choices. The confidence I gained in my craft has helped guide me through my film roles as well.
What advice would you give to a student interested in working in your career field?
My biggest advice is to not just focus on one aspect of theatre or film. Learn as much as you can, because chances are, you will end up doing another job. Especially if you are creating/producing your own work. I also think taking as many business classes as you can handle is important. I wish I had taken more.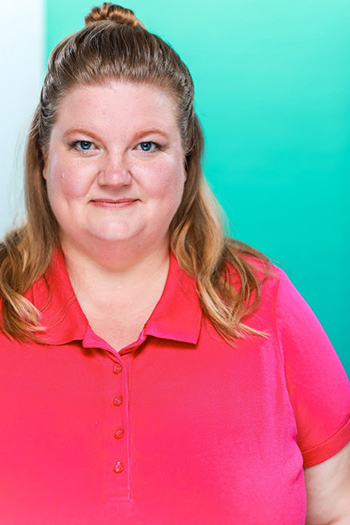 Who influences you? Who is your role model?
My partner, Doug, is a huge influence and role model for me. He always reminds me of how to be a good person. He is always thinking about how we can best serve our actors and our audiences. I'm also still greatly influenced by my friends from college Claire Rice, Leslie Nesbit, Shannon Bowen (Rafferty), Tara Miller and Laura Reed (Fernandez). They have always been a source of encouragement to me, and I'm in awe of all they have accomplished every day. Each of them is so brave!
Which accomplishments and awards have you earned?
CPTC and The Box have won several Best of the City/Best of Burque awards. Our improv team has also performed with many cast members of "Better Call Saul," including Bob Odenkirk and Rhea Seehorn. We've had Kevin McDonald from "Kids in the Hall" teach comedy and had Marc Evan Jackson from "The Good Place" watch our shows.
Hobbies?
I don't really have any hobbies, but I enjoy reading tarot cards and reading self-help books
What are some interesting facts about you?
In "Hell or High Water," I got to work with Buck Taylor (Gunsmoke), Ben Foster and Chris Pine. It was an amazing scene and to get to film it in Portales was a bonus! In my scene from "Ideal Home," I shared the screen with Steve Coogan, who said I was funny. Getting to work with Bob Odenkirk was a dream come true and such a fun scene to film. All of my film roles have shot outside of Albuquerque, and I've been behind a counter in all of them! The independent film "Third Act" that I have a starring role in is in post-production and will hopefully have a cast screening later this year.
To learn more about the Cardboard Playhouse Theatre Company, visit their website and follow them on Facebook.