Danielle Castro, who graduated with a bachelor's degree in agricultural science from Eastern New Mexico University in 2016, is a library assistant at the Amarillo Public Library (APL) East Branch.
She discusses the new virtual story times the branch has been hosting during the pandemic, as well as her time at ENMU.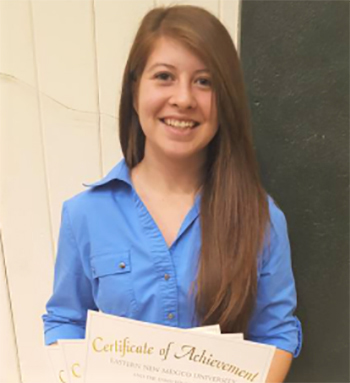 Tell us about the virtual story times you have been hosting.
Prior to COVID-19, all five library branches in Amarillo offered in-person story times, and they are all so unique; I work with some very creative people. I normally read two books for story time, and much of the aim is towards 5-8-year-olds. Our other branches have great baby-time and toddler-based story times.
The East Branch library where I work serves a large Hispanic population, and we offered a series of bilingual story-times that were such a hit we decided to make those a more permanent event.
When we went to strictly curbside service due to the pandemic, there was no hesitation from the staff to continue offering content to our patrons. During the spring, we experimented with different kinds of virtual content, even trying out a trilingual story-time with English, Spanish and American Sign Language. I am thankful for the assistance of my coworkers for playing a part in this because it allowed us to be more inclusive.
During the fall, we have had a successful Hispanic Heritage Month programming, and decided to continue that since it was something the community appreciated. Part of that was the bilingual story time, the books we utilized focused on messages of pride for Hispanic culture and art.
Are there plans for more story times and other virtual events?
Most publishers have given us permission to continue to offer the virtual story times via streaming through spring 2021 due to the pandemic. You can catch APL story times Monday- Friday at 10:30 a.m. on the Amarillo Public Library Facebook page. East Branch story times are on Friday mornings. During December, APL plans on offering Christmas skits that are super cute. APL via YouTube also offers citizenship classes and "Maker Time" crafting videos.
What inspired you to become a library assistant for APL?
I had amazing librarians growing up, and my mom always took my brothers and me to the library on weekends. I had worked at the ENMU Golden Library while completing my undergraduate studies, giving me the experience to apply for the job. Melveta Walker [retired director of the ENMU Golden Library] also shared her career knowledge and experiences with me while I worked at the ENMU library, and I feel a lot of that helped me in my career at APL. I didn't have the intention of working at a public library, I just stumbled across the opening while in-between jobs. I also didn't expect to love my job as much as I do. Since working at APL (it will be three years in February), I have decided to make it a career and pursue a master's in library and information science.
I love teaching and being able to help people in general, but I couldn't really see myself in a classroom setting. The public library was a perfect fit because of the various ways I can do that. I like that I get to teach certain crafts and give children and teens the materials and space to create art and perform science experiments. I like that I have been able to recommend books for those kiddos who do not normally like reading.
What are your job duties?
I work specifically in the youth and teen department helping patrons with finding materials and answer any questions they may have. I am responsible for providing weekly story times and monthly programs that are free for the community to attend. I also assist in collection management of youth and young adult materials, selecting new books and media for circulation and weeding out the stuff that doesn't circulate anymore.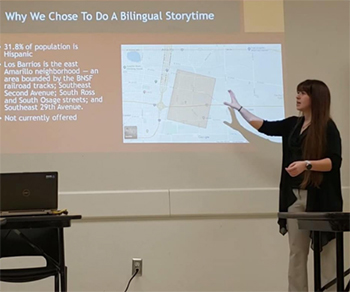 What do you enjoy most about your job?
Programming is my favorite task of this job. Prior to COVID-19, patrons could attend those in the library. Where's Waldo Scavenger Hunt, Harry Potter Teen Book Club, Superhero Yoga, Pokémon Game and Craft Night and Dia De Los Muertos celebrations are a few I have hosted. I love seeing parents enjoy it just as much as their kiddos. Wowing patrons with a little science or helping them create some art they are proud of is so rewarding.
Since COVID-19, programs are now offered in the form of video how-tos and take-home craft kits. Our trilingual and bilingual story-time videos were a hit, and we even provided piñata take-home kits.
Which other jobs have you held?
I feel like I have done a little bit of everything. My intention after I graduated was to use my degree in agriculture science was to pursue a career with USDA, but a federal hiring freeze in 2017 hindered that, so I took different temporary positions until I stumbled into the APL Library Assistant position in 2018. I worked with NRCS in both Montana and Oklahoma, as well as the Forest Service in Arizona, thanks to the Hispanic Association of Colleges and Universities (HACU), who sponsored these internship opportunities. I also worked in a greenhouse and a daycare here in Amarillo as well.
It was my three years of work-study experience at the ENMU Golden Library that really helped me obtain the position at APL.
How did ENMU prepare you for your career?
The courses I took leading into a potential secondary education degree were so beneficial for a career in library science. Lesson planning for a class and a library program share the same process. I am really thankful for all the practice in creating lessons. The observation time was also great because I learned different methods in drawing the attention of students of all ages.
What are your short- and long-term goals?
Short-term: Complete my master's program in May 2022; I am currently working towards a master's degree in library and information science through the University of North Texas. I also want to get certification to teach yoga and implement more of that in library programming.
Long-term: I think eventually I want to try my hand in library administration.
What advice would you give to a student interested in working in your career field?
If anyone is interested in the library and information science field, I would highly recommend taking as many computer science courses as you can, being comfortable with technology has made my job easier. Also, take advantage of the education courses; I really had no intention of going into library science when I was an undergraduate. but those classes offered so much that has helped me in this career field, from interacting with people and students of all ages to putting together programs.
To build work experience, I also recommend looking into the Hispanic Association of Colleges and Universities; the National Internship Program they offer is fantastic. They offer various federal internship positions, including one with the Library of Congress that would be a great experience to list on a resume.
Why did you choose to attend ENMU?
I chose to attend ENMU because of the quality education I was told to expect at ENMU, and I liked the idea of smaller class sizes. The affordability because of scholarship also played a large role in the decision to attend ENMU.
How did you choose your field of study?
I was heavily involved in my high school FFA program in Dexter, New Mexico, and had chosen to pursue agriculture education. However, that changed in my fourth year, as I chose to pursue a career with USDA. I love teaching, but my passion overall is public service.
Which activities were you involved in at ENMU?
I was involved in ENMU's collegiate FFA as well as the Wildlife and Fisheries Club. While at ENMU, I worked at the Golden Library in both the digital media department and cataloging department. I also did a year as an undergraduate researcher for the agriculture education department funded by a USDA grant.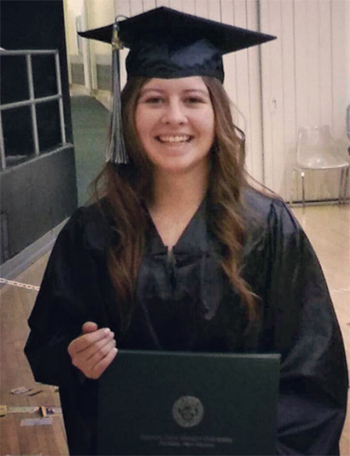 Which academic honors did you receive?
I was on the Dean's List from 2012-15. I owe a huge thank you to the ENMU Foundation for the numerous scholarships that made it possible for me to complete my undergraduate studies without financial burden. Those scholarships included the ENMU Foundation Starter scholarship, the Jack and Ladeane Murphy Scholarship in Agriculture, the Kilroy Memorial Scholarship Honoring Joe Melendez and the Heidi Best Agriculture Scholarship.
Discuss your experience at ENMU, including your favorite professors and courses.
Favorite Professors: I am really thankful for Dr. Kathleen Wagner and the education department for all the teaching strategies I now use at the library. I owe a big thank you to Dr. Chumbley, Dr. Smith, and Dr. Swafford for my agriculture science studies for always challenging me and being great advisors. Professor Greer helped me hone my writing skills and made me a much more confident writer.
Favorite Classes: There were a few! I enjoyed Jewelry (ART 271) as it was a unique elective, and I highly recommend it. Principles of Horticulture (AG 221) and Introduction to Psychology (PSY 101) were a lot of fun. There was quite a bit of comradery built in my education courses which made those much more enjoyable, and they were the most helpful in my current career at the library as they taught me how to structure youth and teen programs.
Are you currently involved with any organizations or causes? Volunteer work?
I am a student member of the American Libraries Association (ALA) and the Texas Library Association (TLA). I was also an ALA Spectrum Scholar for the 2019-2020 school year.
As far as volunteer work, I really try to stay involved with events the City of Amarillo and APL promote. The Friends of the Library has book sales four times a year, and I volunteered there on my days off. I volunteer annually with United Way's Day of Caring, where the city gets involved in community improvement projects. I have been involved with some such as the update of Guyon Saunders Resource Center, planting trees and creating raised garden beds for the Warford Activity Center. I also did some outreach with a few different schools to promote reading and the Summer Reading Club at APL.
Tell us about your family and background.
My parents are Marina and Larry Castro. My mom is a project manager with a software company called Kofile. My dad was law enforcement and is currently retired. I have one older sister, Erica and two younger brothers who I absolutely adore.
I was the first in my immediate family to receive a bachelor's degree. I grew up in Roswell/Dexter, New Mexico.
Who is your role model?
My parents and my Grandma Gracie were always so supportive and always challenged me to do my best; they are my biggest influences and role models. I have no shortage of inspiring women in my family, my tias (aunts) and my cousins are all so ambitious and that in itself is always inspiring.
As far as my career in library science, Dexter Elementary' s librarians, Mrs. Miles and Mrs. Deutsch were so good at instilling a love of books and literature. Melveta Walker of ENMU's library also saw my technical capabilities and work ethic and allowed me to learn quite a bit about the inner workings of an academic library. As an employer, she was very influential in my current career.
What are your hobbies?
I love yoga and fitness; I want to eventually get certified as a personal trainer and yoga instructor. I love hiking and venture out to Palo Duro Canyon and Caprock Canyon fairly often. I also like to write fiction and hope to publish some of my writing projects someday.
I do like to read, but I think that is expected in my career choice. As a librarian, I get asked a lot what I like to read, which is usually science fiction, but I do read a little of everything for the sake of staying knowledgeable for my job.