Cristian Pacheco, who graduated with a Bachelor of Science in Communication with an emphasis in broadcast journalism from Eastern New Mexico University in 2017, is a production supervisor at KFDA NewsChannel10 in Amarillo, Texas, and created Be Known, a website devoted to helping hip-hop artists get discovered, with co-founder Alberto Solis.
Cristian discusses how his time at ENMU prepared him for a career in broadcast and inspired him to create Be Known.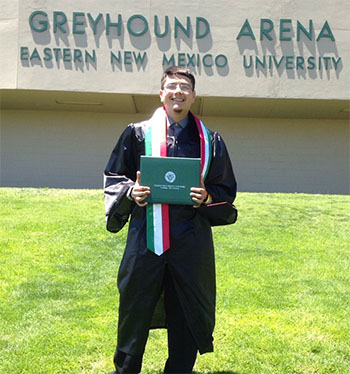 Why did you choose to attend ENMU?
I chose to attend ENMU because it was close to home. I was born and raised in Portales, New Mexico, so being able to attend a university that was across town and still be able to see my family when I wanted played a huge role in my decision. I had already taken some college courses at ENMU during my senior year of high school at Portales High, so when the University offered me a four-year scholarship to become a Greyhound, it was a no-brainer for me, and I quickly accepted. That was one of the best decisions I have made so far in my life.
How did you choose your field of study?
Like any freshman headed into their first year of college, I was clueless about what I wanted to study. At first, I wanted to major in history; then, I changed course to communication because of my love for sports television and the broadcasting side of things. During that time, I had a friend by the name of Jacob Aranda who had workstudy at KENW. I would always see him posting the cameras in the studio and editing bay in the Communication Building on social media. After asking what he did and what he was majoring in, I took a tour of the wonderful Communication Building and instantly felt like I was at home and finally found out what I wanted to major in. The rest was history.
Which activities were you involved in at Eastern?
After the tour of the Communication Building and meeting Richard Rivera and Allan Crawford, who both ran the news and sports side of KENW, I was able to get workstudy and was hired on at the station. While working there, I was able to shoot and edit sports and became one of the hosts of "High School Spotlight," which was a segment that aired on our "Sports Look" show hosted by Doc Elder every Thursday evening. While being a host of High School Spotlight (2016-2017), I, and fellow cohost Jacob Aranda, went around the Eastern New Mexico panhandle capturing the excitement brought by local sports in the area. We then would prep our segment by writing our scripts and editing the footage we shot. We covered football, basketball and baseball. I also was able to help shoot ENMU Athletics, from soccer to baseball and everything in between. I was one of the first two students to call play-by-play commentary for our live broadcasts of the men's and women's basketball games that aired on KENW. It is an achievement I consider one-of-a-kind and one I feel very blessed to be a part of.
I also wrote for the sports section of the school newspaper, The Chase, for about a semester. During my last semester at ENMU, I was awarded and recognized as one of the most outstanding students in broadcast production. This was an award I never expected to receive, but I also feel very blessed to have it under my belt; it is another achievement that I feel is one of a kind. I attended ENMU through the New Mexico Legislative Lottery Scholarship. I made the dean's list three times while attending ENMU.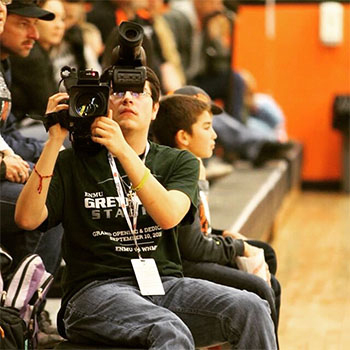 Discuss your Eastern Experience.
I had a great and positive experience while attending ENMU. I feel like not only did the University help me get ready for my career, but also grow as a person. Before heading to ENMU, I was a little shy and didn't really like speaking to people that I didn't know. Eastern helped me grow out of that shell and helped me be more social, from the professors to the people I met who I was able to call my friends and still keep in touch with today. Eastern was such a great place to be because everyone was laid back and down to earth. My experience at ENMU is one of a kind, and I hold many memories as a Greyhound.
Tell us about your job. What inspired you to work in this role?
I am currently the evening production supervisor here at KFDA NewsChannel10 in Amarillo, Texas. I was hired at KFDA in September of 2017 as a news content specialist. I've learned so much working at NewsChannel10 and, in my three years, I have been blessed to climb my way up to a leadership role by working hard day in and day out to help deliver the best news content to the Panhandle of Texas.
What are your job duties?
I am the lead newscast director on our primetime shows, Live at Five, News at Six and the News at Ten.
My other job duties include overseeing the rest of the production crew and assisting in solving any production problems that may arise before or during our newscasts. I also train new production members and help in making the work schedule for the production crew each week.
Also, I am a photographer. I help with editing videos for our newscasts, shooting and editing sports for our sports reporters and shooting football for our local high school football program "The Wrap Up."
Which aspect of your career is the most rewarding?
I really love being able to be a part of a hardworking group of journalists that provide the best local and national content to the Texas Panhandle. Being able to say that I have directed our newscasts during very pivotal times in our nation is something that I will never forget. Just being around the fast-paced environment that a career in news brings is very exciting.
What are your short- and long-term goals?
My short-term goals while I am here in Amarillo are to continue to help the newsroom out with anything that is needed, from postproduction to our live shows, and to continue to help new and current production assistants learn new skills to help them further their careers. As for my long-term goals, I would like to continue to be a newscast director in a higher market, climb my way up the ladder and travel around the country, helping different newsrooms put out their content to their viewers. I also wouldn't mind working in production for any major or mid-major sports teams, having background experience in this part of live production.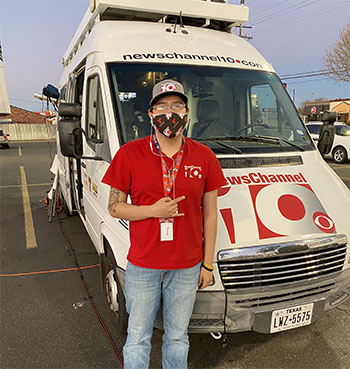 What were your previous jobs?
I previously worked at the PBS affiliate station, KENW, at ENMU. I was employed there by workstudy from 2015 until I graduated in 2017. I also am currently employed by the Amarillo Sod Poodles. They are a double AA minor league baseball team and are former affiliates of the San Diego Padres. I work production on game days with the Sod Poodles.
How did ENMU prepare you for your career?
ENMU played a huge role in preparing me for my career in broadcast production. The fact that ENMU isn't a big school and professors are able to take their time and not rush when teaching their students what they need to know once they graduate helped me out so much. The hands-on learning with the studio equipment really propelled me and made my transition into the news world that much easier. I already knew how to do certain aspects of the job, like what buttons do on-field and studio cameras or even how to adjust and change bulbs in our studio lights. I feel as if I wouldn't have gotten the same opportunities to learn and grow as I did at Eastern if I had attended another university. I credit ENMU for pushing me and challenging me to be a better student every day and not to give up on myself when the going gets tough.
What advice would you give to a student interested in working in your career field?
Don't be afraid to make mistakes, and don't be afraid to take a chance because those mistakes and chances will help you learn and grow within the field. You must be able to take constructive criticism from your peers and upper management because there will be some rough days working in news. But never stop learning; the more you learn and know, the more valuable you are. Keep an open mind, and don't slack. I have made many friends and memories while working in news. Take the chance and see what this field can offer you because you might just fall in love with it just like I did.
Are you involved with any organizations or causes?
I have helped out with the Coffee Memorial Blood Drive in Amarillo.
Tell us about your family and background.
My mother, Lorenza Marquez, is from Ciudad Juarez, Chihuahua, Mexico. She works for Portales Municipal Schools. My father, Chris Pacheco, was born and raised in Portales. He spent 20 years in the Army National Guard, retiring as an E6 Staff Sergeant. He also worked at Borden's Peanut Company in Portales for 39 years until his retirement. I am the youngest of five children; I have two brothers and two sisters.
Who influences you? Who is your role model?
My mother and father are two of my influences. My mother came from Mexico at a young age to pursue a different life than what she had in Mexico. She took a huge risk but never doubted herself; to this day, she keeps the same mentality in life. She never doubts herself because she knows she can do the impossible. My father serving in the Army brought leadership and discipline my way at a young age. Both of my parents always made sure their kids had everything we needed but still taught us that nothing is given in life. You have to work hard and earn everything you want. Another influence was Richard Rivera. Richard is my former boss and mentor while working at KENW. He took me under his wing and made sure I was always doing what I needed to do; he was a little tough on me sometimes, but that is what I needed in order to prepare myself for life and a career after ENMU. Richard is someone I can always go to when I needed advice, whether it was about school or life in general. I know I can always reach out to him if I need to, and he will be there for me.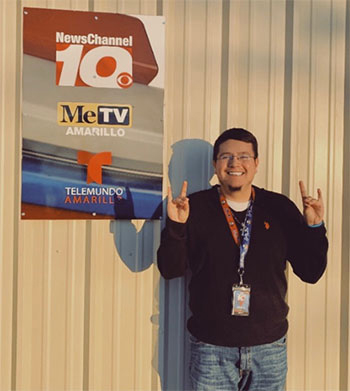 Which accomplishments and awards have you earned?
I was the first person in my immediate family to graduate from a university with a degree. I did so while working two jobs and going to school full time. It was tough, and I don't think I would have done it if it wasn't for the people around me. Being offered a scholarship from Eastern on its own is an accomplishment. Having the will to take advantage of the scholarship and ultimately graduating with the Mexican flag sash hanging around my neck was a moment of triumph. There is a gap among Latinos graduating from college, and knowing I was able to do my part in improving that statistic was very humbling.
What are your hobbies?
I enjoy hanging out with friends and co-workers, attending live sporting events (hopefully we can all get back to doing so soon), visiting new cities, taking and editing photos and sharing them for others to see. Making new memories is one of my hobbies.
Share an interesting fact about yourself.
Along with enjoying what I do for my career, I co-founded a hip-hop website with Alberto Solis called beknownposts.com. I have been running the site since 2014. With the site, I help upcoming hip-hop artists get their music out to new listeners. I write about the song and help promote it through social media platforms. Those artists don't have to be from New Mexico, either. I've helped many artists from across the United States, from New Mexico, Texas, New York, California, North Carolina and more. I enjoy helping them through my website because I genuinely love music and like to help them grow their fanbase in any way possible.
I also shoot and edit music videos for artists around New Mexico and Texas and have also done a few wedding videos. My company name is MP Visuals; check out my Twitter and Instagram accounts for updates and information.
I have always had an itch for being creative and always wanted to try my hand in editing videos, so learning how to edit while at ENMU helped me pave that path towards being even more creative.
Is there anything else you would like to share?
I would like to thank all the professors that helped me during my time at ENMU. I would especially like to thank Richard Rivera, Allan Crawford and Dr. Patti Dobson for always being there when I needed any help and encouraging me to keep striving. I am extremely blessed to be an ENMU alumnus. O Hail ENMU to You May we ever be loyal and true.