Andree "Renee" Peña Flores, who graduated from Eastern New Mexico University with a Bachelor of Science in Communication with an emphasis in public relations in 1993, is the local sales manager at Lazer Broadcasting in Oxnard, California. She has plans to sponsor a scholarship for Hispanic students studying communication at ENMU in memory of her father, Willie Peña, a Purple Heart veteran.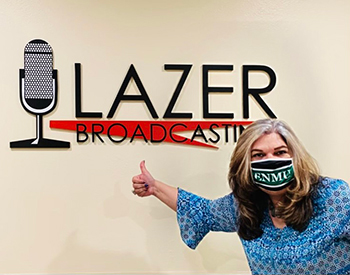 Renee, who also serves as a commercial Spanish language broadcaster, discusses her Eastern Experience and how her time at ENMU led to a career in broadcasting.
Why did you choose to attend ENMU?
Portales, New Mexico, was my hometown, and my uncle Abe Peña had attended ENMU and graduated with a BBA degree in business information systems. Plus, ENMU had the best communications school with a full Broadcast Center where you could get the best hands-on experience or work-study hours in various aspects.
I was able to do various work-study jobs while there. I helped write press releases for all upcoming PBS programing and their live telethon fundraising events. The radio station department also had student DJ slots at the time. I remember serving as a camera operator for ITV (distant learning) between the Roswell campus and Portales campus (before online technology). We had a student-run news department for which we actually won awards in those years from the New Mexico Broadcasters Association. I still have them because they were framed!
While my uncle was the first family college graduate and personal role model, ENMU had the biggest role models I needed while attending, including Monica Herrera in Student Administration and Richard Rivera as a TV producer; they were both instrumental and inspiring to me. I still remember Rivera produced a TV show called Cultura, and it showcased history and events of rich Hispanic and Native culture. They collaborated on several TV episodes too.
How did you choose your field of study?
Working at the Broadcast Center, I saw that ENMU had a new degree plan in public relations, which gave you a well-rounded degree plan in Communications, including courses in business, marketing, and liberal arts.
Which activities were you involved in at ENMU?
I joined the Association to Help our Race Advance (AHORA) Club, which was very important at the beginning as a minority student learning, growing, collaborating, fundraising and being the fabric of the Hispanic student community. I met my husband, Phillip Flores, who graduated with a Bachelor of Arts in Business Administration in 1990, at ENMU. He also attended group activities at the Newman Center with me.
Discuss your Eastern Experience.
I would say there were several teachers that stood out for me. One was Dr. Shirley Joiner and Dr. Patrice Caldwell, who both inspired me and where I found the joy in writing. I actually won a writing contest titled "Mi Abuelita," featured in The Chase newspaper that was about my paternal grandmother, which I printed copies of and shared at her funeral several years ago in Portales.
What inspired you to work as the local sales manager and a commercial Spanish language radio broadcaster for Lazer Broadcasting?
The large U.S. Hispanic market and it's national $1.5 trillion buying power plus working for and contributing to a minority-owned and operated corporation in being creative and resourceful. This leadership position and role consists of managing a sales team generating millions of advertising revenues, including Dodger radio broadcasts sponsorship, large events and festivals such as Cinco de Mayo and Fiestas Patrias. My inspiration comes from motivating and developing media sales representatives to perform their best work in tapping into their talents, being creative, establishing strong business relationships and emphasizing the value of their product and service. Their success automatically increases long-term sustainable growth, thus contributing to an increase in company revenue.
Lazer Broadcasting's donation of over $450,000 to Children's Miracle Network Hospitals.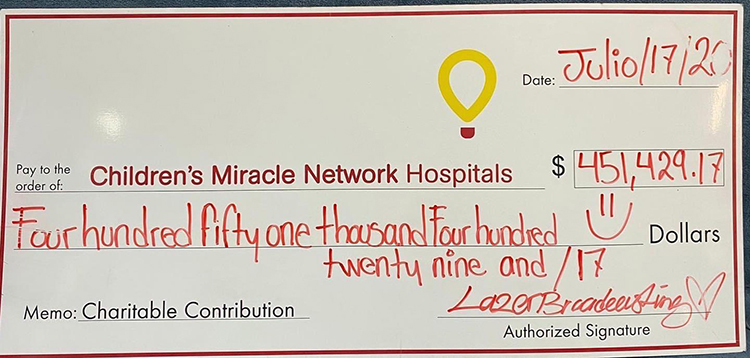 What are your job duties?
To increase revenue and oversee sales teams in three key market areas for nine stations within a radio network in California and Reno, Nevada. I focus on on-air, digital and social media advertising.
Which aspect of your career is the most rewarding?
When my team has big wins and successes, especially in the new era of digital ads and big sports deals like LA Dodgers, soccer, etc.
What are your short- and long-term goals for this position?
Grow sales and groom the new generation of media sellers and also flourish the digital ad sales efforts as an additional revenue stream.
Where did you previously work?
I was a television sales manager and worked in business development for ESTRELLA TV, and was a field marketing manager for Coors Brewing Company.
How did ENMU prepare you for your career?
Eastern's class sizes helped promote collaboration and creativity which came naturally in a collective setting.
What advice would you give to a student interested in working in your career field?
Always work with your strengths and gifts. Be yourself and get creative in your delivery or "pitch." Have your 30-second elevator pitch when networking.
Are you involved with any organizations or causes?
We always support various organizations and big fundraiser events such as radiothons and telethons with media, and, belonging to the Los Angeles Latino Chamber of Commerce, I actually found an ENMU alum who owns a restaurant in the area. Small world!
Tell us about your family and background.
I was born in Clovis, New Mexico, and my parent's family came to Portales from northern and central New Mexico to work in the fields as youngsters. After my grandpa finished his military service, he married and moved to Portales and worked as a custodian at Portales High School.
Who influences you?
My family, philanthropists, humanitarians and artists.
I am humbled and honored to know many, many influential people on a daily basis throughout my corporate career. On a family level, my dad, Willie Peña, did not have a higher education (may he RIP) but rather chose differently to join the US Army like his father in WW2. He needed his father to authorize him as a minor to sign up and volunteer to be drafted into the Vietnam Veteran War, where he did a couple of Tours of duty and received a Purple Heart amongst other medals. When he was laid to rest at the Santa Fe National Cemetery to receive his final ceremonial honor, that was the moment I knew he was my true hero, and it was a deep understanding that had he gave everything for our great Nation, and his survival in Vietnam meant that I would be given a chance at life and be born here in Eastern New Mexico (Clovis Memorial Hospital).
Linda Ronstadt is another inspiration. Why? Her musical talent and philanthropic contributions to the world and her love of family and especially for her Mexican American roots and community. She just earned a 2021 Grammy Award for her music film "The Sound of My Voice." I think it's great to use your gifted talent to inspire others and lead the way for others.
Tell us about your accomplishments and awards.
For the National Hispanic Leadership Institute (NHLI), I was a speaker at an event featuring actress Rosario Dawson at a major Latina leadership conference in Denver and which had a very big reception to my breakout group. I also attended many other Hispanic women's conferences in Phoenix featuring Eva Longoria and also spoke as a corporate sponsor there, as well. The biggest crowd I had the honor of being introduced to was a crowd of over 19,000 people at a Mariachi Festival held in Phoenix. That was truly memorable, to say the least, to be on a stage of that capacity because my role and profession typically operate behind the scenes. Of course, I avoided being alone on stage, so I had invited Jeff Hernandez from our local distributor Hispanic marketing team, who happened to be from Artesia, New Mexico (Portales High School's biggest football rival), and he eventually became a key player and staff member of one of my media sales teams. It's a small New Mexico world, after all. It's all about connecting with people and showing up with passion and purpose!
What are your hobbies?
Working full time takes the majority of my time, but travel and reading actual hard books seem to be a favorite hobby besides attending large concert attractions (pre-Covid). We try to travel as much as we can back to New Mexico to visit our families and make stops from Rio Rancho to Santa Fe to Puerto De Luna to Portales. Our adult kids enjoy travel, but it's always great for family reunions and be back home in New Mexico with loved ones.
Please share an interesting fact about yourself.
I recently had a genealogist do a report of our family and discovered so many facets and discoveries including how far back our family lines crossed here in New Mexico. We learned we are descendants from Cabeza De Vaca, the Spanish explorer. Our ancestors date all the way back to the Canary Islands in the late 1300s, with also crossed into Cuba and Mexico to a pathway into northern New Mexico. I also learned from my DNA that my ancestry included some Ashkenazi Jewish ancestry (four-plus generations ago), Spanish and Portuguese (three to five generations ago) and Native American (four generations). I've always been fascinated with our Native Americans and recently found out that my great-great-grandmother was a full Native American without any record of her tribal lineage.
Renee, second from left (bottom row), with the Radio Lazer team.