KyAnna Walton, who graduated from Eastern New Mexico University with a Bachelor of Science in Communication with an emphasis in broadcast journalism in spring 2018 and a Master of Arts in Communication in spring 2020, is continuing her Eastern Experience with two new roles: adjunct professor for the Department of Communication and admissions recruiter for the Office of Enrollment Services.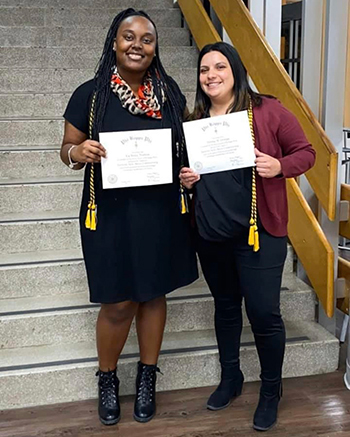 KyAnna discusses how her time as a student at ENMU prepared her to assist Future Greyhounds during the admissions process and help current students discover a love for the study of communication.
Why did you choose to attend ENMU?
I chose ENMU because, on my campus tour, it was the only campus I visited where I truly felt a sense of comfort.
How did you choose your field of study?
Before coming to school, I wasn't completely sure what I wanted to do. In high school, my life was all about academics, basketball and theater, and I was ready for something new and exciting. After touring the Broadcast Center, it clicked. As a kid, I used to always say I would be on tv someday, and being in the Broadcast Center was like seeing one of my childhood dreams unfold right in front of me.
Which activities were you involved in at Eastern?
I was vice president and captain of the step team, Elite Hound Steppers, for the Brothers and Sisters United Organization before it dissipated. I was on the dean's list a few times. I worked as a student worker for News 3 New Mexico as an anchor, reporter, producer, director and camera operator during my undergrad. I was awarded the Outstanding Student in Broadcast Production for News 3 New Mexico in 2017. I was also awarded the Outstanding Student in Broadcast Journalism for News 3 New Mexico and the Outstanding Student in Broadcast Journalism for the Department of Communication in 2018. During my graduate program, I worked as a graduate instructor teaching Interpersonal Communication. I also hosted a podcast, "The Vibe," during my graduate program alongside two of my best friends, Ebony and Dee. I was inducted into the National Honor Society of Phi Kappa Phi in 2019.
Discuss your experience at ENMU, including professors, events and activities that stood out to you.
It's hard to pick one favorite professor when you're in the Department of Communication because they are all amazing. However, I can never and will never speak about my time at ENMU without talking about Dr. Dobson. That woman is a life changer! I never have the words to describe the impact she had and continues to have on me.
Some of my favorite activities at ENMU were working at News 3 New Mexico. It was such a rush when my friend Kaitlin and I would get an evening or late-night call for breaking news. We'd have to rush to the station, get our equipment and rush to the location to get the story. It was real hands-on experience, and it taught me a lot.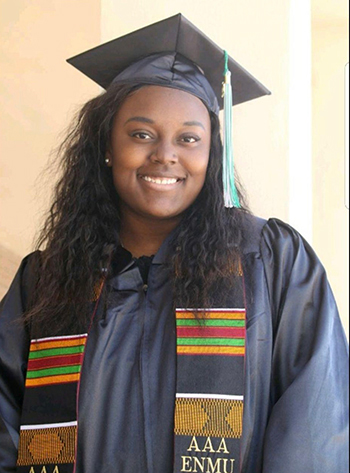 I also loved the events my organization used to host, such as the 90s block party and our Masked til Midnight masquerade. It opened the door for all the students to come together and enjoy a trip down memory lane.
The last major event I was involved in was leading my peers in the journey to get MLK Day observed at ENMU. I worked alongside community leaders from Portales, Clovis and Albuquerque, as well as student leaders such as Charles Countee and Ebony Baty. The Office of African American Affairs in Albuquerque also played a major role in this journey. It was a long journey with many ups and downs, but we prevailed with the help of then-President Jeff Elwell. Being able to speak on behalf of my peers about something we were all so passionate about was so rewarding, and I'm glad they trusted me for something so significant.
What are your job duties?
I teach Interpersonal Communication, and as a recruiter, I facilitate appropriate targeted outreach efforts to support the enrollment goals of the University.
Which aspect of your career is the most rewarding?
The aspect that I find most rewarding about my career is being able to pour back into the community that helped me grow into the person I am today. It has always been important to me that my voice be heard, and ENMU continues to put me in positions where that is possible.
What are your short- and long-term goals for this position?
My short-term goal for this position is learning how I can create an experience to show students that they are valued here at ENMU. I hope to help as many students as I can understand the many heights they can reach while attending ENMU. My long-term goal for this position is to create an environment and relationship with students, so they know that they have support past the beginning stages of college. One thing that kept me grounded throughout my years at ENMU was knowing that I had the support of my professors and mentors in the Communication Program while I was away from home. I hope to create that type of environment for Future Greyhounds.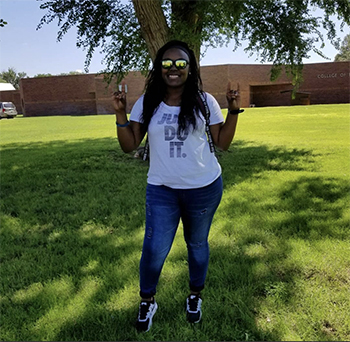 Previous jobs?
Bath and Body Works was my summer job throughout the majority of undergrad. I was a student worker at KENW from 2015 to 2018.
How did ENMU prepare you for your career?
ENMU prepared me for my career by not limiting me. In the Department of Communication, if there was something I wanted to try, they made a way. They allowed my creativity to grow beyond what I could've imagined.
What advice would you give to a student interested in working in your career field?
Never put your personality in a box for anyone or anything. I used to be scared that my big personality would keep me from doing certain things, and I've found the perfect field. Trust and follow your heart if you feel something is missing because I guarantee there is a field out there that your creativity and personality are fit for.
Tell us about your family.
My parents, Kim and Don Turner, live in Dallas. The rest of my family still lives in Lubbock, Texas, where I was born and raised. All of our lives are pretty much centered around my 8-year-old nephew. He's the light of our worlds. My family is what drives me to be better.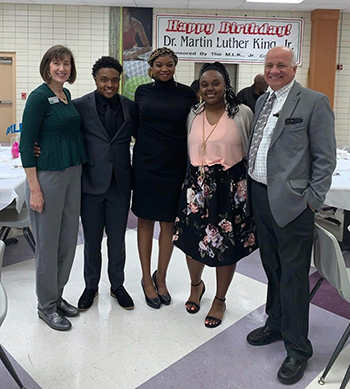 Who influences you? Who is your role model?
I have many influences in life, but my parents are my biggest role models. They both have been tasked with some of the toughest battles one can face in life, and I've never seen them give up. Through so many challenges, I've watched them not only provide my sister and me with everything we need, but they've done the same for their community, with a smile no less. My commitment to continually be a better person each day can be credited to them both.
What are your hobbies?
My hobbies include spending time with family and traveling and making new memories with them.
Share an interesting fact about yourself.
I sing better than everyone in my family… maybe they've stopped reading by now, so none of them can confirm or deny.
Is there anything else you would like to share?
I'm grateful for the mentors I've had in my time at ENMU. The people I've met throughout my stint at ENMU made these some of the best years of my life. I'm very excited to continue to grow in my new position!