Jill L. Hurley graduated from Eastern New Mexico University with a double major in cultural anthropology and religion in 2016 at the age of 40. She earned a master's degree in theological and cultural anthropology from Eastern University in St. Davids, Pennsylvania, in 2018.
The author of several published articles discusses her research and time at ENMU.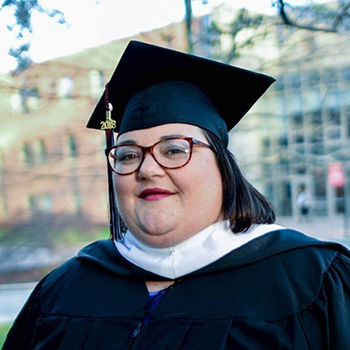 Tell us about your most recent article.
This is my sixth work to be published (seventh if you include my master's thesis). I have two more articles which will be published in June in the Encyclopedia of the Bible and Its Reception. My most recent article that was published is entitled, "Re-dream the Red Dream: China's Chance to Reframe the Narrative of Humiliation into One of Honor." It was published at the end of March 2021 in the Journal of Psychohistory: 48(4).
I traveled to Suzhou, China, in the fall of 2019 and was there during the 70th anniversary of the Chinese Communist Party. The article explores the history of China from the 1600-1900s and examines how their history impacted the psyche of the nation, ultimately leading to the devastation that happened under the leadership of Chairman Mao. It also looks at the future of China and examines the narratives of humiliation and honor as a choice set before the Chinese government for the days to come.
How did you choose your field of study?
I grew up in a Christian home, so my faith is very important to me. I have been fortunate to travel to multiple nations, and I realized how powerful religion is in the lives of people. I don't believe you can truly know people until you understand their religious beliefs that are woven into their culture. I love the adventure associated with studying cultural anthropology. Anthropology allows me to take a humble approach when encountering other traditions so that I can learn from ways in which other cultures view things, from gender roles to religion to how people eat certain foods. For me, there is a crossroads between faith and culture that I love, which is why I chose these two degrees.
Where have you traveled?
Suzhou, China, 2019; Dubai, United Arab Emirates, 2017; Kathmandu, Nepal, 2017; Rome, Italy, 2010; Juarez, Mexico, 2003; Toronto, Canada, 1998; Orange County, Belize, 1995; and Recife, Brazil, 1994.
Why did you choose to attend ENMU?
I came to ENMU because I had been attending Texas Tech, and their anthropology program is primarily geared towards archaeology. ENMU offers a robust cultural anthropology program in addition to the archaeological program. I had attended Lubbock Christian University before attending Texas Tech, and I had a considerable amount of religion courses under my belt as well. ENMU allowed me to finish two degrees, both of which I am passionate about, at the same time.
Discuss your Eastern Experience.
Dr. Stephanie Borios and Dr. Kathy Durand were my primary influences at ENMU. During my senior year, I took an Ethnography course with Dr. Borios. During that class, we did our first research projects. I did mine on the issue of race and racism at ENMU. Since ENMU is such a diverse campus, I wanted to know if racism was as prevalent on campus as it is in other areas. I learned that there are many subversive levels to racism that many people may not be aware of due to positions of power or their ethnic backgrounds.
I also really enjoyed my classes with Dr. Paul Smith and Dr. Shirley Rollinson. Dr. Smith had a great understanding of Pauline epistles and a passion for social justice due to his love of Dietrich Bonhoeffer. I remember Dr. Rollinson told me at one point that I should become a writer, specifically of devotionals or something of the sort. She was tough in class, but very encouraging.
I also took graphic design classes at ENMU under Bryan Hahn. I would have never considered myself a traditional artist, but through graphic design and with Bryan's encouragement, I gained some great skills that make me feel confident to do the work I do today.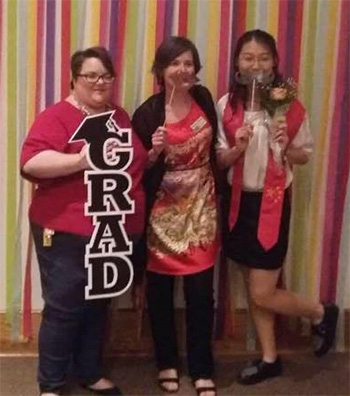 Which activities were you involved in at ENMU? Academic honors?
I was a member of Mu Alpha Nu and I also started ENMU's Anthropology Honor Society - Lambda Alpha. I received the Peggy Tozer Memorial Endowment in Anthropology for 2015-16, the Janis Bundy Memorial Scholarship for Women in the field of Religion for 2015-16 and the Philanthropic Educational Opportunity for Women Scholarship for 2014-15, as well as making the dean's list.
What is your job title, and where do you work? What inspired you to work in that role?
I currently work for Tascosa Office Machines in Lubbock, Texas. I am a project manager in their commercial furniture department. I also have a side job where I build websites and manage social media for clients.
What are your job duties?
At Tascosa, I do everything from producing purchase orders and creating invoices, to managing inventory, to tracking furniture shipments and installation. It is a multi-taskers ideal job. No day is the same. There is always a lot going on. One of the things that I will do at Tascosa (and for clients) is help manage the social media and maintain the website.
Which aspect of your career is the most rewarding?
I love serving the family that owns Tascosa Office Machines. They are like family to me and have been incredibly kind and generous to me over the years. Furniture may not necessarily be my passion, but being able to come alongside them and serve their dream is worth it.
What are your short- and long-term goals for this position?
I have made a three-year commitment to work with Tascosa. In those three years, I hope to pay off some consumer debt and create a nest egg for the next adventure. I hope to incorporate anthropology into my job at Tascosa by either researching what furniture can say about a people or by researching multi-generational family-owned businesses and the transfer of power within them.
My long-term goals are to live overseas for one year or more. As an anthropologist, it is really hard to know and understand a culture when you've only stayed there a short time. I would love to find a position overseas where I can get to know a people group.
Where did you work previously?
I moved to China in September of 2019. I moved there so that I could work as an ESL teacher. I hoped that I would live in China for a full year, if not more. Unfortunately, by the end of October, the school I was working for filed for bankruptcy. Since this company was my visa sponsor, I was now living in China illegally and was forced to leave the country. I had quit my job and sold my car so that I could move to China.
When I arrived back in America, I had nowhere to go other than home to my parents. I moved back to Lubbock and took a few months during the holidays to process this crazy, unforeseen adventure that ended abruptly. As soon as I was ready to start looking for a job, Covid-19 hit. I found a few part-time jobs throughout 2020, but I needed a full-time job to get reestablished. I had worked for Tascosa previously, and they invited me to join their team once again. One of those part-time jobs was serving as an adjunct at Eastern University in Pennsylvania. I taught Intro to Anthropology online. I would love to do more adjunct work.
How did ENMU prepare you for your career?
Perseverance is the name of the game when it comes to finishing college degrees. Writing all the papers, taking all the tests, jumping through all the hoops requires steadfastness and determination to not give up. As a person in my mid-forties, who is still not in the career of my dreams, I keep dreaming and putting one foot in front of the other, hoping that one day I will cross that finish line. Graduating with a bachelor's degree at the age of 40, after taking classes off and on for 10-plus years, instilled that determination in me.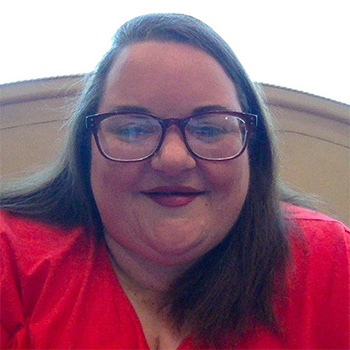 What advice would you give to a student interested in working in your career field?
That's a tough question. In my opinion, to be successful in the field of cultural anthropology, it is going to take multiple degrees, expertise in grant writing, a clear interest in a singular topic and the networking skills of an entrepreneur. If you are remotely interested in computers, social media, websites, etc., check out the crossroads of media and anthropology in UX design and then move to a big city like New York, Philly, Portland or Los Angeles. Those jobs are found in bigger cities.
Tell us about your family and background.
My parents live in Lubbock, as do my brothers Cole, Sam, and Scott and their families. Neither of my parents graduated from college. My father has been a successful salesman in his life, and my mother currently owns an antique shop, Glory B, in Lubbock. My brother Cole is a Lubbock firefighter and owns his own business, GreenPro. His wife, Jessica, is a teacher at Frenship. He has two children, Addison and Harrison. My brother Sam was the first to graduate from college and get his master's, and both degrees are from Texas Tech in business. He now works for the Office of the Comptroller of Currency. My brother Scott works for Lubbock ISD.
Who influences you? Who is your role model?
Probably two of my biggest role models are Elizabeth Elliott and Rachel Saint. Elizabeth and her husband, Jim, along with a few friends, moved to Ecuador in the 1950s as missionaries. After Elizabeth's husband (Jim), Steve Saint (Rachel's brother) and other gentlemen were murdered by the Waodani Tribe, Rachel and Elizabeth stayed and continued to get to know the Waodani people. I admire their ability to forgive, their commitment to their faith, and their ability to surrender their Western ideals and to live among the Waodani Tribe.
I know that there are a lot of issues around Christianity, Catholicism and the missionaries' role in colonization from an academic standpoint. Laying those issues to the side, these women did something remarkable in a time when women were not supposed to be doing these things by themselves. Jim once said, "He is no fool who gives what he cannot keep to gain that which he cannot lose." Their pioneering spirit as women, in and among other cultures, for the sake of the Gospel, is a beautiful thing!
Discuss your accomplishments.
Success can be defined in many ways. There are a lot of things I am proud of and they typically revolve around boldness in adventure, tenacity in trials, honoring God as much as possible with my life. I guess that's what I would say my accomplishments have been.
What are your hobbies?
I like to watch TV, read, write articles, drink coffee and spend time with friends.