Mr. Nate Williams, who graduated from Eastern New Mexico University with a double major in political science and history in 1993, serves as director of Collective Bargaining and Research for the Maine Education Association.
The Greyhound Grad, who received a J.D. from the University of Tulsa in 1998 and a graduate certificate in change leadership from Cornell University in 2019, discusses his role in helping improve the lives of members of the education field.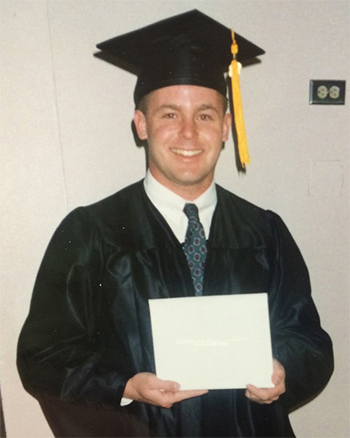 Tell us about your role as director of Collective Bargaining and Research for the Maine Education Association and what inspired you to work in that position.
The Maine Education Association is the largest public educator union in Maine and is affiliated with the National Education Association. We represent public school and higher education faculty, staff, cooks, bus drivers and other support personnel. I have always been committed to trying to help others improve their lives, and both my parents and my grandparents were educators. This position allows me to help the profession that helped my life, and the profession that makes all others possible.
I provide research to our field staff, UniServ directors, to help them negotiate collective bargaining agreements. This can be keeping track of salary scales across the state, providing data on health insurance rates and coverage options, analyzing new legislation and providing training for members and staff on all the above. I also testify before the Maine Legislature on bills impacting public education and labor issues. I serve as a sounding board and resource for the field staff on issues of contract enforcement for things like grievances and arbitration proceedings. I've worked with our national staff union to represent my colleagues in arbitration cases all over the country.
Which aspect of your career is the most rewarding?
What I'm most proud of is a series on racial and social equity in public education that I started. I've pulled together research and resources and provided webinars on how we as educators and human beings can do more to ensure there is equity for all in our society. In addition to that, knowing that I've helped thousands of educators in three states now (I've worked with NEA affiliates in Ohio and California before coming to Maine) improve their economic lives and their work lives and improving public education for thousands and thousands of students. We don't just negotiate over salaries and insurance; we work and negotiate with administration and school boards on how to more effectively educate students.
What are your short- and long-term goals for the position?
To incorporate racial and social equity into everything we do, improve public education in Maine and improve the lives of our members through better salaries, benefits and working conditions.
Where did you work before your current position?
I worked as a UniServ director for the California Teachers Association in Silicon Valley and for the Ohio Education Association in the Ohio River Valley. I was a union organizer for Texas AFT and SEIU in Houston, Texas. I worked as district office staff for Members of Congress in Texas and Wisconsin. I was chief of staff to a state legislator in Wisconsin. I worked on political campaigns in Colorado, Wisconsin, Texas and Ohio. I practiced law in Little Rock, Arkansas, and in St. Louis, Missouri doing general litigation work, too.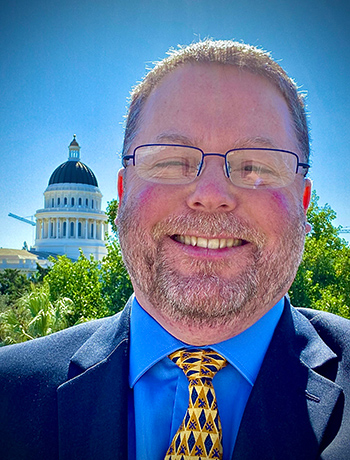 What advice would you give to students interested in working in your career field?
Be passionate about what you do. There are a lot of difficulties, and often the law or the political environment will be stacked against you. If you believe in what you are doing and are willing to learn from your setbacks, you can accomplish a lot. Develop a genuine interest in other people and what motivates them to do what they do. It also doesn't hurt to understand basic economics and the legal and political systems too.
How did ENMU prepare you for your career?
ENMU helped me most by exposing me to people from backgrounds much more diverse than I was used to growing up in small-town Wisconsin. ENMU helped me learn how to build relationships with virtually anyone. ENMU also gave me the opportunity to try so many different things and get guidance from great mentors.
Why did you choose to attend Eastern?
Honestly, when I was a senior in high school in Wisconsin, ENMU wrote to me and said based on my ACT scores, I could be eligible for scholarships. I filled in the forms and was awarded a Presidential Scholarship. Combined with the fact that I wanted to see a different part of the country, and New Mexico can't get much more different than Wisconsin, my choice was easy!
How did you choose your fields of study?
I started out thinking I would be an economics major, but I really enjoyed the history and political science courses so much more. Plus, there was amazing faculty in those departments that made learning truly enjoyable. I've always been a news junkie and had volunteered on political campaigns in high school, so I went with what I loved learning about.
Which activities were you involved in at ENMU?
I was in a fraternity (Sigma Alpha Epsilon), on the debate team and in student government. I was lucky enough to serve as student body president my senior year (1992-93). I held various offices in SAE and got to go to debate tournaments all over the country, including two national tournaments.
Discuss your Eastern Experience.
Hands down, my favorite professor was Dr. Sue Strickler. Her political science classes really made you think and challenge your previously held opinions. She and I have stayed in touch since then, thanks to Mark Zuckerberg and Facebook. I also really enjoyed Dr. Robert Matheny's history classes. He had a great perspective on how history impacted the present. And I would be remiss if I didn't mention Dr. Ronald Fowler's philosophy and Western Civilization courses. They were always entertaining and challenging.
But my fondest memories are of the time my friends and fraternity brothers and I spent just hanging around and figuring out adulthood. My closest friends to this day are friends I met at Eastern. As an out-of-state student, I didn't really have anywhere to go on the weekends, and those of us who were there got really close. Since Portales didn't have a lot going on for college students other than what was going on at ENMU, we made our own fun and just spent a lot of time together.
Tell us about your involvement on the Alumni Association Board and what that role means to you.
I'm fairly new to the Board, only been on about a year. I'm on the Legislative Committee and looking forward to doing more.
Are you involved with any organizations or causes?
In addition to working for a union, I'm a member of a union, too. There's a union that represents those of us who work for NEA affiliates, and I do my part to help my colleagues as much as I can.
Share some details about your family and background.
I grew up in Wisconsin, the oldest of three kids. My dad is a retired school psychologist, and my mom was a math teacher and computer software programmer. I'm married, and we live in Portland, Maine. My wife is currently a full-time MBA student and has worked as a graphic designer and social media/digital communications professional. I have twin sons from my first marriage; they're finishing up their sophomore year at the University of Missouri. I've lived in 13 states so far in my life, plus long-term assignments in three others, and have lived in every time zone in the lower 48. Don't be afraid to follow a good opportunity just because it's located somewhere else!
Mr. Williams with his family at Lambeau Field in Green Bay, Wisconsin.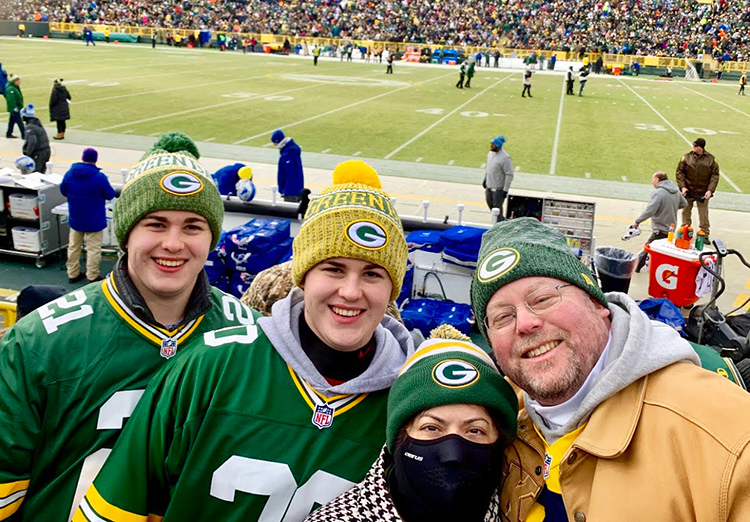 Tell us about your accomplishments and awards.
My greatest accomplishment is my two sons. Being called dad is all the award I need.
Who influences you? Who is your role model?
I can honestly say that I do the work that I do because of a conversation I had with the late civil rights icon, Rep. John Lewis. I was an intern in then-Congressman Bill Richardson's office, and Rep. Lewis came and spoke to all the Capitol Hill interns. Given my double majors, I knew exactly who he was, and after the speech, I made my way over to him, and introduced myself and asked him for any advice he had for a young person starting out. He told me, "You have an obligation, a mission, and a mandate, to make things better for others." We chatted a little bit about baseball; he's an Atlanta Braves fan, and I told him how my dad saw Hank Aaron play when he was in the minors.
It always stuck with me, not only what he said, but that he took the time to make a bit of a connection with me. I wasn't a constituent. I didn't have any power or anything I could do for him, but that didn't matter to him. He wasn't rushed; he took the time to pay attention to me and listen. If a legend like that can go out of his way to treat an intern as an equal, then I decided to dedicate my professional life to the same cause. Help others. Lift them up. Hear them. See them.
What are your hobbies?
I'm a HUGE Star Wars nerd. I have my own Jedi robes, and I can give tons of background on the characters and storylines. I'm also a shareholder of the Green Bay Packers, so they are a big passion of mine. I love to go to ball games; I've been to games at 21 different MLB stadiums. I hope to get to the last few sometime soon!
Share an interesting fact about yourself.
I was once a motorcade driver for Barack Obama. It was a huge thrill! I told my sons that my Secret Service codename was Nighthawk.
Is there any additional information that you would like to have included?
Can somebody send me an Allsup's chimichanga?
Mr. Williams with his groomsmen Anthony Spratley, Kristopher Wickerham, and Jack and Sam Williams in 2014. Mr. Spratley and Mr. Wickerham are Mr. William's SAE fraternity brothers and ENMU graduates.