Greyhound Grads Joe and Danielle (Flores) Esquibel celebrated their 25th anniversary on July 20, 2021. The couple reflects on attending Eastern New Mexico University together and how the University prepared them for careers in education. Both have been employed with the Santa Rosa Consolidated School District (SRCS) for over 25 years.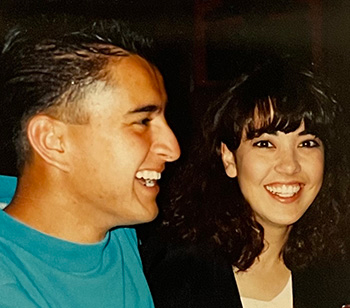 Tell us about your relationship.
Danielle: We were high school sweethearts in Santa Rosa, New Mexico. We began dating in 1990 when I was a sophomore, and he was a senior. I was a cheerleader, and he played football, basketball and baseball. We decided to attend ENMU together in the fall of 1992. He graduated in May of '95, and returned to Santa Rosa and began teaching and coaching. The following year, 1996, I too graduated and returned to teach with Santa Rosa City Schools.
Although we will be married 25 years in July, we have been together for over 30 years. We have been through many stages of our lives together and look forward to many more years together. After next year, we will get to experience what "empty nesting" is all about and hope to get to travel a bit more. The past 30 years have flown by; I guess that means we have been having some fun throughout it!I can truly say Joe is my best friend and our marriage is 100 percent a team effort!
Which degree did you earn at ENMU? Degrees outside of Eastern?
Danielle: I earned a Bachelor of Science in Education in Special Education with a minor in social studies from ENMU in 1996 and a Master of Education in Education Administration from Grand Canyon University in 2008.
Joe: I graduated with a Bachelor of Science in Education in Elementary Education with a minor in physical education in 1995 and a Master of Education in Education Administration from Grand Canyon University in 2008.
Why did you choose to attend ENMU?
Danielle: Joe transferred from New Mexico Highlands University to ENMU. I was interested in pursuing a degree in education, and ENMU had a great teacher prep program. I liked the fact that it was a small school, not too far from home, so it was the perfect place for me to go.
Joe: Growing up, I heard many great things about ENMU, several Santa Rosa alumni attended and many of my close friends also attended. Portales was close to home, but ENMU felt like it was miles and miles away. ENMU is a small university with a large school atmosphere.
How did you choose your field of study?
Danielle: Since I was young, I remember wanting to help my classmates that struggled in school with reading and math. I also enjoyed tutoring younger students when I was in high school.
One of my friend's mother was a special education teacher, and we would visit her classroom often. I enjoyed interacting with the students.
I wanted to work with younger students and felt that as an elementary special education teacher, I would be able to have a positive impact working with students identified as having a disability.
Joe: ENMU and its' Education Program has always had a solid reputation for producing great educators and strong school leaders.
Which activities were you involved in at ENMU?
Danielle: I graduated with honors and was on the dean's list. I was a member of SPURS (a national honor society for sophomores), Cardinal Key (a national honor society for juniors and seniors), Kappa Delta (an education honor society), the Student Council for Exceptional Children (SCEC) and the Silverado Dance Team.
For work-study, I worked one graveyard shift as the desk clerk at Bernalillo Hall during my first year at Eastern. After that, I worked in the Education Building.
Joe: I was in Kappa Sigma Fraternity, employed with the Greyhounds men's basketball team under Coach Earl Diddle and staff, officiated for and participated in ENMU intramurals under Director Wallace Maxwell and was on the dean's list.
Discuss your Eastern Experience.
Joe: I met many new people at ENMU who became valued lifelong friends to this day. The relationships, contacts and networking I encountered at ENMU have truly been appreciated and beneficial throughout my career and life after graduation.
Tell us about your career.
Danielle: I am currently the director of programs for Santa Rosa Consolidated Schools. I oversee and develop the budgets for all our federal programs, from Special Education, Title I, Title II and Title IV, along with other NMPED state programs and mandated assessments for the district.
I just completed my 25th year working with SRCS. Upon graduating from ENMU in May of 1996, I returned to Santa Rosa and was hired as a special ed teacher at Santa Rosa Elementary.
I became the principal for two years at a school in Anton Chico in our district. I was then transferred to our district office to my current position as director of programs. This position enables me to develop and implement educational programs that will benefit our entire school district.
Joe: I was an educator for 24 years; I spent 18 at Santa Rosa High School, with short stints at Santa Rosa Elementary, Santa Rosa Middle School and Anton Chico Schools. I was fortunate to teach at every school in our district. I am currently starting my third year as the Santa Rosa Middle School principal and second year as athletic director for our district. It was my dream to come home to Santa Rosa and be a positive role model for our youth. My goal is to have them experience all the positives (and more), which I was fortunate enough to be a part of when I grew up here.
Through SRCS, I also coached football, basketball, baseball and track. I served as the City of Santa Rosa recreation director for 12-plus years providing youth baseball, basketball, cheer and flag football leagues as well as leagues/tournaments for adult softball, volleyball and basketball year-round.
Which aspect of your career is the most rewarding?
Danielle: As the director of programs, I can positively impact the education of ALL the students in our district by bringing in programs and funding.
Joe: Being able to inspire, motivate and encourage our students on a daily basis and work alongside great colleagues at SRCS.
What are your short- and long-term goals for this position?
Danielle: At SRCS, we have gone through a few years of changes and challenges. We currently have a unique make up of administrators that were born and raised in Santa Rosa and have worked there our entire time. From our superintendent to our four principals and myself, we have a vested interest in ensuring that the school district succeeds. We are working on our strategic plan and have an opportunity to make positive changes needed to give the students in our small district the best educational opportunities available.
This past year during COVID-19, we faced many challenges like all the other schools around the country. On a positive note, I believe it brought our administrative team and school board closer and made us focus on our priorities.
I want to do my part in creating a positive learning environment for our students, teachers and staff. As for my long-term goals, I want to help to create a district with schools that have a positive, supportive and caring educational environment that prepares all our students to succeed upon graduation.
Joe: My short-term goal is to get our students to believe they can accomplish anything they set their minds to. My long-term goal is to guide them and assist them to actually get through the process of succeeding all they dreamed of.
How did ENMU prepare you for your career?
Danielle: I believe the small classes at ENMU allowed me to know my professors and classmates on a more personal level. Also, the time during my practicum and field base hours at schools in both Portales and at Gattis Jr. High in Clovis was great hands-on practice in actual classrooms.
Joe: The instruction, guidance and preparation ENMU provided me with were the foundation to all I have accomplished.
What advice would you give to a student interested in working in your career field?
Danielle: Education is an extremely rewarding field, but you must love working with kids. If you work with and treat each student as if they were your own, you will always have their best intention at heart.
Joe: Work hard to improve every day. If you love your job, you never have to work a day in your life. Do it for love, nothing else.
Are you involved with any organizations or causes? Volunteer work?
Danielle and Joe: We are members of Saint Rose de Lima Parish here in Santa Rosa. In the past, we have served as chairpersons for our annual Fiestas. We have had the honor to serve as sponsors/Padrinos for several families, friends and students for both baptism and confirmation.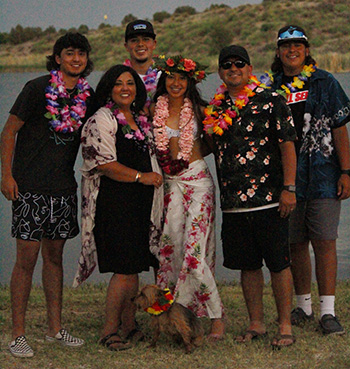 Tell us about your family and background.
Danielle: Both Joe and I were born and raised in Santa Rosa, both with family ties to the Puerto de Luna area. We are both the oldest child in each of our families and the first to graduate from college.
Upon my graduation from ENMU in May of 1996, I returned to Santa Rosa, and we got married in July of that year. In the 25 years that we have been married, we were blessed with four children, three boys and a girl. We were fortunate to raise our children in our hometown and go through the school system that we both work for. We both loved growing up in a small town and wanted our children to experience the same.
Joseph J., our oldest, is 22 years old and just graduated from the University of New Mexico. He is starting medical school this month at UNM. He hopes to become a doctor and practice here in New Mexico, perhaps even in Santa Rosa. He is currently also a manager for the UNM Lobo Basketball team.
Our second son, Daniel, is 20 and is a junior at UNM. He is going into business management and wants to pursue his realtor's license.
Our youngest son, Jacob, is 18 and just graduated from Santa Rosa High School this past year. He will be attending UNM in the fall and will be following in our footsteps with hopes to become a teacher and a coach.
Our youngest, our baby girl Danae, is 16 and will be a junior at SRHS and is active in sports year-round, volleyball, basketball, softball and track.
We also have a nephew, Ethan Esquibel, who is a junior at ENMU. He is studying criminal justice, and is enjoying his Eastern Experience.
Who influences you? Who is your role model?
Danielle: I would say my role models are my parents. They both came from large families. They married young and raised my two brothers and me to appreciate our extended family. They have always worked hard to provide for our family. My mother has tremendous faith in God, which was passed down by Grandmother Simona Angel. She has instilled that in our family, and we continue it with our own children.
Joe: Many people have supported me throughout the years; I have been fortunate to have many positive influences and role models in my life. None more than my co-workers, my friends and family such as my mom, dads (who passed), siblings, children and numerous aunts, uncles and relatives!
What are your hobbies?
Danielle and Joe: Sports; any type of sporting event, our family enjoys participating or watching.
Share an interesting fact about yourself.
Danielle and Joe: Our children are all spaced, two years and two months apart. Joseph was born December 1998, Daniel in February 2001, Jacob in April 2003 and Danae in June 2005.
Anything else you would like to share?
Danielle: Our family owns and operates two businesses in Santa Rosa. The first is KSSR, 95.9 FM the Lion, our hometown radio station. We are proud to say the Esquibel Family has owned and operated it since 1989.
The second is Bill's Place, an old-fashioned ice cream and snack shop and candy store. Our family was able to reopen this business in 2019. We wanted to bring back a historic part of downtown business that had been in the family since 1947.
Joe: We Thank ENMU for being a very important chapter in our lives and forever being a huge part of our FAMILY!
The Esquibel's wedding. Nearly a dozen people in the photo attended and/or graduated from ENMU.