Mariah Barnes graduated from Eastern New Mexico University with a Bachelor of Science in Biochemistry in 2013 and a Master of Science in Chemistry in 2015 and is currently working on a Master of Physician Assistant Studies from the University of New Mexico.
Mariah discusses her time at ENMU and her goal to help people as a soon-to-be physician assistant.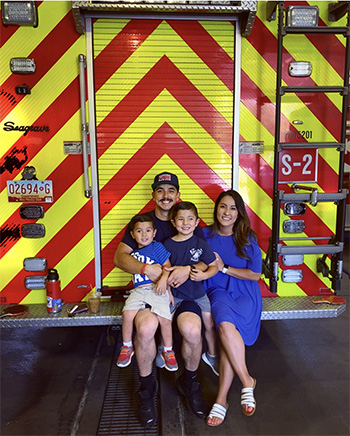 Why did you choose to attend ENMU?
I chose to attend ENMU because I wanted to experience life outside of Albuquerque, New Mexico. I was born and raised in Albuquerque and did not want to attend UNM at the time. My two older cousins were also already attending Eastern prior to my admission, so that was really comforting to know that they were going to be there.
How did you choose your field of study?
I remember being asked what degree I wanted to pursue when I first began the registration process for ENMU and not knowing what the right choice would be. I ended up registering for courses that would align with a degree in business administration. After attending a few weeks of my basic chemistry class, my professor approached me and told me I was good at science and should pursue a science degree, and the rest is history.
Which activities were you involved in at Eastern?
I was on the dean's list for multiple semesters, received scholarships I cannot remember the details to and was in the Phi Kappa Phi Honor Society.
Which professors helped you the most during your time at ENMU?
I have a few favorite professors from ENMU whom I am eternally grateful for: Dr. Elliott Stollar, Dr. Juchao Yan and Dr. James Finley. These were a few of my science professors throughout my undergraduate and graduate studies who helped me in so many ways. I have them to thank for contributing to my love for education. They were always very supportive and always challenged me. I am grateful for their constant effort and presence throughout my college career.
What inspired you to become a physician assistant?
After graduating with my master's degree in 2015 from ENMU, I moved to Palm Springs, California, where I worked as a middle school math and science teacher. After teaching for one year, I felt that I needed to do more and wanted to do more for my community. It inspired me to pursue a career as a physician assistant, and now here I am... making goals a reality.
I am at the tail end of my studies in the physician assistant program. I am in the phase where I am doing clinical rotations and switching specialties every month. I am currently on my women's health rotation.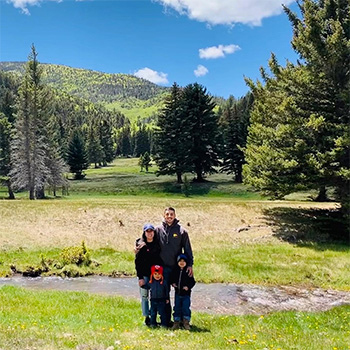 Which aspect of your career is the most rewarding?
Being able to help not only patients but families through some of the most vulnerable times of their lives is so rewarding. I am so fortunate to be able to care for people in my community and continue to expand my medical knowledge.
What are your short- and long-term career goals?
My short-term goal is to become a certified physician assistant and serve in a rural, underserved community. I have signed a contract to work in Gallup, New Mexico, at Family Medicine Associates. My long-term goal is to eventually work at a teaching hospital, so I can interact with aspiring physicians and physician assistants.
How did ENMU prepare you for your career?
ENMU showed me how important it is to invest in other's education and, during my time as a teacher, I really saw and felt how rewarding it was to see other's grow not only academically but personally as well. It made me so appreciative of the relationships I built with my professors from ENMU.
Are you involved with any organizations or causes?
I am involved in the Physician Assistant Student Society. I was elected class president and have spent my time facilitating and overseeing events hosted by the society. I truly love being involved and being able to represent the UNM Physician Assistant Program. Our student society has participated in volunteering at Roadrunner Foodbank and PB&J Family Services.
Who is your role model?
My role model is definitely my mom. She is a woman who has overcome so many obstacles throughout her lifetime and still walks with her head held high. I admire her strength and willingness to keep going. It is unmatched.
What are your hobbies?
I love to do crafts with my Cricut and shop; shopping is definitely a hobby of mine.
Share an interesting fact about yourself.
I am 5 feet tall, but I will bet anybody, anytime, anywhere, that I could make more three-point shots than them!