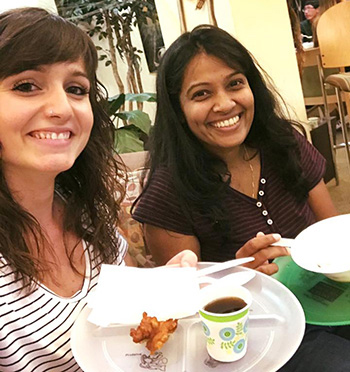 Jayamini Madumali Hewage graduated from Eastern New Mexico University with a Master of Science in Chemistry with a specialization in analytical chemistry in 2018 and is currently pursuing a Ph.D. at Mississippi State University, where she teaches chemistry to undergraduate students.
She discusses her love of chemistry and her time as a student at ENMU.
Tell us about your family.
My parents live in Kadawatha, Sri Lanka, and I have a younger sister and a younger brother. I am married to Dhanush, who is also an ENMU alum, and we have a one-and-a-half-year-old baby boy.
How did you choose your field of study?
Chemistry was my favorite subject from my high school days. I knew if I am going to do my higher studies, it would be in chemistry. Color changes, observable chemical and physical changes in matter made me love it even more.
Why did you choose to attend ENMU?
I wanted to be in a small city because I was the only Sri Lankan student when I came there. I knew if I went to a bigger college, adjusting to the culture and new environment would be difficult. I loved Portales when I came there, and everyone was very helpful and kind. I still feel I met the kindest people in Portales than anywhere else.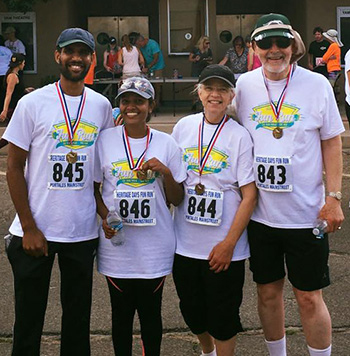 Discuss your experience at ENMU.
I had the best professors at ENMU. Dr. Juchao Yan, the graduate coordinator, helped me from the beginning, even before I got to the school. Dr. Finley, Dr. James Constantopoulos and Dr. Elliott Stollar were my favorite professors from the department. I also want to mention Miss Elizabeth from Wesley Foundation, who was like a mother to us as I was away from home. Debbie and Scott Reeves helped us get to know all about Portales.
I loved living in a small town; classes were small, and we had one-on-one interaction with professors. I want to mention Charles Reader from the Golden Library and Lee Quick from inventory, who both helped me throughout the summer jobs.
Which activities were you involved in at ENMU?
I was an active member of the international students' group at ENMU. I worked as a leader for the Wesley Foundation to organize many student events. In addition to that, I worked in the library and inventory department during my summer semesters.
Tell us about your job. What inspired you to work in that role?
I am currently working at Mississippi State University as a graduate student. I wanted to pursue my Ph.D. and came to Starkville, Mississippi, for that. I also worked as a laboratory technician for the city of Abilene, Texas.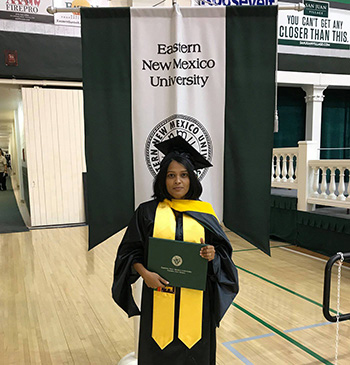 Which aspect of your role as a graduate student is the most rewarding?
Teaching chemistry to undergraduate students while continuing in my research is what I like about being a graduate student.
What are your short- and long-term career goals?
Finishing my Ph.D. within five years is my short-term goal. I want to start teaching students or do further research as my career.
How did ENMU prepare you for your career?
The ENMU Department of Chemistry helped me to be who I am today. The knowledge that I acquired from my master's degree helped me to face exams easily for my doctoral degree. I was able to finish my classes quickly and had time to focus on my research.
What advice would you give to a student interested in working in your career field?
I think chemistry is a wonderful subject. It gets updated every second, the limit of learning chemistry is endless. You don't have to be the smartest to study chemistry but be consistent and keep in touch with the subject, and love what you do. I feel like many people are afraid of taking chemistry, thinking it's difficult, but it's not.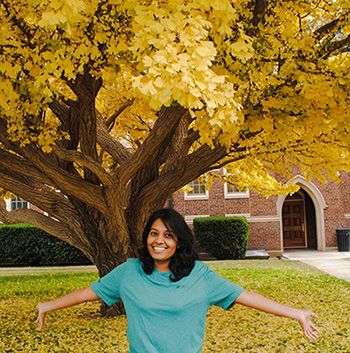 Who is your role model?
My father is my role model. He was the one who always supported me when I wanted to give up and when things get hard.
Tell us about your accomplishments and awards.
The biggest achievement for me is continuing my studies while being a mom.
Are you involved with any organizations or causes?
I used to help out with food distribution programs and participated in the Heritage Fun Run every year when I was in Portales. I work as the secretary for the Sri Lankan Student Association at Mississippi State University. We help out the new Sri Lankan students that join the university and host many fun events.
What are your hobbies?
I like sewing garments for my loved ones, and I also enjoy watching movies and cooking.
Share an interesting fact about yourself.
I love to play table tennis.
Is there any additional information you would like to have included?
I want to say ENMU is one of the best schools to experience college life. Now, I feel the difference when I am at Mississippi State University. Life in Portales was easier for relaxing and was enjoyable for me. It is my home away from home.
Dr. Elliott Stollar's research group at the INBRE conference in Santa Fe, New Mexico.