Eleny Ceniceros De La Cruz is putting the degrees she earned at Eastern New Mexico University to good use as a family services specialist for Clovis High School in Clovis, New Mexico.
The Greyhound Grad, who is in the final semester of her master's program at ENMU, discusses her Eastern Experience and how it has helped prepare her for her new role.
Why did you choose to attend ENMU?
During my junior year in high school, I was looking up different colleges in and out of state, and I decided to take the ACT at the ENMU campus so I could see the campus firsthand. At the time, my family and I had been living in Eastern New Mexico for three years, and we've never been to Portales, so my parents drove me to Eastern to take my ACT.
I was supposed to take the ACT in the old JWLA building, and we got lost. A few students noticed us, and they approached us with a smile and walked to us the classroom where I would be taking the ACT. I didn't feel the same warm and welcoming environment at other colleges that I was visiting as we did during our first visit to Eastern.
Afterward, I attended Junior Preview Day and Senior Preview Day. My parents and I loved everything about ENMU; it was close to home, there were plenty of scholarship opportunities for students, the size of the campus was a good comfortable size – it wasn't overwhelming compared to a bigger sized school, and everyone was very positive, inviting and welcoming. I loved my undergraduate years and all the friendships I made, so I made the decision to stay at Eastern for my graduate studies and to continue enjoying my experience.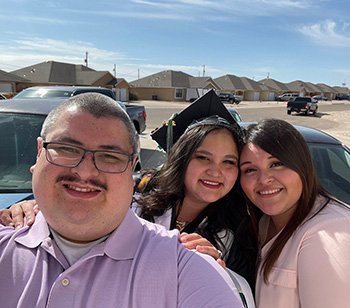 Which degrees have you earned?
I started my undergraduate studies at ENMU in the 2014 fall semester. During my four years of undergrad, I earned my first Associate of Arts in General Studies in December of 2016. A semester later, in May 2017, I earned my second Associate of Arts in Psychology. Then, a year later, in May 2018, I graduated with my Bachelor of Arts in Psychology, Sociology and Criminal Justice.
During my senior year in college, I decided to stay at ENMU and pursue my master's degree in counseling. So, I applied to the Counseling Program and got accepted for the fall 2018 semester. I'm currently in my final semester of my graduate studies, and I'm fixing to graduate this December with my master's degree in clinical mental health counseling and school counseling.
How did you choose your field of study?
During my first semester of college, I was taking an Intro to Psychology class that was taught by Dr. Gary Bond. I'm not sure if it was the class itself, the way how Dr. Bond taught the material or if I just liked psychology, but I loved the class and changed one of my majors to psychology. All of the classes I took with Dr. Bond were my favorite classes as an undergrad!
During my sophomore year, Dr. Bond invited me to be a part of his team with other students and work on his research with FAB (Fading Affect Bias) in individuals who were affected by Typhoon Haiyan in the Philippines in 2013. We also worked on research that focused on deceptive language in the presidential candidates in 2016, where we used a reality monitoring algorithm; our research got published in the fall of 2017, which was really exciting! It was a great learning experience.
Dr. Bond taught us how to use different software that can be used for research, how to develop "thick skin" in when receiving criticism and feedback in research in psychology and his research and mentorship helped me in the long run in my career. Thanks to Dr. Bond, I grew to love the psychology field, and he helped me grow as a student.
I decided to declare a second major in sociology after taking Dr. Kristin Waldo's Race, Culture, and Ethnicity class and minored in criminal justice.
As for my master's, I love psychology, but I wanted to learn more about mental health and mental health disorders and how mental health affects us. So, I decided to pursue a master's degree in clinical mental health counseling with the idea that I would work in a clinical setting. After a year into the program, I decided to go on the dual-track and pursue school counseling as well.
Which activities were you involved in at ENMU?
For the last three years of my undergrad, I was working with Dr. Bond with his research in the Department of Psychology and Political Science. I was a second-year President's Ambassador, where I worked in the Office of Enrollment Services. I was also a member of the Spanish Club, PSI CHI –the national honor society in psychology – and the psychology club on campus. At the time, the psychology club was called Psyched in! I believe that they changed their name to Pavlov's Hounds.
I was also on the dean's list for fall 2014, spring 2017 and fall 2017. Since the spring semester of my senior year in high school, I was nominated for the James D. Jungbluth Scholarship every year until my senior year in college.
As a graduate student, I was nominated for the BESO scholarship, I was involved in student government as a student senator for the College of Education and Technology and was secretary of student senate, and I'm involved in CSI – Counseling Student Initiative.
I worked as a domestic violence shelter advocate with the Hartley House, and I worked as a graduate assistant in the Department of Education during the first two years of my graduate studies.
Discuss your Eastern Experience.
I loved my experience at ENMU! I wish I could go back to my undergraduate years to relive it all again! My undergraduate experience at Eastern convinced me to stay and apply for the Counseling Program, which was the best decision I made.
During my first week of classes in the Counseling Program, I started working as a graduate assistant, where I met two of my best friends now who also just started the program that same semester as I did. My friends made my graduate years memorable; from traveling to the NMCA conference to Albuquerque, New Mexico, celebrating our birthdays, fighting during a game of UNO, making our professors and classmates laugh during class with the dynamic and nature of our friendship and arguing for hours about whose turn was it to choose where we were going to eat for lunch. I don't know how I would have survived graduate school without those two; over time, they became like my siblings.
Tell us about your job and what inspired you to work in that role.
I recently completed my practicum and internship during COVID at Portales High School, where I worked with the guidance counselors and the family engagement specialist. Following my internship, I wanted to become a school counselor at the high school level, so I applied and was offered a position as a family services specialist at Clovis High School.
My experience at Portales High School inspired me to apply for this job. I love working one-on-one with students, helping them be successful in school, working with them to come up with a plan to ensure they're graduating on time, helping them apply for college and scholarships and being their support system by offering emotional support.
I like working with teenagers because they go through a challenging time with dealing with relationships, managing friendships, focusing on school, dealing with their home environment, self-esteem issues, learning about themselves and where they feel can they belong and be accepted and having to adapt to multiple changes in their lives. Teens really just need someone who understands them and what they're going through, and they need someone in their corner.
What are your job duties?
Besides working with students, I'll be working with students' families and making sure that they have the necessary resources such as food and shelter and offering them resources. I'll also be working with families, teachers and students to make sure that we're working together as a team towards the same goal and ensuring that we're doing everything we can ensure the student's academic success through their performance in the school.
My objective is to make sure the families have what they need in terms of resources and to make sure that the student isn't worried about where their next meal is going to come from or if they have hot water to take a shower, I need to make sure that the student is focused on school only.
What are your short- and long-term career goals?
My goal for the remainder of the year is to finish my final semester this fall and graduate with my master's, earn my k-12 school counseling license and start working as a school counselor. My goal for 2022 is to start taking the NCE in order to earn my LHMC licensure.
My long-term goal is to go back to school and start working on my doctorate in either clinical psychology or counselor education and start preparing for my LPCC licensure. Besides being a counselor, I have thought about the idea of working as a school psychologist, so I can further use both my psychology and counseling skills and knowledge.
My wish is that decades later, when my retirement comes around, I want to look back at my career and see that I have gained experience and knowledge in working both in a school setting and in a clinical setting as well.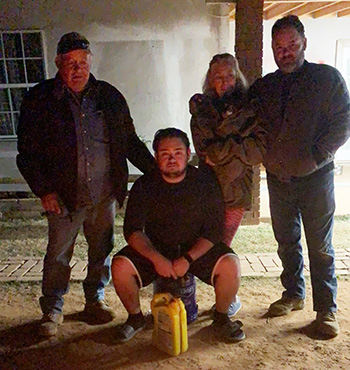 Which aspect of your career is the most rewarding?
Getting to make a positive impact on that individual's life by encouraging and empowering them to take the first step in the direction that they want to go in. I originally choose psychology as one of my majors because I was curious about the mind, human behavior and what leads us to do the things that we do.
From that curiosity, I grew to love psychology, but I also wanted to learn about mental health. Through counseling, I learned how psychology blends in, and I learned the importance of mental health. But I also found my purpose with these two fields; I've grown to appreciate the importance of mental health, and I want to help people enjoy their lives by focusing and prioritizing their mental health.
Through this field, I've learned that our community is very limited on mental health resources. Some members of our community have to go out of the community to receive specialized services, such as in Albuquerque or Lubbock. I want to become an advocate for our growing community and hopefully bring more services as such as DBT therapy for those who have borderline and educate others – I think that's the most important thing you can do when you're advocating for something is to educate others about what you're advocating for and the importance behind it.
How did ENMU prepare you for your career?
My professors worked one-on-one with me in all of my classes. Some of my professors, such as Dr. Bond and Dr. Waldo, have gone far and beyond to provide me with resources and extra assistance in my classes.
It did help a lot that I chose my majors and minor in something that I liked, because it made going to class excited and fun (even if it was an 8 a.m. class!); I never saw homework, writing research proposals and essays, midterms and finals, and projects as a drag.
During my senior year, I was taking a criminology class; the class was an 8 a.m. lecture which was challenging for me because I'm not a morning person. But every week, we would discuss a serial killer and their background story, and it made the class exciting! I remember getting thrilled about our final paper for class because we had to choose a serial killer that we've discussed and write about them. I still have that paper with me, and I read it when I'm browsing through my computer.
At this point in my academic career, as I'm getting ready to graduate, I feel prepared in my field; I feel I've been given all the tools and materials I need to succeed and thrive in the mental health field. I'm ready and excited to take on the challenges I'm bound to face because it will allow me to grow as a mental health professional, and I'll keep learning! The thing about this field is that you never stop learning.
What advice would you give to a student interested in working in your career field?
Don't give up, don't feel discouraged and surround yourself with a good, strong and positive support system who will always be in your corner. At school, I had my two friends who were always there to keep me on track and to give me a reality check when I needed it. At home, I have my dad, my mom, my brother and my grandpa to rely on as well. There were times in my academic career – especially in my graduate studies when I would second guess myself and start having doubts if this was the right field for me, but my family and friends would always be there for me to remind me why I got into this field and the impact that I can make on someone's life.
While this field is very rewarding, be careful of counselor burnout! It's real; it very much exists. I recently finished my last internship in a clinical setting, and while it was rewarding and exciting to have my own clients as a CIT (Counselor in Training), at the end of the day, I would feel exhausted and had no energy. There were times when I get in my vehicle and feel too tired to drive home.
This field is a lot of giving and taking, but if you give too much and don't set your boundaries in place with your clients, it can affect you. Self-care is something that we advocate a lot for; doing any hobbies, activities, or spending time with people you love can help boost you up.
Also, rely on your community; one of the reasons why I loved my experience at Portales High School was because the guidance counselors also completed their degree work at Eastern and are familiar with the workload of the Counseling Program. They have offered me help, guidance and advice in the counseling field.
They didn't treat me like an intern, they treated me like a future mental health counselor, and I appreciated it because it helped me realize that soon I'll be out in there in this field, not just helping my clients but offering that same advice and guidance to another student/intern who will be in the same shoes that I'm in right now.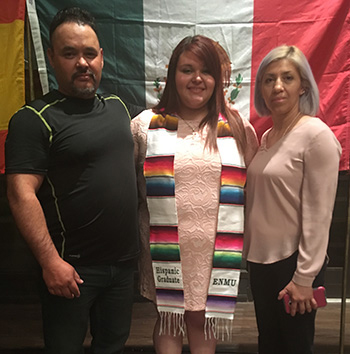 Are you involved with any organizations or causes?
I have volunteered by traveling to Albuquerque to help raise breast cancer awareness during the Making Strides against Breast Cancer awareness walk, made wreaths for the Hartley House Festival of Trees to provide awareness of domestic violence and funds for donations and I also volunteered for the Out of the Darkness suicide awareness walk.
Tell us about your family and background.
I was born and raised in Phoenix, Arizona but moved to Eastern New Mexico in August of 2010, where I attended Texico High School and graduated in 2014 before coming to Eastern. I currently live with my family in Clovis: my dad, my mom, my younger brother, my grandpa and our furry babies.
I wasn't happy about being in college and living at home with my family, but I am glad that I did because there's so much love and unity in our family and I'm always constantly reminded of why I'm working so hard in school and why I'm headed in the field that I'm going in. I will always want to make my family proud of me and be proud of the milestones and achievements that we accomplish together.
I come from the Mexican culture, and our culture is very family-centered and focused. Growing up, my dad would always tell me that everything in the world could be going wrong and isn't going the way how you hoped it would; regardless, you have your family who will always have your back no matter what. It's a blessing to come home to that every day after school/work.
Tell us about your accomplishments and awards.
The biggest accomplishment that I've achieved is being the first one in my family to earn a college degree. Within four years of my undergrad, I was able to earn two associates and two bachelors (and I did it without having to use any loans!).
At the time, it didn't seem like much work because I was enjoying my time in college. Looking back, it's pretty incredible and amazing how I was able to earn four degrees in four years. Things can always be easier when you find the joy in them.
In a few months, I'll be the first one in my family to earn a master's degree in two concentration fields/areas and hopefully be licensed as a counselor.
What are your hobbies?
I love to read and spend time with my dogs; I have my furry little baby named Guppy, or his nickname - Chicken Wing, and I love to spoil him.
I love spending time with my family and doing movie nights in our living room on the weekends. We recently made a new tradition on Halloween night, where we'll buy a bunch of candy and make treats, we'll decorate the living room with a bunch of Halloween décor, lights, candles and blankets and we'll watch the classic horror movies like the old Halloween movies with Jamie Lee Curtis – the Halloween franchise is our favorite to binge-watch. The reason we started this new tradition was that, years ago, my mom felt sentimental about not being able to take my brother and me tricking or treating since we were too grown. It was her favorite thing that she looked forward to every year, so we made this tradition with the whole family.
I would love to travel one day and see the Colosseum in Rome, walk Abbey Road, see the Eaton Centre in Toronto, visit Forks, Washington, and visit Greenwich Village in New York.
Share an interesting fact about yourself.
I love both cats and dogs; at one point, we had both animals. At the moment, my family and I have 11 dogs that we've rescued from the streets!
Eleny with her brother, Jasson, and their mother.