Lawrence "Larry" Chavez graduated from Eastern New Mexico University with a bachelor's degree in physical education in 1982 and a master's degree in physical education in 1987.
The recently retired executive director of Athletics for the Rio Rancho Public School District discusses his time at ENMU and his 38 years as an educator.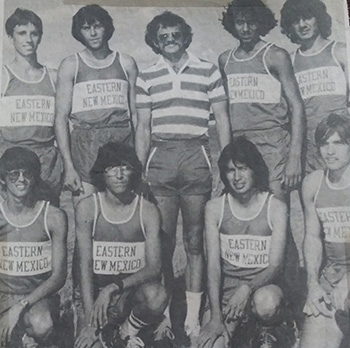 Tell us about your career.
I recently retired in June of 2021. I was in education for 38 years as a teacher, coach and athletic administrator. My education stops were at Santa Rosa (seven years, including roles as head coach of cross country, baseball and boys' basketball and serving as a half-time athletic director), Tucumcari (eight years, including a four-year run as head boy's track coach, where I coached the 1991 national champion in the 3,200-meter run, Arthur Jimenez) and Rio Rancho (23 years, including 11 years as head coach of track and cross country).
I was the athletic director at V Sue Cleveland High School for eight years. During that time, Cleveland High School achieved a Top 25 National Ranking in MaxPreps for its athletic program in 2012 and 2016.
I was most recently the Executive Director of Athletics for the Rio Rancho Public School District from 2018–2021.
What inspired you to work in the role of an administrator?
I had the support of the administration and coaches of V Sue Cleveland High School to move from my role as a teacher/coach to the administration part of the staff. It was a new page in my life, and I was ready for the challenge of running an athletic program of that size, as the school was only in its second year of existence, making it possible to establish a new program and start a lot of new traditions.
Which aspect of your career is the most rewarding?
The relationships that I made with the coaches, my athletic staff and the athletes. I also learned the financial aspects of this job as I had to establish parameters for the established budget. I made sure my coaches understood the financial requirements and constraints on their individual programs. I established the Ejection Policy for coaches and credit that change for winning the State of New Mexico's Director's Cup for several years as a coach's ejection penalizes the school's overall score.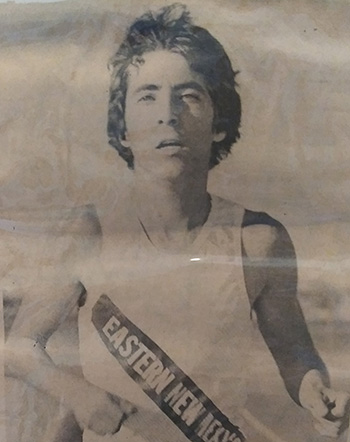 What advice would you give to a student interested in working in your career field?
A lot of things have changed in the world of education. Be very careful nowadays as we live in a very litigious society. It is a very rewarding career field, and being around students and athletics keeps the mind and body young.
Tell us about your family and background.
My wife of 43 years, Rose M. Chavez, AA '82 ENMU, retired from the U.S. Army Corps of Engineers as IT Operations Officer, Albuquerque Division. My children are Larry H. Chavez, superintendent with the Santa Fe Public Schools (Wife: Kari Ann); Orlando Chavez, Lt. Colonel in the United States Air Force, who recently married Dawn; Hilaree Levi, homemaker (ENMU Lone Star Conference All-Academic Track Team in 2007) (Husband: Joe); and Lawrence G Chavez, recreation specialist for the City of Rio Rancho.
I graduated from Robertson High School in Las Vegas, New Mexico. My siblings are Jeannette Tripp and Gary Chavez, and my parents are Delia Chavez (deceased) and Lorenzo (Larry) Chavez, who is 84.
My grandchildren are Jordan, 18, Eriq, 18, Lauren, 16, Landon, 14, Cannon, 8, Kinsley, 5, and Cameron, 3.
Why did you choose to attend ENMU?
I received a scholarship to run cross country and track, but I always had an interest in ENMU as I had two Uncles (Leroy and George Chavez) who competed for the Greyhounds in track and cross country. They were a part of the 1972 ENMU Cross Country National Championship team.
How did you choose your field of study?
I was always very interested in becoming a teacher and a coach. My interests were history, social studies and physical education. That early interest made my decision very easy in deciding what my major would be. I also accumulated enough credits to minor in health.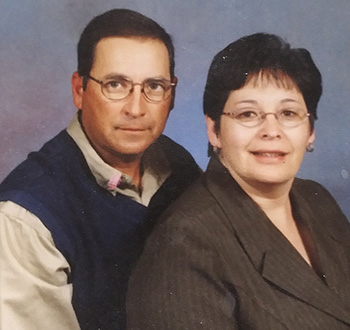 Which activities were you involved in at Eastern?
For my first three years, I worked in the Golden Library for my work-study as my wife, Rose, worked with the ROTC program during her years at ENMU. In my last two years, my work-study job was at Greyhound Arena for the head track coach.
I was a part of the ENMU track and cross country program for four years and was on an athletic scholarship. I represented ENMU at three national competitions and, in 1977, made the All-District 7 Cross Country Team.
Discuss your Eastern Experience.
I married my high school sweetheart, Rose M Roybal, now Rose M. Chavez, in between my freshman and sophomore years. We moved into West Campus married housing. This wouldn't have been possible without the assistance of Mr. Dallen Sanders, director of Student Housing. We stayed there for four years.
During that time, we raised two sons, Larry and Orlando, at West Campus. It was a great place to raise kids, and we really enjoyed our time there. The support we received from everyone who lived there made it very memorable. It was a nice little community.
I also took part in what I think was one of the best intramural programs at any university under the direction of Dick Dart. I participated in softball, flag football, basketball and racquetball.
How did ENMU prepare you for your career?
I loved ENMU; it was just such an age of innocence. The support my wife and I received from the Financial Aid and Housing departments was phenomenal, as well as the athletic coaches and staff that were there to help with their advice about competing, coaching and athletics.
I would like to thank my first head coach, Glen Sefcik, for the outstanding support and assistance he provided me through my first year (you know freshmen get homesick); he was there to provide me with his assistance. He really made me focus on my academics and helped me rearrange my priorities; academics then athletics. He left ENMU when a huge opportunity came to him, as he became the sprint coach for the Saudi Arabia Olympic team.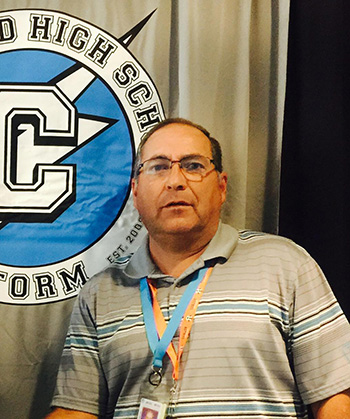 Tell us about your accomplishments and awards.
I am a member of the New Mexico Activities Association (NMAA) Commission- I was the Representative for Large Schools, Area A, I am currently on the commission as the president of the NMADA. I also serve on the NMAA's Golf Sports Specific Committee. I served on the Cross Country Sports Specific Committee for six years.
I am the president of the New Mexico Athletic Directors Association's Board of Directors, where I also serve on the student/athlete scholarship committee. I am a board member of NMAA Foundations and a member of the National Interscholastic Athletic Administrators Association.
I served as president of the New Mexico Track and Cross Country Coaches Association (2000 –2002), District 1 6A Chairperson (2010–2021), vice-chair of the City of Rio Rancho's Lodger's Tax Advisory Board (2015–2020) and on the New Mexico High School Coaches Association's Board of Directors (2018–2020).
I was influential in spearheading the NMAA State Cross Country Championships moving from Gallup, New Mexico, to Rio Rancho High School, was the meet director for the NMAA State Cross Country Championships from 2006 to 2008 and started the largest high school cross country meet in the state with the inception of the Rio Rancho Jamboree. I hosted portions of the NMAA State Volleyball, NMAA State Boys Basketball, NMAA State Baseball and NMAA State Softball Tournaments while serving as athletic director at Cleveland High.
Some of my honors include being named to the Rio Rancho High School Sports Hall of Fame in 2019, receiving the Level II Athletic Directors Milestone Award from the New Mexico High School Coaches Association for 2016–2017 and being named the New Mexico Athletic Directors Association's Class 6A-Athletic Director of the Year in 2015 and Rookie Athletic Director of the Year in 2011. The New Mexico Track and Cross Country Coaches Association named me to the Hall of Fame as a coach of distinction, and I received the New Mexico High School Coaches Association Level III Milestone Award for Boys Cross Country in 2010, and a finalist for the National High School Athletic Coaches Association Boys Track and Field National Coach of the Year in 2009.
While at Cleveland High School, I began a multi-sport athlete program in which there were incentives for student-athletes to participate in more than one sport. It was published in the NMADA News in September 2014 and went nationally that same month. The program was a white T-shirt to freshmen, an electric blue T-shirt to sophomores, a patch for their lettermen's jacket to juniors and a watch with the Cleveland logo to seniors. The patches and T-shirts had "Multi-Sport Athlete" on the award.
Who are your role models?
My uncles, Leroy and George Chavez, and Dennis Duran. These three had such an impact on my life when I was growing up. I was the oldest of three children. My uncles were close enough to my age that I was able to grow up as their sidekick, and I grew up around them, seeing them as my big brothers. I was always looking up to them, and they took their time to teach me the different games and the importance of competing in many different sports. My dad Lorenzo Chavez started the running legacy as he finished in fourth place at the State High School Track Meet in 1955.
What are your goals?
Since I am currently retired, I plan to play a lot of golf, travel with my wife, spend time enjoying our grandchildren and work in the backyard.
What are your hobbies?
Anything to do with athletics. Golf is currently my favorite hobby.
Is there any additional information you would like to share?
I see myself as a true success story as I was a teenage father and husband, but through all our struggles, my wife and I are celebrating 43 years of marriage, and all our children are successful. I still stay in contact with students and athletes that I coached or taught 35-plus years ago. The greatest feeling is meeting up with a previous student who I was pretty tough on and hearing from them that they were grateful for being so tough on them.
Mr. Chavez with his grandchildren. Clockwise: Mr. Chavez, Cameron, Jordan, Landon, Eriq and Lauren.