Randy McBroom, who graduated from Eastern New Mexico University with a bachelor's degree in social studies in 2006 and a master's degree in physical education with a 4.0 GPA in 2015, is preparing to start his first season as the head boys basketball coach for Portales High School, where he also teaches U.S. History.
He discusses his new coaching position and his time as a student at Eastern.
Tell us about your role(s) at Portales High School.
I am the department head for the Social Studies department. In basketball, Portales has a rich tradition in boys basketball, and I am very grateful to be a part of that tradition.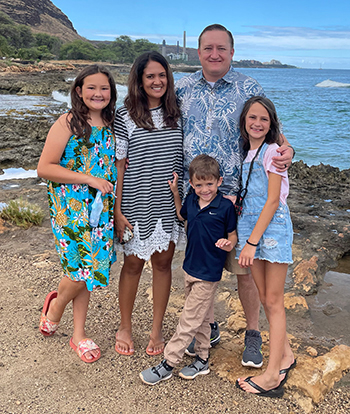 Which aspect of your career is the most rewarding?
Impacting students' lives where they better themselves and grow as a person. It's all about making a difference!
What are your short- and long-term career goals?
My number one goal for my students and athletes is to help them become better people. Teaching character is the most important aspect of my job.
Where did you work previously?
I was the head coach at Clovis Christian for three years. I was at the Clovis Freshmen Academy for three years, and I am starting year 10 here at Portales.
What advice would you give to a student interested in working in your career field?
Build positive relationships with kids. Hold them accountable while showing them you care for them. Flexibility is the name of the game every day and the grade book is not the only way to measure success!
How did ENMU prepare you for your career?
I was blessed with many great professors that helped prepare me academically and mentally for the profession of teaching.
Why did you choose to attend ENMU?
I love Portales!
How did you choose your field of study?
I come from a long line of teachers and coaches in my family. It's something I grew up loving!
Discuss your Eastern Experience.
Doc Elder was my favorite history teacher. His knowledge and stories captivate your learning. Dr. Mary Drabbs was also a great mentor in my graduate classes and helped me succeed in my thesis, "Imagery and Boys Basketball Free Throw Shooting."
Tell us about your family and background.
I have a long list of ENMU degrees in my family: my dad, wife, brother and sister-in-law all received their bachelor's and master's from ENMU. My sister also received her bachelor's from ENMU, as well.
My wife is named Ashley, and our three kids are Raley, 12, Jaymie, 10, and Ricky, 6.
Who is your role model?
My dad has always been my role model. He taught and coached for over 30 years, and seeing the impact he has had on so many is amazing. He is a hardworking man and is a man of integrity. I hope to have the impact he had in my own career.
Tell us about your accomplishments and awards.
I was the 2017 New Mexico Boys Basketball Assistant of the Year and part of the Portales Rams coaching staff for the 2016 and 2019 state football championship teams.
Are you involved with any organizations or causes?
I volunteer at my church Trinity Church in our children's church. Professionally, I am a part of New Mexico's coaching association.
What are your hobbies?
My number one hobby is enjoying my family! We love to travel, and I love coaching their peewee teams!
Share an interesting fact about yourself.
I played three years of college basketball at Southwestern Assemblies of God University before transferring to ENMU. I play the bass guitar.