John Garcia graduated from Eastern New Mexico University with a bachelor's in biology with an emphasis in pre-medicine with cum laude honors in spring 2016. The ENMU dean's list honoree began attending Meharry Medical College in Nashville, Tennessee, in June 2018 and will graduate in May 2022.
John, who plans to pursue a career in emergency medicine, discusses his Eastern Experience and medical school journey.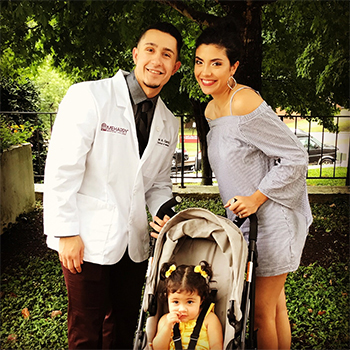 What inspired you to go to medical school?
My Nana. She is the inspiration. She had the foresight to see that I had the capability, and I am forever grateful for her encouragement and love and miss her deeply.
Which part of medical school do you enjoy the most?
I enjoy the camaraderie amongst my fellow medical students. Med school is difficult, and it's important to lean on your peers who are experiencing many of the same struggles.
What do you hope to achieve in your career?
I hope to achieve relatability; I want my patients to trust me and view me as just another person who is there to help them. I am a proud New Mexican and am eager to provide resources to this community. I also think it's worth mentioning that my wife and I share a common goal of establishing a scholarship for future students of ENMU.
What advice would you give to students who are interested in attending medical school?
It is never too early to start building up your resumé. I wish I would have been more involved in shadowing and the Caduceus Society early in my college education. Also, please educate yourself on what to expect in medical school. Nothing perfectly prepares you, but having a good idea is helpful.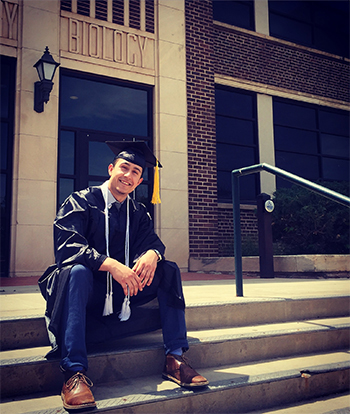 How did ENMU prepare you to go to medical school?
ENMU is truly a hidden gem for science majors. I had so many great professors that helped me build the foundation necessary for medical school. Dr. Varela is still the best microbiology professor I have had.
Why did you choose to attend ENMU?
I chose ENMU because they offered me a football scholarship, but I was lucky to stumble upon an incredible education.
Which activities were you involved in at Eastern?
I played football at ENMU for three years and was part of the 2013 conference championship team. I also published research in the microbiology department under the STEM program with Dr. Varela, my greatest mentor at Eastern.
Tell us about your family and background.
I was born and raised in Albuquerque, New Mexico. My wife, Katrina "Minnie," also graduated from ENMU. We have been married for five years and have two beautiful daughters, Stevie and Siana. My parents, John Sr. and Stephanie, are both in commercial sales, and I have a sister, Brittnee.
I was a first-generation college student, and I am the first person in my family to pursue a medical degree.