Luke Schrimsher is a Greyhound Grad, U.S. Army veteran and citizen of the Cherokee Nation with an illustrious career in aerospace engineering.
The master's in education student at Eastern New Mexico University, whose pronoun in the Cherokee Language is A-s-ga-ya, ᎠᏍᎦᏯ (man), discusses how receiving an Associate of Science in Aviation Maintenance Technology from ENMU-Roswell in 2006 and a Bachelor of Applied Arts and Sciences in Aviation Science from ENMU-Portales in 2016 helped further his career.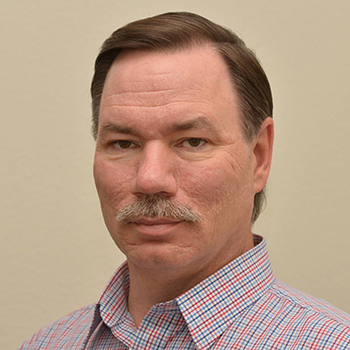 Why did you choose to attend ENMU?
I chose the Associate of Applied Science in Aviation Maintenance Technology because ENMU offered a quality state university degree program with the flexibility of online courses. I travel often and knew that my work would conflict with traditional attendance at a university. I returned to ENMU to continue studies because of the authentic care for student success that is demonstrated by the faculty and the teachers.
How did you choose your field of study?
I began my professional career in the U.S. Army as an Apache Helicopter mechanic and remained in aviation after I completed my time in the Army. I chose aviation science because the degree plan and course content would contribute to my professional knowledge in the aviation career field. I have returned to study Career and Technical Education to improve my skills as a mentor and instructor in the professional disciplines of aviation and nondestructive testing.
Which professor made an impact on you during your time at Eastern?
Dr. Robert Elliott was my counselor and mentor during my pursuit of the Bachelor of Applied Arts and Sciences in Aviation Science. There were a few semesters where the combined demands of school, work and home made me think of pausing for a semester. Dr. Elliott encouraged me to continue and helped me discover solutions to resolve those challenges. His actions are a prime example of how the faculty and teachers at ENMU are personally vested in student success. That authentic care for student success helped me earn a cum laude for the bachelor's degree.
Which activities were you involved in at ENMU?
Working full-time and doing university studies required focus and time. I was not involved with student activities during my studies in the associate or bachelor's degree, and I do think that was a missed opportunity.
Taking time to make connections and support our colleagues is important. During this new pursuit of a master's in education, I am connecting with N.A.T.I.V.E., the American Indian student support group and the Greyhound Amateur Radio Club (KE5RUE).
How did ENMU prepare you for your career?
Attending ENMU sharpened my professional skills. I improved my writing skills to better serve a business and scientific environment. ENMU helped me stay current in the use of technology as it relates to business management. Also, the degree plans presented a breadth of information that I would not have learned otherwise. I learned about the science of materials, aircraft structures, business structures, aviation legal requirements, and team leadership in a professional environment.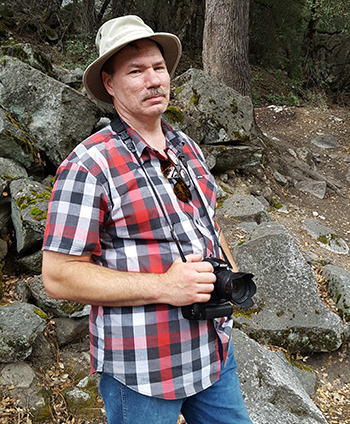 What advice would you give to a student interested in working in your career field?
Find a career or employer that is in line with your personal goals. I have found the greatest career success when my personal goals are aligned with the business objectives of the industry and community responsibility of the company.
What is your job title, and where do you work? What inspired you to work in that role?
I am a nondestructive evaluation engineer at Gulfstream Aerospace. Nondestructive testing uses technology such as x-ray, sound measurements, and electrical measurements to evaluate the integrity of materials. A career in nondestructive testing is the perfect fit that allows me to join the two disciplines of materials science and aviation. I am passionate about materials science in aviation and am excited about technological advances in the field of nondestructive testing.
What are your job duties?
I train and mentor others, contribute to a positive safety culture, evaluate new technology for nondestructive testing, and create technical instructions that document how to use that technology for aircraft.
Where did you work previously?
I was in the United States Army as an Apache helicopter mechanic. I worked for Gulfstream Aerospace as an airframe and power plant mechanic, quality control inspector, and nondestructive testing inspector. I was a nondestructive engineering associate for Lawrence Livermore National Laboratory and returned to Gulfstream Aerospace in October 2021 as a nondestructive testing engineer.
Which aspect of your career is the most rewarding?
My favorite activity is helping others grow in their career. Training others and supporting the career success of early and mid-career professionals is rewarding. Finding and encouraging the next generation of engineers is an honorable personal responsibility.
What are your short- and long-term career goals?
My short-term goal is to maintain a healthy balance between home, work and studies.
My long-term goal is to improve the way we train professionals in the nondestructive testing industry. The learning experience should be technologically advanced, active, and enjoyable as the work that we perform in this career field.
Tell us about your accomplishments and awards.
I have earned two Gold Awards from Lawrence Livermore National Laboratory. One was related to the development of a high-speed real-time radiography system. The other award was to recognize my actions presenting mini-seminars about nondestructive testing in the California Bay area and New Mexico to American Indian students. Contributing to my Native American community is an honor.
I have earned many recognition awards at Gulfstream Aerospace. My most cherished awards at Gulfstream have been letters from customers to our senior leadership which express gratitude for a job well done. Customer satisfaction is the core of career success.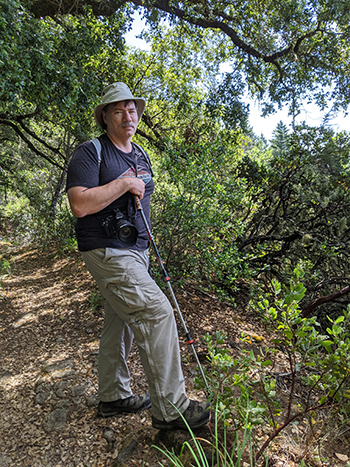 Tell us about your family and background.
My mother's side is Cherokee Nation, and so am I. I am proud to be a Citizen of the Cherokee Nation and enjoy that connection to Cherokee (Tas-la-gi ᏣᎳᎩ) culture and the land. My mother is a teacher in K-12 schools. She taught me the value of being a life-long learner.
My father's side is Texas Pioneer, and from my research, the Schrimsher family had close ties to the Cherokee from the earliest days of America. My father was an aerospace machinist and also worked with General Dynamics. He taught me how to be a mechanic and introduced me to materials science at a young age.
Who are your role models?
My parents have been my most influential role models. I learned from what they taught. More importantly, I have learned from the example of their actions and choices. I learned that community and honest relationships with others are the most valuable assets that one can attain.
Are you involved with any organizations or causes? Volunteer work?
I am a member of the American Society for Nondestructive Testing, the American Amateur Relay League as an amateur radio operator (KG7CBY) and the American Indian Science and Engineering Society (AISES).
I perform volunteer work as opportunities arise, such as career seminars to primary and secondary school students. I enjoy encouraging students to pursue STEM and technical trades as a career choice.
What are your hobbies?
I enjoy hiking and seeing what is around the next bend in the trail or over the next mountain top. I also enjoy gardening and ethnobotany, the study of how our ancestors used plants. That connection to the land helps me maintain balance in what is otherwise a busy life.
Share an interesting fact about yourself.
I have traveled a lot since I left home for the U.S. Army. I enjoy seeing new places and accomplishing new goals. I have traveled most of Western Europe, some of Southwest Asia and most of America. Recently I moved from San Jose, California, to Savannah, Georgia. I am honored to have experienced so much in life.