Greyhound Grads Gina Gossett Davis and James T. "J.T." Berry teamed up to create a mural for Bandolero Brewery in Clovis, New Mexico.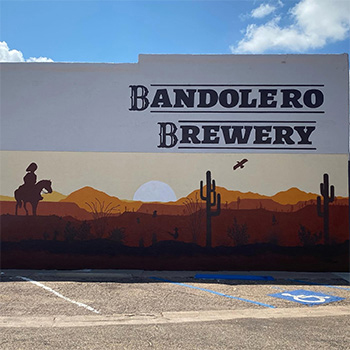 Mrs. Davis designed the mural and presented ideas to the owner of the brewery, Andrew Logan. Mr. Berry used Photoshop to create a digital sketch and the logo featured on the mural. Clovis Sign and Steve Gonzales did the lettering, and the paint for the project was donated by Gregg and Sandra Reid of Clovis.
The project has been met with acclaim. "We have had tons of positive feedback from the community who are loving the art addition to downtown," says Mrs. Davis.
The duo discussed their creative process and their time as students at Eastern New Mexico University with the ENMU News.
Tell us about the mural and what inspired its creation.
Mrs. Davis: While attending ENMU, I was a student trainer. J.T.'s mom, Barbara Nuckols, was a basketball player. We became lifelong friends, so I've known J.T. his whole life. I've admired his artistic talent and wanted him to work with me on this endeavor.
J.T. and I both had ideas for this wall when we saw a brewery was going in the building. The wall needed something like a mural.
The brewery being named Bandolero gave us numerous ideas. Western movies gave us ideas as well. We thought a 70's vibe color pallet western scene would really look good on the wall.
Bandolero Brewery has Arizona's saguaro cactus in their logo, so we for sure wanted to include this in the landscape.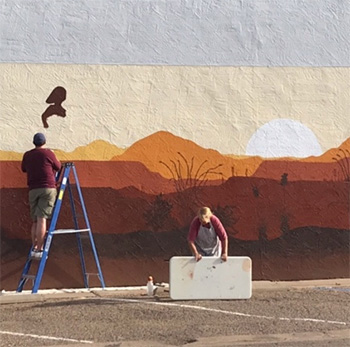 Mr. Berry: Gina has been a family friend for as long as I can remember, and she approached me about helping her on the project. We had previously mentioned it would be an excellent space that needed a southwest/New Mexico-themed mural.
We were full of different ideas ranging from everything in New Mexico. When the name of the brewery came out, it helped narrow down our ideas that had floating around.
When I heard the project was going to happen, she asked me to be part of it and shared with me a couple of sketch ideas she had. I ended up creating a digital sketch once we had colors picked out, and I designed the logo by combining two existing logos the brewery was currently using.
Discuss your Eastern Experience.
Mrs. Davis: My family is from the Floyd/Portales area. I chose ENMU because it was close to home and had an excellent Art Program.
I was an art scholarship recipient and took part in the 1978 ENMU Student Art Show.
I was also a student athletic trainer and member of the ENMU Rodeo Club, where I was on the first-place girls' team in the ENMU Cat Caddy Rodeo in 1978. I participated in intermural basketball and flag football.
I worked in the Office of Financial Aid through the work-study program.
My favorite art professors were Dale Hamlett and Vern Acker. Bill Joy was my favorite athletic training instructor.
I received bachelor's degrees in elementary education, fine arts and physical education in 1994. My time at ENMU blessed me with many lifelong friends!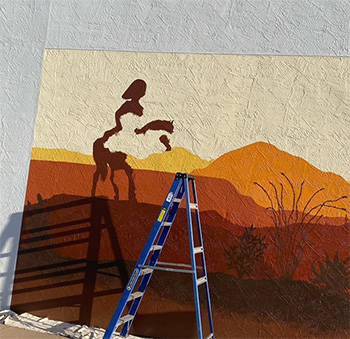 Mr. Berry: I chose to attend Eastern because it was close to home (Clovis), and I already had several good friends who were planning to go to school there. I received a bachelor's degree in fine arts in 2011 and earned my alternative teaching license through ENMU.
I chose art as a field of study since it had always been a big part of my life, and I enjoyed working with my hands. Since childhood, I have been working with various materials and exploring my creativity. I come from a family of creative people and teachers, as well.
I managed to make the dean's list for the majority of my time at Eastern. I enjoyed my student job with the Department of Art, where I managed the studio rooms and worked for Bryan Hahn, managing the art gallery in the campus library. Some of my best memories of college happened during that time, and I loved the experience.
There were a lot of great professors while I was there. Mick Muhlbauer really was great to me, and I can't thank her enough for her guidance. Catherine Jennings was one of the greatest watercolor artists I've known, and her knowledge of history was inspiring. Greg Erf and Greg Senn were also among my favorite characters on campus, and I can't thank them enough for their guidance in the art world and in the real world.
Share some details about your career with us.
Mrs. Davis: I'm a retired instructor for Clovis Municipal Schools and Clovis Community College and owner of Party! Paint and Create.
I've painted and/or been involved in numerous murals and art projects in Clovis, including schools, churches, Clovis Carver Library and the downtown area.
I was also nominated for the Governor's Award for Excellence in the Arts.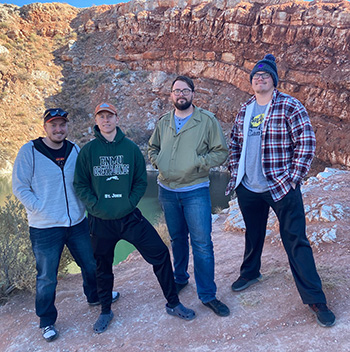 Mr. Berry: I've been a teacher with Clovis Schools since I graduated in 2011. I'm currently working as a middle school and high school teacher at the iAcademy at Lincoln Jackson. There are several educators in my family, so teaching has always been a part of my life.
The most rewarding part of my career is working with kids that need a positive male role model in their lives. I think this is a huge gap in the lives of a lot of our kids. Helping them better themselves and preparing to be successful in life is a critical part of being an educator.
My advice for future educators is to try not to get too overwhelmed with the technical side of education. Your interpersonal skills and communication are your greatest tools. Our kids need someone to look up to and believe in them.
Tell us about your family.
Mrs. Davis: My mother, Betty Elliott Gossett, graduated from ENMU in 1954. My children graduated from Eastern, as well: Mallory Robbins graduated in 2005, Clay and Ashley Ward Davis graduated in 2007 and Kaci Salazar attended. My siblings also graduated from ENMU.
Mr. Berry: Eastern New Mexico University has been a big part of my family. My mother, Barbara St. John (Nuckols), is an alumna of ENMU and a now-retired teacher.
My brother Tyler Berry is an alumnus of ENMU and works as an accountant in Alamogordo, New Mexico.
My stepbrothers Larry St. John and Hunter St. John are current ENMU students.
My girlfriend, Rebecca, and I, along with her two boys, Isaiah and Elijah, call Clovis home.
J.T. with his girlfriend, Rebecca, and her two boys, Isaiah and Elijah.