Brigadier General Richard V. Geraci, USA, (Ret), an accomplished Greyhound Grad, received a new five-year employment contract as president of the Missouri Military Academy (MMA) earlier this semester. Missouri Military Academy is an all-male, college preparatory military boarding school (high school and middle school) with a diverse domestic and international student population. The Academy's rigorous program empowers young men to reach their potential as future college graduates, citizens of character, and leaders in their communities. 
The Missouri Military Academy campus in Mexico, Missouri, is located approximately two hours from the city of
St. Louis; two-and-a-half hours from Kansas City; and 45 minutes from Columbia, Missouri.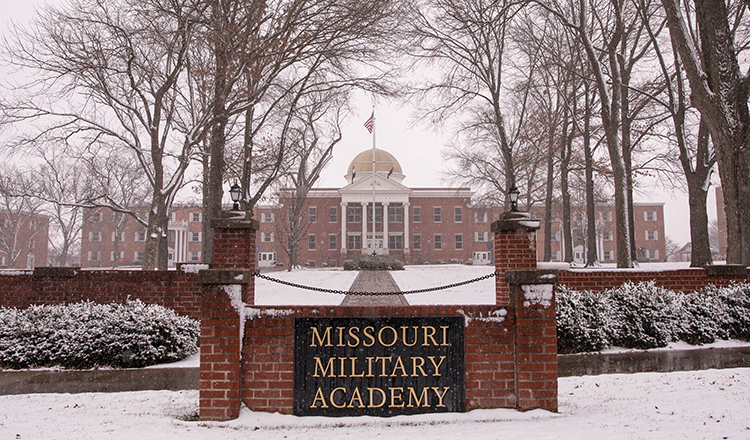 According to a release from MMA, BG Geraci earned the honor due to his role in the continued progress in implementing MMA's strategic plan, significant improvements in academic and athletic programs, continuity of the Academy's military educational model and MMA traditions, the outstanding performance of the corps and cadet leadership and top performance by cadets in national competitions.
"President Geraci and our MMA team have exhibited prudent decision-making, innovation, and steadfast dedication to MMA's mission of educating cadets to their full potential," said MMA Board of Trustees Chairman Strib Koster. "This long-term agreement reflects our appreciation for General Geraci's hard work and energizing leadership. We are confident that our MMA leadership team will deliver on our strategic plan and ensure we can help many more cadets succeed in life."
President Geraci poses for a photo with Missouri Military Academy cadets who had recently completed the Crucible.
The Crucible is a series of physical and mental obstacles intended to test endurance and perseverance,
emphasize succeeding as a team and build self-confidence. By encouraging cadets to push themselves harder
than their perceived limits, they realize a new level of their own potential.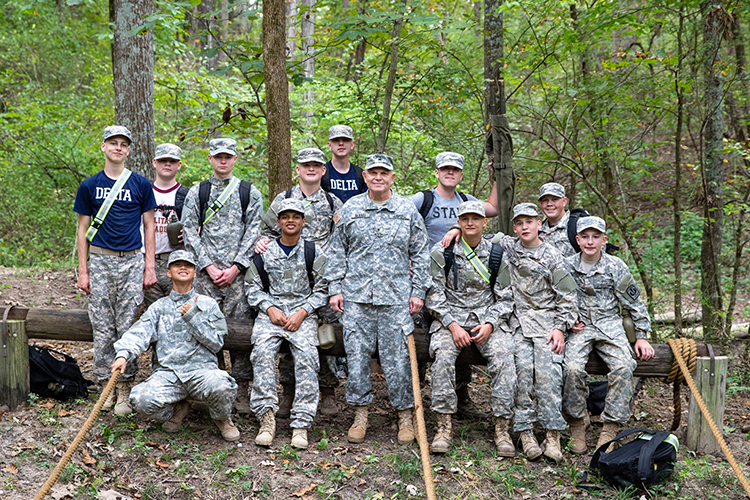 BG Geraci sat down with the ENMU News to discuss his career and share the story of his Eastern Experience.
MMA President BG Richard V. Geraci, USA, (Ret)
Before I retired from the Army, I decided to start a second career in education. Training and education are fundamental to maintaining the best Army in the world. For me, utilizing the experience I gained in the Army and the desire to continue working with and guiding young men and women, the next logical step was to become an educational leader. Upon retirement, I was fortunate to become commandant and dean of students at New Mexico Military Institute. After working for several years, I decided to focus on secondary education, pursue a graduate degree in education and become a licensed principal and superintendent.
President Geraci recognizes the hard work and initiative of cadets who formed a Model UN chapter at MMA.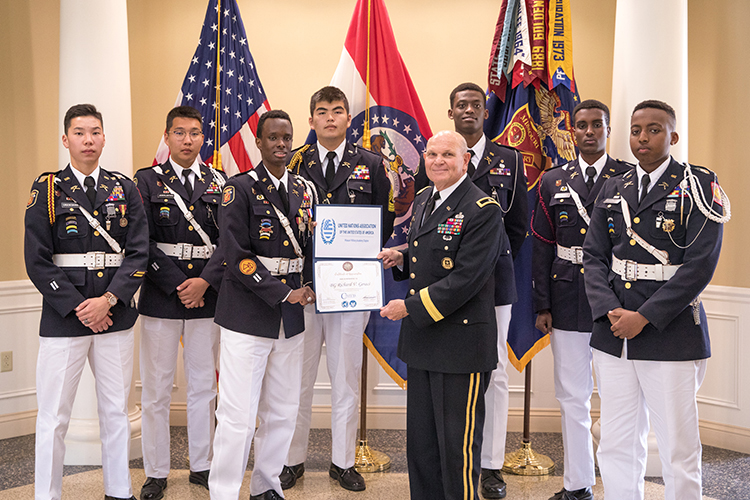 I graduated with a Master of Education degree from ENMU in 2012. I chose ENMU for a number of reasons. First, many of the great faculty members that I worked with at New Mexico Military Institute had graduated from ENMU, and all had positive comments about the Education Program at ENMU. Second, the program courses and instructors appealed to me as compared to several other programs I had researched throughout New Mexico and West Texas. Third, the course schedule was flexible and fit into my work schedule and responsibilities at New Mexico Military Institute.
Having completed three other graduate programs, my experience at ENMU was outstanding. Two ENMU professors were particularly impressive, Dr. Alan Garrett and Dr. Charles Waggoner. Dr. Garrett's curriculum courses and Dr. Waggoner's school law and administration courses were some of the best graduate-level courses I have ever taken. Throughout my time at ENMU, my ongoing dialogue with both professors was extremely instructive and valuable. They were instrumental in confirming my goal of pursuing a second career in education and preparing me for the many challenges that confront educational leaders today.
President Geraci stands with Cadet Skyler Hineman (a senior from Raymore, Missouri)
and his mother during the fall 2021 Senior Night at Missouri Military Academy.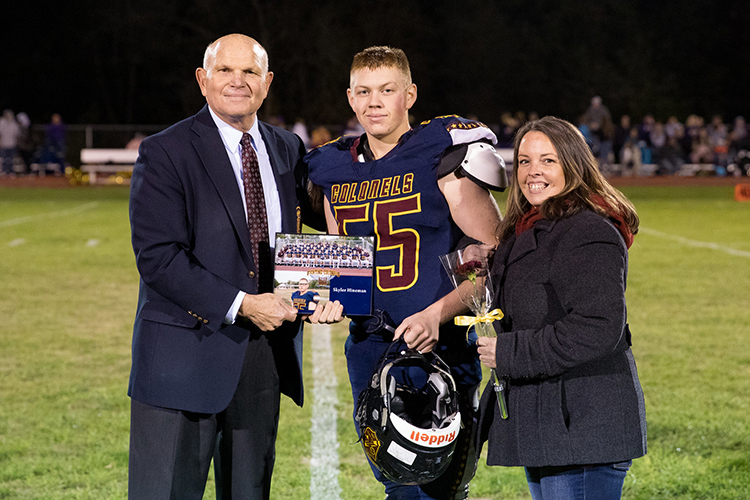 My advice to those entering into the educational field is that it is more than just a job; it is a vocation with immense responsibility. The future of our nation is in the hands of educators and academic institutions. Strong and transparent partnerships with parents and families are critical for success. Maintaining a high level of patience and preparation, having high expectations, avoiding relativism, modeling respect for all people and demanding civil discourse are imperative to teaching success. Every day educators must hold ourselves and our students accountable to high standards. As educators, we must be focused on one very important outcome: teaching students "how to learn and think, not what to think."
President Geraci stands with Cadet Gerardo Quiroga, a ninth grader from Mexico, after the
Passing Through Ceremony. The Passing Through Ceremony is an MMA tradition that
officially welcomes new cadets into the corps following their successful completion of the
Crucible, Maroon Phase training and MMA cadet handbook test.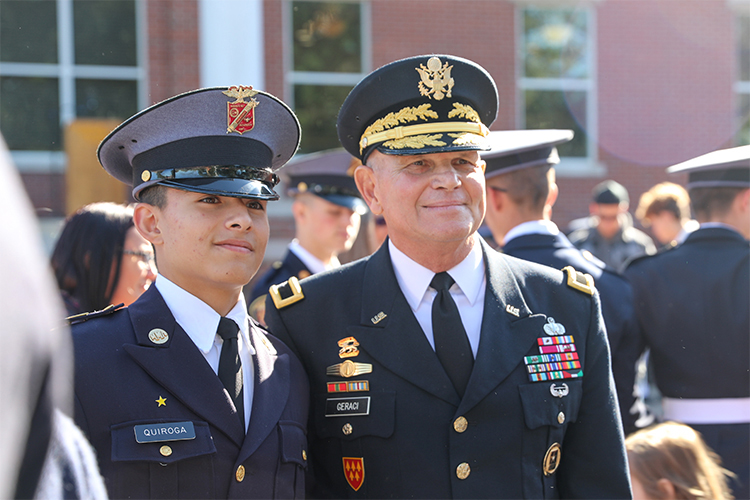 My hobbies have always been closely related to my professional life and careers. They are centered around staying in good physical condition, enjoying sports, listening to music and reading about leaders and their impact on history in multiple areas and disciplines. I enjoy studying leadership and watching it in action, and leadership is a fundamental aspect of what we teach cadets at Missouri Military Academy. Some of my favorites who have impacted my own ideas about leadership and serve as great role models are George C. Marshall, Peter F. Drucker, Winston Churchill, Saint Ignatius of Loyola, Lou Holtz, Condoleezza Rice, Robert J. Marzano and Nelson Mandela.
President Geraci inspects the Missouri Military Academy Corps of Cadets during a military review.
A proud component of military school life, reviews demonstrate the structure, self-discipline and
self-respect that go beyond what students at other middle schools and high schools may learn.

I support numerous veteran and Catholic organizations and am a member of Mission Readiness, a group of retired admirals and generals strengthening national security by ensuring kids stay in school, stay fit and stay out of trouble.
I have been blessed with a wonderful wife of 46 years, four children and eight grandchildren.
I am very fortunate to currently lead a great military academy with tremendous staff, faculty and coaches with outstanding support from the board of trustees. I plan on ending my second career in education at Missouri Military Academy.
President Geraci addresses alumni and cadets during a statue dedication during MMA Homecoming 2019.