Rose Robbins graduated from Eastern New Mexico University with a Bachelor of Science in Communication in 1981, which led to a fulfilling 25-year career in corporate communications and public relations.
The Greyhound Grad, who also received an Associate of Communications from Navarro Junior College in Corsicana, Texas, in 1979, discusses her career and time as a student at ENMU.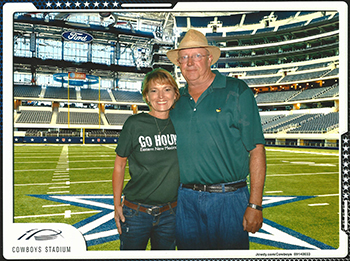 Tell us about your family and background.
I grew up in a small town with a population of about 10,000, Ennis, Texas. I was born to parents of Czech immigrates. The town had a huge Czech population, where the customs were held, and the language was spoken.
I have three brothers and a sister. We were all brought with a strong work ethic as we had to pick and chop cotton. I was the first in my family and extended family to earn a degree.
Why did you choose to attend ENMU?
Danita McNally, a former ENMU student and teacher at Navarro Junior College, raved about ENMU and KENW-TV. She said how I could get the work experience needed while getting a degree. In the television broadcast world, a degree was not necessary. A degree would not get you a job, but experience would.
How did you choose your field of study?
I once walked into a TV station and remembered saying to myself that is what I what to do. I was so enamored by what technology could do. I was hooked.
Discuss your Eastern Experience.
The only outside activity I did was to be a Sigma Chi Fraternity Little Sister, which has brought me lifelong friendships and is how I met my husband, Gary Robbins, who I have been married to for 18 years.
I pretty much ate, drank and slept television while at Eastern. I worked at KENW and would volunteer for any projects just so I could gain experience. For me, it was all about building a resume so when I graduated, I could get a job.
The people at KENW were the most instrumental in my success, especially Don Chris and Clyde Powell. They mentored me and spent countless hours with me to hone my skills. They taught me how to apply my newfound skills so I would be able to thrive in the real world. They opened my eyes to all of the career possibilities that lay ahead of me, which was not necessarily working at a TV station.
Duane Ryan worked tirelessly with my voice (having a thick Southern Texas accent) on my voice and diction abilities, knowing the difference it would make in order for me to succeed. Why they don't teach that anymore, I will never understand.
They are and always will be a big part of my life, and I am truly grateful for them. They are still a huge part of my life; I go hang out at the TV station whenever possible.
Tell us about your career.
I spent over 25 years in the world of corporate communications and public relations, which included commercial and public broadcasting, event management with over 5,000 attendees and broadcast commercials.
It was a great ride. One of my greatest memories and most proud moments is being part of the management team that was responsible for changing the Tandy Corporations name and stock symbol to RadioShack. Being on Wall Street and the trading floor watching the name change was just an event that was a once-in-a-lifetime opportunity.
I had an amazing career as a trusted advisor to management. I guess you could say I used my ability and got to transform the mundane into the magical by producing just the right look and the right message, then blended it all into a way to captivate an audience. I had the best jobs in the world.
What advice would you give to a student interested in working in your career field?
Operate from the attitude "100% possible, 100% of the time."
You have volunteered as an active member and leader in the Greyhound Club, Main Street Portales, the Roosevelt County Chamber of Commerce, the Military Affairs Committee and the Catholic Daughters, as well as being a Zia Mom for ENMU's women's basketball and volleyball teams. Is there anything you would like to share about your volunteer work?
When you help others with an open heart, expect nothing in return, you will be rewarded. It's just what you do.
Who is your role model?
People with passion about what they do and have an attitude to operate from "Anything is Possible."
Which awards and honors have you received?
I received the ENMU Distinguished Service Award, 2021; Cannon Air Force Base Honorary Commander 2015-2017; Greyhound Club Member of the Year, 2019; Sigma Chi Fraternity, Sweetheart 2018; Leadership Portales, 2016; ENMU Volunteer of the Year,2015; Portales, New Mexico Chamber of Commerce Volunteer of the Year, 2013; and ENMU Athletic Board of Directors president 2014 and 2022.
What are your hobbies?
Playing golf!
Rose taking part in the ENMU Homecoming Parade.