Greyhound Grad Jerry Lisby and his wife, Tamara, are in the process of opening Awesome Times, a fast-casual restaurant in Denton, Texas, with boasts a memorable tagline: "Less haters. More taters."
The restauranter, who graduated from Eastern New Mexico University with a bachelor's degree in university studies with an emphasis in business and social studies in 2000, discusses his business and how ENMU helped him create it.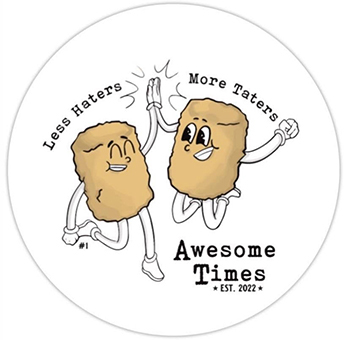 Would you like to give us a preview of your new restaurant?
Our restaurant will be called Awesome Times Texas, and we are serving what we call neighborhood food. I built the menu around the community we live in. I tried to make it family-friendly, and we want it to be a place to hang out with friends and family.
I explain the menu as we take simple food, add layers of flavor and turn it into something unique. We will serve loaded tater tots and fries, Hoagie-type sandwiches, cheesesteaks, wings and, of course, the menu will be peppered with green chile. We are going to have a spaghetti taco for kids, which is spaghetti in a hard taco shell. We will have a full liquor license and serve frozen drinks and unique cocktails.
Awesome Times will be in a mixed-use retail area that is attached to condos and apartments. Our space will consist of 2800 sq ft and seat approximately 80 to 90 customers.
This restaurant will be the result of lots of patience and hard work over the last 20-plus years. The biggest thing is being able to give something back to the family that pushed me and encouraged me over the years.
Tell us about your career.
After graduation, I had an opportunity in Dallas/Ft. Worth. A close friend of mine and alumna of ENMU, Margaret Hargrave, offered me a job at a Dotcom startup called GroceryWorks. All of my family is from the area, and I was ready to move on, so after graduation in the spring of 2000, I accepted.
After the Dotcom bust, I worked for a grocery wholesaler that ended up filing for bankruptcy, and I eventually ended up at McKesson Pharmaceutical, where I worked as a business analyst for 16 years. Those beginning two or three years at McKesson and before I was married and had kids, I missed working with food.
One day I saw a popular restaurant in the metroplex, Babes Chicken dinner house, was hiring at a new location, and it was just down the block from McKesson. The owner's son saw my past experience and hired me on the spot, which gave me a great feeling.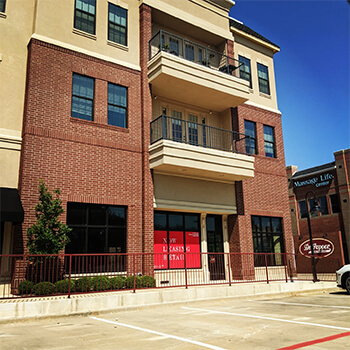 Also, during this time, my future wife's parents entertained business clients at a local restaurant called Daddy Jacks. I quickly became friends with the owner/chef and asked for a job there, as well. This restaurant was a higher-end, linen tablecloth, chef-driven restaurant; he would be taking a big risk, so I told him I would do anything and that I would work for minimum wage. I was hired immediately.
I was starting to think I wanted food to be my future and, before I made that big decision, I decided I needed to walk a mile in restaurant shoes in a way. I was working at McKesson from 7 a.m. to 3 p.m. Monday thru Friday, changing clothes in the bathroom and working at Babe's Mon thru Thursday from 4 p.m. to 11 p.m., and Daddy Jacks Friday and Saturday from 4 p.m. to 12 a.m.
It wasn't easy, but I wanted to see if I had what it takes to live that life. This only lasted about one year as I was taking on additional responsibilities at McKesson, so I gave up the dream for a time.
Long story short, I was the office restaurant concierge. When people came into town, I was asked to find the perfect spot for out-of-town guests. I spent countless hours reading about new restaurant openings and what chefs were going where and who was doing what. Some people ski or fish; I research restaurants.
I am now married and have a son. One of his classmates' fathers sometimes wore a chef coat, which immediately made me take notice. I quickly became acquainted with him, and a few years down the road, I noticed he had left his position with Cotton Patch, where he was the director of operations.
I was nosey and asked what he was doing now, and he said he was consulting but had an idea for a restaurant. Of course, I was pumped because it's what I had wanted to do for a long time subconsciously but would never take it seriously. He explained his idea and, honestly, I think I was more excited about his endeavor than he was at that moment.
For the next few months, I constantly asked questions and threw out ideas. I think he got tired of listening to me and just said, "do you want to come to work?" I had the background, and I had the desire, but I had a family, and it would mean leaving a comfort level they were used to. Working for a Fortune 500 company, health insurance, vacation, 401k, etc. My wife said, 'do it!" She could tell it was my path, and she unselfishly gave up all that security for something I wanted to do.
I put in my two-week notice shortly after to help a guy follow his dream. If I ever wanted to own a restaurant, this would be the perfect opportunity to help from the ground up, and this place was going to be amazing! The one and only reason I wanted to help him was the fact that he was putting everything on the line to make this happen…. everything. I hitched my wagon to his because he had no choice whether or not to fail. There was no safety net, I knew in my heart he was going to be successful, and I wanted to help because I was doing the same.
I worked at Marty B's in Bartonville, Texas, for four years as the pitmaster. I helped Marty develop the menu. He projected sales at two to three million dollars per year in the beginning; last year, I believe the sales were north of 10 million dollars. I felt like I helped as much as I could, and I was about to turn 50; it was time. Once again, my hero, my wife, said, "let's go!"
Which aspect of your career is the most rewarding?
Talking to people who are enjoying the food you created. It's amazing how food influences our everyday lives. I can still remember meals with my grandparents or meals celebrating life's achievements.
Tastes and smells can elicit unique memories from corners of the brain and take you back to that moment. Food can be comforting, and we want to be that comfort destination.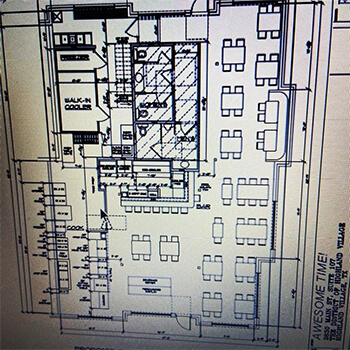 What are your short- and long-term career goals?
My short-term goals are to get through building a restaurant from scratch; we are building out a shell. It's an immense amount of work.
My long-term goals are to build a strong business to take care of my family and be a pillar in the community that supports us.
Why did you choose to attend ENMU?
I chose ENMU because it was close to home. I grew up in Clovis, New Mexico, and I had a lot of friends that were attending. They offered a great geology program which is what I was initially studying.
How did you choose your field of study?
I wanted to study geology because I had been interested in that field since I can remember. I had rock collections, and I did science projects in elementary, middle school and high school that focused on geology. On family trips, all I did was rock hunt.
As I worked my way through Eastern, my interests changed. I really enjoyed business classes and chose to focus more on that area.
Discuss your Eastern Experience.
I attended from the fall of 1993 to the spring of 2000. I was out a couple of semesters for financial reasons. I paid for school myself with the help of loans.
One of my favorite professors was Dr. Constantopoulos. When I first arrived and met him, I knew I had chosen the correct major. I could tell how passionate he was about the field, and that made me excited.
He gave me a job in the department helping with all kinds of tasks, from being a lab assistant to working in the basement, cutting thin sections of rock. It was great work, and I loved it. The most exciting part of the job was filling one of the large pieces of equipment with liquid nitrogen. I am not sure we were supposed to experiment with it, but we did some small experiments that were important for University research, including freezing flower petals and breaking them with a hammer. I am sure it's in a science journal down in the basement.
Being a member of the Kappa Sigma Fraternity was rewarding in many ways. I met some of my best friends while attending. During my tenure, we really strived to achieve some goals we had never met before internally. It was really the fraternity leadership who spearheaded the work; I was a cog in the wheel, but it was fun to work with all those guys towards those national goals. We were able to achieve our fraternities' highest honors during that time.
The memory that stands out the most and really laid the foundation of what I am doing now is working for the University food service, which was Aramark. It was a necessity for me because it's how I survived, that and small student loans and waiting tables in Clovis.
I had never really worked in food up until that point. The director at the time was Jody Bailey; he was a friend already. Honestly, I don't think I applied; he just told me one day to show up and work, mostly because he was short people for an event. I don't think I blew him out of the water with a jam-packed resume. I just happened to have two arms that worked, and I could fill water glasses pretty efficiently.
After that event, I just stayed a long time. I believe I worked for the food service for four or five years. I realized after about a month that I got it, meaning the whole industry; it just came really easy for me. I enjoyed it, including the type of work and being around the people that worked there.
I wouldn't realize until years down the road what I really learned there. I worked my way up to student manager and worked in the cash operations in the Cafe Down Under. I enjoyed the challenge of supervising a team and achieving small financial goals.
I was there year-round; we did everything from helping serve food for summer camps to stripping and waxing floors. I didn't get crazy summers off because if I didn't work, I couldn't pay the bills.
During this time is when I realized I was more cut out for this type of work than geology. I believe I was about a semester and a field camp away from graduating with a geology degree. I knew I would be in school longer, but to be honest, I was having a hell of a time, and the extra time didn't bother me. Eventually, that feeling waned, and it was time to get out into the world.
How did ENMU prepare you for your career?
Honestly, it was amazing what Eastern did for me. It was not all classwork, although the foundation came from all the classes I took. I still remember some of the marketing points from class, Accounting, Business Law… so many good courses that help build that foundation.
Just as important were the friends and professors, the clubs and organizations. Those little times having dinners around town; to me, it was the perfect size school for me. The administration was always there to help. I really took it for granted how good I had it there.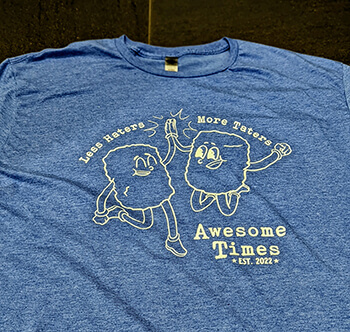 What advice would you give to a student interested in owning a restaurant?
It's not for the weak; it's long hours, small margins. If you open one, it's twice as much as you think and will take twice as long.
Do your due diligence. Work in a restaurant, doing every single job, from taking out the trash and cleaning bathrooms to becoming a manager. Work in full service, work in fast food. Spend some time in a counter service restaurant, chain and independent.
Treat everyone you meet with respect; all those guys that you see come in the back door are your friends, like food delivery, repairman, plumbers, and electricians. These are all the people you want to know because one day you will need them on your team.
Last thing: learn it all. If you want to own a restaurant, learn everything from food to finance; you will use it all.
Tell us about your family and background.
I have been married to Tamara Lisby for 17 years. She is a teacher at DKH Academy in Highland Village. She has a bachelor's degree from the University of Arkansas in special education, and a master's from the University of North Texas in counseling.
We have two kids. Fox Lisby is a 14-year-old boy who will be attending ninth grade in the fall. He plays baseball and football and is a black belt in Taekwondo, and does Jiu-Jitsu. Fawn Lisby is an 8-year-old girl who will be going into fourth grade in the fall. She plays soccer and volleyball and watches TikTok.
Who is your role model?
My role model is my wife. She is the reason this family is so strong. She is relentless in the love she shows to our children and me. She makes things I thought would be impossible possible. It's some form of weird magic.
Are you involved with any organizations or causes?
At Marty B's, we supported many, many causes. We helped feed lower-income kids in the community during the summer at the local schools with a group called Mission Moms.