Mrs. Michelle (Lacko) Isherwood has led a multifaceted, interesting career since graduating from Eastern New Mexico University with a Bachelor of Science in Education in Physical Science and Science in 1991.
She shares her fascinating journeys as a teacher and jeweler with the ENMU News.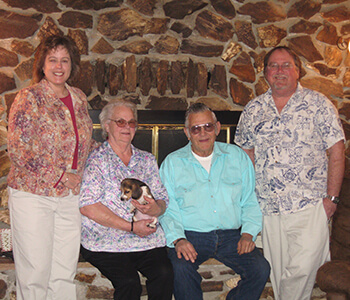 Tell us about your family and background.
I was born in California in 1968. I grew up competing in rodeo, raising a variety of animals, and hunting to supplement food for the family. We raised some animals for food; I learned to cook and spend quality family time from a young age. I also have an older brother and three aunts, one in Florida and two in Arkansas, as well as numerous cousins.
My "gramma" lived in a little home on our property in California with us and taught me how to knit as well as grow fruit plants. We built everything except the houses on our property, corrals, stalls, sheds and barns.
The horses we competed with were either a rescue we trained or were born at our place. My favorite of all was a little boy born on my eighth birthday. Like, no joke! My mom and I came home from my birthday party at the mini golf center and dad comes in and says, "you'd better get out to the barn! Strawberry has a birthday present for you!" I hustled and watched him being born, helped him stand and raised him his entire life. His mother was named "Strawberry" and his father was "The Cajun," so we combined their names and our new baby was "Strajun."
School was a learning "playground" for me as well as allowing me to be part of sports teams – volleyball, basketball and rodeo.
My father was a diesel mechanic and taught me how to repair and maintain our vehicles, starting with teaching me how to put my bicycle training wheels on; I took them off when he wasn't looking and put them back on after riding.
My family moved to Aztec, New Mexico, when I was eight years old. My mother was a stay-at-home mom until we were in New Mexico and in school before she went to work. She started at the entry-level job and was the supervisor of the hard chrome shop (the company re-chromed hydraulic cylinders from all over the world) when she retired.
She taught me, at eight years old, to do all the tasks in the shop when I helped her on the weekends. We always stopped at the Baskin Robbins for a treat on our way home, even in the winter.
Again, we built everything except the houses on our property, corrals, stalls, sheds, barns and added an arena.
I graduated from high school with a National Honor Society membership and two varsity sports letters, Volleyball and Basketball.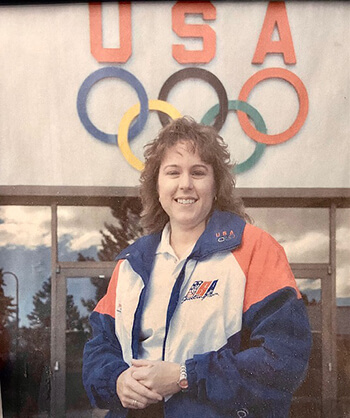 Why did you choose to attend ENMU?
It was because of the scholarships I earned, as well as inspiration from several of my former instructors who previously attended. Those who inspired my start were, to name a few, CJ Spence, Laura Shepardson, Diana Fields (Sweet) and Andy Sweet; so, I guess you could say part of my success is their fault!
ENMU has one of the highest-rated teacher training programs.
I also liked the affordability and that Eastern was smaller than other colleges. ENMU was close enough that I could drive home in about seven hours for holidays, vacations and summer jobs to earn money to continue at Eastern.
I had two scholarships to attend ENMU, one from Hope Rebekah Lodge in Aztec, New Mexico, and one from the New Mexico High School Rodeo Association.
How did you choose your field of study?
Well, that's an easy one. I knew I always wanted to be a teacher/coach. I believe I was "called" to be a teacher – some say I was born for it. Science is interesting, and I have excelled in the sciences. I love to know how living things function and understand how the human body moves.
Which activities were you involved in at Eastern?
I was in intramurals and held a student work-study job at DeBaca Hall, where I was a resident. I was kind of a "nerd" outside of sports; I worked all my work-study hours on Friday nights so I could study while everyone else was out and about. I also worked for the Grounds department tending to the flowers, bushes and trees across campus.
Discuss your Eastern Experience.
Beginning college at 17 years old was exciting and terrifying at the same time! I made wonderful lifelong friends and had the opportunity to learn with older students, not just my peers.
My mentors were Coach Bill Joy, Athletic Training Coach Jack Scott, Dr. Gary Phaffenberger, Dr. Patrice Caldwell and Dr. Julie Wood. They were tough and amazing instructors. They didn't care that I was on the "younger" side of student age; they treated me like anyone else and challenged me with their lessons to make me a better student. I incorporated some of each of their techniques within my own teaching career to improve my students' learning.
I enjoyed my drawing classes but knew I didn't want to teach art – I am blessed to have sold some of my artwork.
Intramural sports were definitely a highlight. Bonding with people I just met and forming lasting friendships through sports we loved and were pretty good at. Spring Fling Mud Volleyball was so much fun, but we would get hollered at going back to the dorm to clean up. We waited until we were mostly dry, or at least not dripping mud anymore, per RA request, or we would have to clean up the mud tracks.
When it snowed, tackle football in the grassy area outside the dorm closest to the Administration Building was so much fun! Volleyball after classes in the courtyard between Curry Hall and DeBaca was a tradition. We all would be in our rooms doing homework, anxiously waiting and taking glimpses to see when the first person arrived with the volleyball. Then next thing you know, there are about 15 of us!
Tell us about your teaching career.
My career flourished as a result of a great start. My training at Eastern included my student teaching at Portales Jr. High with Ruth (Chavez) Valdez and Kay Jilek.
Upon graduating from ENMU in 1991, I was involved in a very serious wreck that took me 1½ years to recover from. My teaching career almost never happened. I subbed for a year at the Jr. High in Portales, then moved to Amarillo, Texas.
I was subbing daily at a middle school in the Canyon district until I got the call from Amarillo Independent School District. The HR director said they called ENMU, and there were two of us in the area who had the qualifications they were looking for. I went to interview at Travis Middle School and was hired. My career there started with coaching girls' volleyball, basketball and track, teaching physical education and health.
Four years later, with some physical challenges arising, I moved into a seventh-grade science position. I loved my sixteen fantastic years of teaching about elements to physics with everything in between, enjoying the learning process for myself as well as my students.
I had the option to fill a void created with the departure of three teachers from the department, so I found myself moving to sixth grade Science. I had a new grade-level partner, but we had already worked together as I was his mentor when he first started his career there. We worked together and had so much fun, created curriculum and switched to teach each other's classes on occasion!
During this year, the sixth grade was going to transition to a brand-new stand-alone campus the next year. I could see the construction progress from my classroom window on a daily basis and was looking forward to seven more years at the new Travis sixth grade campus with plenty of new equipment and technology!
I have had the distinct honor to train several student teachers who became successful teachers and was able to work alongside new the subject teachers, growing together. My retirement was June 4, 2021; it was time to let the younger group take over for this old teacher.
What inspired you to create and own a business, KMC Jewelers?
My inspiration for jewelry-making began in high school with a yearlong class. I fell in love with the entire process of making jewelry out of silver and learned to use a lapidary to cut semi-precious stones to set in the silver we had just designed.
When I met my husband in Puerto Rico (while we were competing in The Championships of the Americas, he for the Virgin Islands shooting team and I for the U.S. International Pistol Team), our travel took an hour across the island every day for eight days. Plenty of time to talk, laugh and learn that he was the lead bench jeweler/goldsmith for an international company based out of St. Croix, USVI, where he was born.
Upon our engagement in 2006 and subsequent marriage in 2007, Kurt moved here to Amarillo, Texas, and we opened our very own jewelry studio/gallery. This was his lifelong dream come true! I didn't have the opportunity to continue jewelry after high school until this time. It was amazing to be able to pick it right back up as if no time had passed!
Creating, building and taking a customers' drawing and bringing it to life is very rewarding. We each had our own specialties and some custom jobs we each completed part to finish the project. We still do this; we do not have a storefront any longer, but the business is "still in business" 15 years now and is still a dream come true!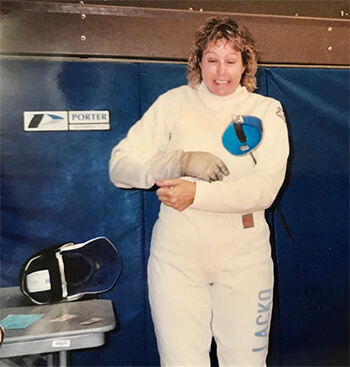 How did ENMU prepare you for your career and owning a business?
ENMU prepared me well for my teaching career. Teaching prepared me for owning a business. The environment at Eastern was slower, like the small towns I was raised in. It was easy to get used to.
The Education Program is top-notch, and I think the best part was the ability to go into all three levels of schools, do some teaching and experience the interactions of different ages of students. This made student teaching more meaningful as I knew jr. high/middle school was for me!
Learning the dynamics of teaching and dealing with people of all ages "on the fly" helped me deal with a myriad of customers who would come into our business. Being able to connect with students is not much different than customers. Treat like a human, be respectful and list, respond with an appropriate solution and success!
What advice would you give to a student interested in working in your career field?
Learn to really listen to your students, no matter their age. Try to understand but don't lower your expectations. Keep them striving for more; work through their resistance (it will happen). They can do it even though they don't know it yet; you do. Help them realize their potential!
Who is your role model?
My role models are my parents. They raised me to be kind/caring, honest, independent, to think for myself, to solve problems and find a way to "make it happen" when needed. They always did for others and had an open door for those in need. When they saw I had an interest in something, they encouraged continued learning and I always had the option to stop at any time. This "no pressure" approach helped me learn many diverse things but the desire to "quit" was never there. They taught me how to be a friend to others, and I have the honor to live their legacy as they watch from Heaven.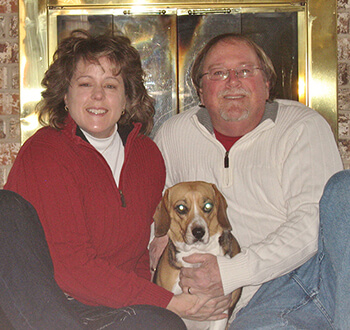 Tell us about your accomplishments and awards.
First female within IDPA (International Defensive Pistol Association) to earn a 4-gun certification. First person to reclassify higher.
Former member of the USA International Pistol Team (three years) – Championships of the Americas Team, Puerto Rico, two team silver medals; World Championships Team – Croatia.
First female vice president then president of the Amarillo Rifle and Pistol Club.
Certified by U.S. Fencing for coaching Foil and Sabre after attending Coaches College in Colorado Springs, Colorado, Olympic Training Center.
KMC Jewelers (our family business) Top Jewelry Business three years in a row.
Numerous medals earned (golds, silvers and one bronze) at several U.S. Shooting National Championships at Ft. Benning, Georgia.
What are your hobbies?
Pistol shooting/competing, photography, taking care of our flowers and creating/building useful items for our home or for sale, and of course, cutting semi-precious stones from all over the world to build our custom jewelry.
Share some interesting facts about yourself.
I was the first person in my family to attend and graduate college.
I left work for Thanksgiving break in 2006, flew to St. Croix, USVI, returned to class the next week after getting engaged – it was a fun story!
I was in the Beijing Olympic Trials, where only a paperwork snafu kept me from attending. I was in first place on the first day of a three-day competition.
I was taught to swim by Phyllis Chadwick, my second cousin, who was the first woman to swim the English Channel in both directions.
I was the pitcher for West Amarillo Christian Church (co-Ed) and Golden Oldies (women's) for 16 years in slow pitch and was number one in city league softball. I played first base when needed. I was in city league volleyball for two different teams - one co-ed, one women's for about the same amount of time.
A collection from Mrs. Isherwood's shooting career.