Lourdes Gutierrez, who graduated from Eastern New Mexico University with honors with a bachelor's degree in electronics engineering technology (EET) in 2011, works for Lockheed Martin, an American aerospace, arms, defense, information security and technology corporation, as a systems staff engineer and regression test lead on the F-35 program.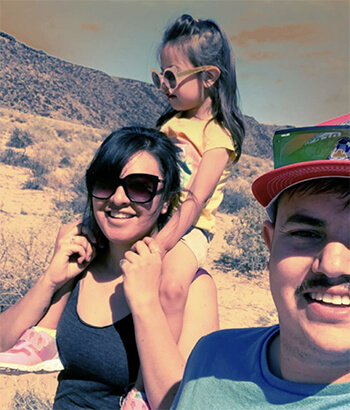 She works with managers and directors to help plan testing for software and does data management for metrics on testing.
Lourdes finds the most rewarding aspects of her career to be "seeing the direct effects my work does to help the warfighters stay safe and being able to solve any problems that may come up in a high-paced environment."
Her short-term goal is to become more efficient in her current role, and her long-term goals are to "possibly work my way to becoming a subject matter expert and a management position."
She enjoys working for Lockheed Martin, sharing, "They have great work opportunities, and I love what I do and our mission."
She started her career as a simulator technician and test/integration engineer for Lockheed Martin before shifting to the role of a systems engineer for BendixKing by Honeywell. She also worked as a systems engineer at the Distributive Mission Operations Center (DMOC).
Lourdes's family immigrated to the United States when she was seven. She grew up in Portales, New Mexico, and was the first person in her family to graduate from college.
The Hispanic Organization for Leadership and Advancement (HOLA) member's role models are her parents. "They gave my siblings and me everything so that we could be where we are at," she explains. "They made sure school was my priority, and I never needed anything to achieve anything I set my mind to."
Lourdes is married and has "two beautiful daughters. My family is my driving factor for everything I do in my career."
Lourdes was drawn to the EET at ENMU thanks to her skills in math and an Intro to Engineering course. "Dr. Hamid Allamehzadeh took us to some labs, and I found that electronics were a lot of fun, and I wanted to keep going to the labs," she says.
"I had great teachers throughout my experience at ENMU, but my favorites were Dr. Allamehzadeh and Dr. Mo Ahmadian. Dr. Allamehzadeh was also my advisor, and they both had an open-door policy which I thought was great. It allowed me to interact more with them, and if I ever had questions or just wanted to chat, I could always stop by. It really made me feel like they cared about their students."
The dean's list honoree worked for the ENMU Office of Hispanic Affairs and TRIO.
She feels her time at Eastern prepared her for her career, sharing, "ENMU gave me great skills that I have applied throughout my career, from designing circuits and troubleshooting to giving coherent presentations to customers."
Lourdes offers advice to students interested in pursuing a similar career path: "It's a lot of fun! There are so many possibilities and opportunities for anyone that works hard and really wants to be an engineer. Get your foot in the door, and don't be afraid to work your way up that chain.
"The EET Program is a hidden gem at ENMU, and incoming/existing students definitely need to know about it," she concludes.
Lourdes's family with a static model after a family event at Kirtland in Albuquerque.