It isn't every day that you see a band of primarily gynecologic oncologists (a subspecialty of obstetrics and gynecology) take the stage and put on a rock show but lead female vocalist Dr. Gizelka David-West, who joined in 2019, makes the seemingly impossible possible with her multifaceted skill set and drive to improve the lives of her community members in Westchester County, New York.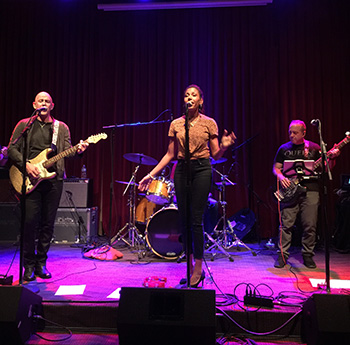 The arguably best-educated alternative/folk-rock band in the world is named No Evidence of Disease (N.E.D.), a reference to what cancer patients are told when they are found to be in remission.
The band aims to be a conversation starter in bringing awareness to gynecological cancers; the fan-favorite cardboard testimonials portion of their concerts puts the spotlight on cancer survivors by inviting them to join the band on stage, writing their stories and messages on cardboard to share with the crowd. The lyrics of the N.E.D.'s music, while not focused directly on gynecological cancers, are motivational and inspirational.
With three albums under their belt, the members of N.E.D. have made their mark in the music world and inspired thousands. Their music, including a collaboration with Rage Against the Machine's Tom Morello, is available on Apple Music and Spotify.
Dr. David-West is making an impact beyond touring music around the United States in her new role as a gynecological oncologist for Northwell Health. She is tasked with building Northwell's gynecologic oncology program for the Westchester region, as well as seeing patients, performing surgeries and providing educational lectures.
She was inspired to take on these tasks thanks to the "exceptional support and mentors around me, and a passion for bringing awareness of women's health issues to the masses. It is extremely rewarding to be able to prevent gynecologic cancers, help with early detection of these cancers, provide curative surgeries to as many women as possible."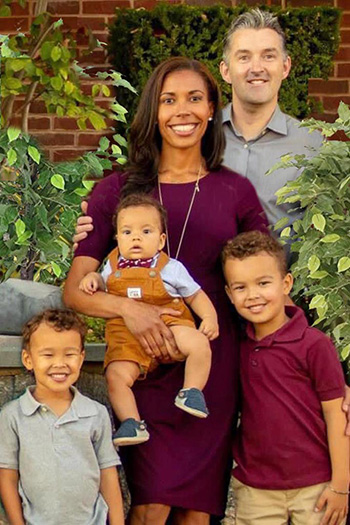 Her goals are to "get this robust practice running and streamline the care patients are receiving, from diagnosis, through treatment, and into survivorship.
"The cancer journey isn't easy; there are so many components. I want people to know that there are resources available to help them; my long-term goal is to expand our outreach within our local community and the surrounding communities so that there is greater awareness of our practice and the services we provide."
Dr. David-West, who is of Nigerian-Slovakian descent, was born in Nigeria and moved to New York at the age of nine. She lived in many areas of the United States as part of an academic family, where her father had opportunities to serve in the education realm in several states.
She names her parents as her role models. "I give them a lot of credit in helping me become who I am and for what I have accomplished," she says.
Her mother, who passed away 13 years ago, "made sure she did all she could for us. She was a source of energy and mental strength and taught us how to persevere through any and all obstacles."
She credits her father for her "passion for education and steering me in that direction."
She appreciates her parents' love for art; sharing it shaped her own artistic endeavors and allowed that aspect of her life to "flourish."
She transferred to Eastern New Mexico University in 2002 for the final two years of her undergraduate career when her father began serving as chairman of the visual arts department.
The Greyhound Grad looks back fondly at her time as a student. She felt pride serving as a President's Ambassador, where she called Future Greyhounds, gave them tours and was able to share her love of the University with them. "It was really fun, and I made some great friends. It was a big highlight of my time at Eastern," she shares.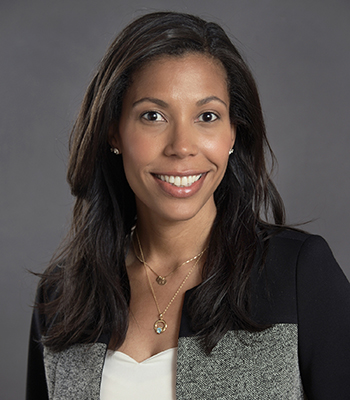 Her professors at ENMU encouraged and helped her to take a summer internship at the Medical Examiner's Office in Albuquerque, New Mexico, which shaped her future, igniting an intense interest in delving into the patient side of healthcare. "It speaks volumes to the people at ENMU that they gave me the opportunities and resources to reach my goals," she says.
She graduated from ENMU with a Bachelor of Science in Biology in spring 2004, and was appointed the Honors Convocation Speaker for the College of Liberal Arts and Sciences. She began attending medical school at the University of Miami that summer, where she earned an M.D. and discovered her love for women's health.
Dr. David-West serves on the Gilda's Club of Westchester advisory board and is a physician volunteer for the Westchester Cancer Coalition.
When asked about her awards and accomplishments, she shares that the award that she's the proudest of was being named a top doctor in Westchester County in a patient-voted poll; she found it "validating to be recognized for my commitment to and effort for providing the best patient care I can."
She and her husband, Patrick, share three children, Owen, 6; Gavin, 4; and Evan, 11 months. Beyond singing in N.E.D., her hobbies include gardening, traveling, interior designing, arts and crafts with her children and spending time with her family.