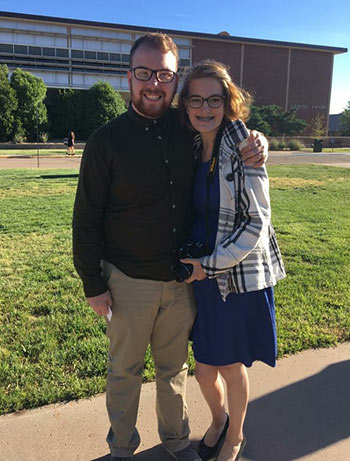 When I was a senior in high school, I chose to attend Eastern New Mexico University because of its small-town feel.
My older sister graduated from Eastern when I graduated from high school in 2015. She whole-heartedly enjoyed her experience and told me stories of her many crazy adventures. The relationships she created were long-lasting, even after she moved across the country. Her experience introduced me to the idea of attending.
I had been considering several universities for my college education, but after visiting the campuses, my choice became clear. I loved how relaxed Eastern's campus felt. It made me feel free to be myself. On top of that, everyone was so friendly and ready to help, even the president of the University. I couldn't pass the opportunity up.
I started classes in the fall of 2015, when I also met my husband for the first time. I wanted to get involved on campus, so I attended as many events as I could, including the Baptist Student Union and Christian Campus House bible studies. We became friends quickly.
Our first date was to the Homecoming Bonfire, one of the most popular homecoming festivities. I remember feeling nervous as he picked me up from Eddy Hall, the dorm I was staying in. He wrote for the school newspaper, "The Chase", at the time, so, after our arrival, I watched him gather quotes from students and snap artistic photos of the blazing fire. We talked all night, intrigued by each other's thoughts, ideas and perceptions of the world.
Now, just two years after that night, we are married and expecting our first daughter. I can't even imagine what life would have been like if I had attended any other university. We wouldn't be where we are without Eastern, so for that, I owe many thanks to all the influences that lead me here.
My Eastern experience has changed my life in ways I never thought it could. I can gladly say I'm proud to be a Greyhound.