During my senior year of high school, I did not anticipate I would join the Eastern New Mexico University Greyhound family. Instead, I was leaning in the direction of West Texas A&M located in Canyon, Texas. Even though WT is still close to home (north of Logan, New Mexico), my main deciding factor came down to scholarships. After reviewing my scholarship opportunities, I decided ENMU was the way to go. This became one of the best decisions of my life, not just because they offered me scholarships, but because I met some of my Greyhound family here.
My freshman year at ENMU started off a little bit rocky. Moving away from your parents can be the scariest thing ever, especially if you do not know many people. Adjusting is very hard. Luckily, I kick started my sense of community and the process of building my Greyhound family during this transition.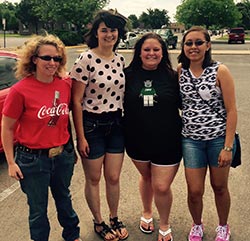 I met some of the people who had a few of the same classes as me during Dawg Days. This helped me make new friends and come out of my shell a little bit. We hung out while working on homework, had movie nights in each other's dorm rooms while studying and ate together at the Campus Union Building (CUB). The friends I have made over the last three years have been a huge influence not only on my academic life, but also on my social life.
For anyone who does not know me, I am truly accident-prone. I guess you can say it kind of runs in my family. My friends and neighbors helped me while I was in the transition of attending classes while maneuvering classes by relying heavily on a cane of all things to get around. They greatly impacted my life, probably without even knowing it, by not just looking at me weird and walking away or not knowing what to think instead of just asking what happened. They asked if I needed anything and helped me maintain my academics by getting up earlier to walk to the CUB to ensure I got to class on time.
Another thing which greatly influenced my experience here was the professors. They were so helpful, whether it was helping me find my classes on the first day or getting excited when I came to their offices on a semi-regular basis to ask questions or get help/feedback on assignments. They would get excited because they were getting the opportunity to influence a student's career and help point them in the right direction.
What many people do not realize is that the professors are not just here because they get paid for it; they are truly here to help students to succeed. They want students to strive for the career of their dreams and prepare them for that career through academics.
As a recap, some of my favorite parts of my experience over the last three years are:
Making friends who have become family both in and out of the classroom.
The small-town feel of ENMU, along with a sense of community.
Many students are trying to figure out what specific career or field they want to pursue, along with figuring with how to prepare for it. They want to have fun while carrying the load of their coursework and any other struggles they may be facing.