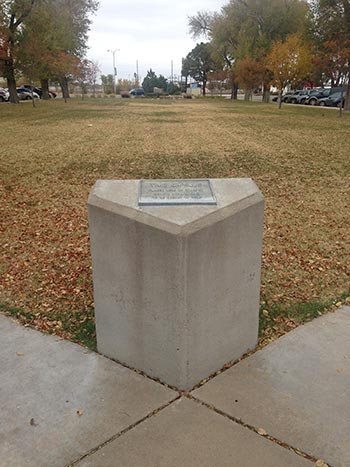 1. There's a time capsule on campus.
Sometimes we discover new things while changing our daily habits and tweaking our schedules. For the last five years, I've parked my car in the side parking lot of the library. Unfortunately, a new school year means new students parking in your preferred spot, relegating me to park elsewhere. Every single day after forcing me to park in front of the Administration Building, I've walked past a small monument sticking out the ground, never looking twice at it.
Located directly in front of Administration Building, there is a monument with a plaque saying, "Placed here by Student Senate April 8, 1985. To be opened in 2035."
Mysterious and interesting. What can we find in the time capsule? More importantly, is the time capsule beneath or inside the concrete monument? To find out, please come back April 8, 2035, for the reveal.
2. ENMU embarked on a large oral history project in the 1970s.
One of my first jobs on campus was digitizing oral histories recorded on cassette tapes in the library. Although I spent long hours listening to these oral histories, I learned quite a few interesting things that no student at the time had access to.
I learned about how many people left large cities on the East Coast with their families to settle in the areas now known as Curry and Roosevelt counties for medical and health reasons. Most people began to settle into Portales by the late 1800s to homestead and grew up in the early 1900s witnessing Halley's Comet pass through New Mexico's skies, spending the evenings by a campfire singing hymns and dancing and walking two to three miles to attend school. Not to mention, most of these oral histories discuss in detail the original citizens that founded Portales, along with the struggles about the liquor prohibition and saloons in town.
You'd be surprised what gems you will find in these oral histories to use for research papers, so click over to enmu.edu/Library for a list of special collections online.
3. Metallica and Johnny Cash performed on campus.
What?! Is this true?
One of my friends had passed down a nugget of knowledge from her mom that many big names used to play at universities across the Southwest, and she knew from various testimonies that some performed at ENMU.
Fellow readers, it is very true. Metallica's official website even says so. The metal band opened up for Raven Aug. 27, 1983.
Other names like Pat Benatar, Charley Pride, Alabama and The Beach Boys have also graced the stage at ENMU.
"From 1975 to 1995, ENMU used to have at least one to three concerts every year," explained Richard Baysinger, a public service librarian at Eastern.
Richard says he attended quite a few notable concerts while he was a student at ENMU, such as Jars of Clay, George Straight and 38 Special.
We have yet to have an eyewitness attendee of the Raven and Metallica concert come forward, so let's pray they do tell us what happened and share some photos.
If you know something about ENMU we don't know, feel free to share with us!