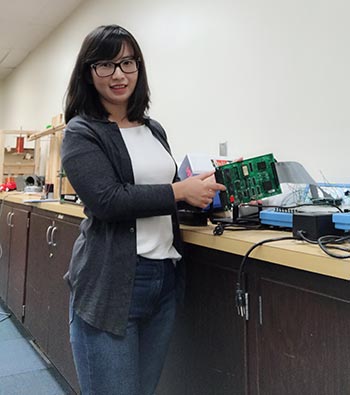 We often ask students about their Eastern Experience, so we would like to extend the conversation to faculty members. Now it is time for them to talk about their experiences and why they enjoy ENMU so much!
Dr. Chang Liu, an assistant professor of electronics engineering technology, started teaching at Eastern New Mexico Univeristy last fall. She shares what being a teacher means to her and her favorite moment from last semester.
How was your first semester teaching at ENMU?
It was GREAT! I feel so lucky to have the amazing opportunity to work at ENMU. In most institutions that I've been to, the professors and students only meet in classes and then are busy with their own work. At ENMU, I feel the instructors and students are a large family. We see each other daily and communicate well. The students are really motivated to learn. They ask me questions all the time, and I can see them working in the lab every day.
What did you enjoy the most?
I love the people here! Everyone is really nice. Although I am new here, I never feel alone. My mentor checks on me almost every day and gives me helpful advice. My students would stop by my office and provide feedback on the class from time to time. Even my online students send me emails discussing the course, but also share their thoughts about the profession, or send inspiring engineering-related videos they saw online (e.g., a "transistor logic" calculator with a special design for RAM).
What advice or tips would you give to new faculty?
Communication always helps! I have learned a lot from communicating with my mentor, my colleagues and my students. It not only helps improve my teaching strategies but also provides me an opportunity to get closer to my colleagues and students. I really enjoy walking into my building and seeing so many friendly faces every day.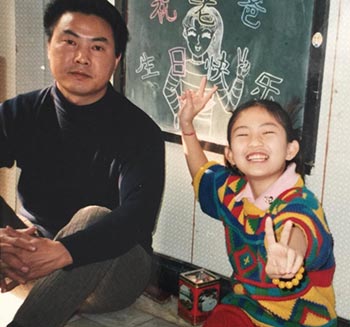 What was your most memorable moment or experience last semester?
At the end of the semester, one of my students sent me a card with a lot of kind words (two-pages long) saying how she enjoyed my class. It made me feel so happy. I was the happiest person in the world at the moment. I think this is one of the best parts of this job. I also started to think that being a teacher is the best job in the world. We can help a lot of people to do better in their life, and we don't need to see people suffer (I mean physically) like doctors do.
What does being a teacher at ENMU mean to you?
It means that my dream finally came true. Since childhood, I wanted to be a teacher. My favorite toy when I was in elementary school was a small blackboard in my bedroom. I liked to hide in my room and pretend to be a teacher. I actually gave lectures (to no audience) about what I'd just learned in school. When I grew up, my dream job became more specific: teaching engineering courses in a university. I remember during my Ph.D. study, I saw a student saying how bored he was during a class. Then another student said: "What do you expect? It is an engineering course!" From that moment, I kept thinking of how to make engineering courses more fun. When I teach at ENMU, I finally have the wonderful opportunity to work on it. Here, the quality of teaching does matter, and our efforts on teaching are appreciated. The class sizes are small, so I could have more opportunities to interact with my students. Making engineering courses fun is challenging, and I still have a long way to go, so I really appreciate the great opportunity I have at ENMU. I learned a lot from the teaching experience here and feedback I get from my students.