If you are about to begin your Eastern Experience as a new freshman or transfer student at Eastern New Mexico University, this article is for you!
As a new member of the Greyhound family you will learn about ENMU during the six steps of registration. Make sure to set up your individual appointment for registration by calling 575.562.2178.
Start your journey to student success in six easy steps:
Step One: Enrollment Services/Transfer Center
Your starting point is in room 107 of the Student Academic Services (SAS) building. This is where you will get to see some of the people who have been helping you along the way as you applied to admission at ENMU. They'll review your schedule for the day and help you set up your MyENMU portal account and email account.
Quick tip: Need a map of campus to prepare for your ENMU trip? Visit http://www.enmu.edu/visit/campus-map
Step Two: Advising Center (New Freshman)/Transfer Center (New Transfers)
If you are a new freshman, you'll head upstairs in SAS to room 214. If you are a new transfer, you'll remain in SAS room 107.
Our advisors will help you create a customized class schedule for the fall semester. You can declare a major to start preparing for the awesome career you'll have as a Greyhound grad.
Step Three: Student Affairs/Housing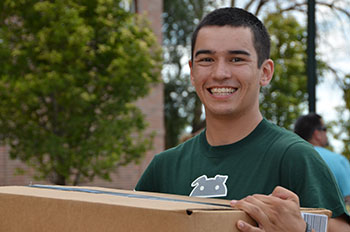 Moving on to moving in. Head to SAS 194 to learn about student services, including Dawg Days – your first student activity of the semester.
This stop will include setting up your emergency notification, making decisions about who can see your educational records, learning about direct deposits for refunds and getting introduced
to our online payment service.
You'll also check the status of your roommate assignment or roommate request… a.k.a. your first Greyhound BFF.
Step Four: Student Accounts
Visit Administration Building Room 114 to speak with a student account specialist about estimated costs, charging textbooks to your account, direct deposits for refunds and our online payment service.
Step Five: Financial Aid/Scholarships/Student Employment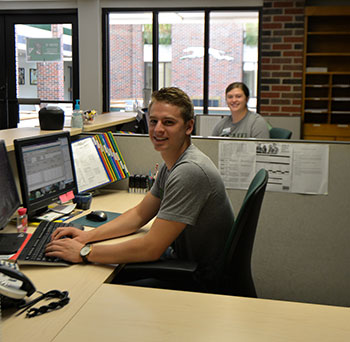 This steps covers the green in Green and Silver. Return to SAS 107 to meet with financial aid specialists.
They'll fill you in on scholarships and student employee eligibility, how your scholarship and/or financial aid will be applied to your account and how to accept financial aid awards.
Step Six: Enrollment Services
This is your last stop to becoming a Greyhound! No need to travel far; you'll still be room 107 for this step.
Say cheese for your student ID photo, fill out a request for any missing transcripts, complete a short survey and review your MyENMU Portal account.
Did we mention you get a free 2017 class t-shirt? Score!
Next Steps:
You can login to the portal at my.enmu.edu to check your schedule, review campus services and housing information, look over your student account, find out the amount of your scholarship award and check to see if your transcripts have been received.
Get ready for Dawg Days, a series of programs and events designed to help you prepare for college life, starting August 19. There will be a family community fair with a barbeque and pep rally, a student organization fair to meet with campus organizations and more. Visit enmu.edu/dawgdays for more information.
You can also follow ENMU on Facebook (GOENMU), Instagram (@ENMU), Twitter (@ENMU) and Snapchat (GOENMU) for updates about campus events and news. Use #ENMU on social media during your six-step registration to let the world know you are part of the Greyhound family.
For more information about registration, call Enrollment Services at 575.562.2178.