Gene Bundy, special collections librarian, has been a fixture at Eastern New Mexico University since becoming a full-time employee on Nov. 6, 1991.
He is responsible for the University Archives, the New Mexico History Collection and the Jack Williamson Science Fiction Library. Gene shared that the Jack Williamson Science Fiction Library is "possibly the third largest Science fiction collection in the U.S. that is open to the public."
Gene began as an assistant Mary Jo Walker, director of the Golden Library. He spent eight months directing the Instructional Resource Center while it was still in the College of Education.
"There has been lots to enjoy: helping students find a book for Dr. Parker's history class and for Dr. Hulett's reading class; helping anyone find a book to read for pleasure; talking to new faculty about interesting places to go for a weekend getaway or vacation in New Mexico; ordering new books; finding a fascinating old book I hadn't read; watching a student employee when they discover something really unusual in Special Collections.
"But, my favorite thing used to be having a class of elementary students or a family come in and give them the 25-cent tour. Watching the expression on their faces when I got out the big book, the little book, or showed them a fore-edge painting (a scene painted on the edges of the pages of a book) really made my day," Gene said.
His least favorite part of the job is that "I don't see any way we will be able to do the spontaneous 25-cent tour anymore."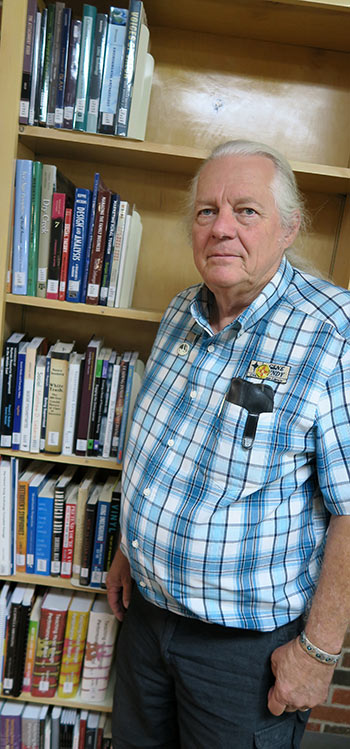 Gene came to ENMU as a freshman in fall 1967, got married in April 1969, then transferred to Northern Arizona University in fall 1969. He attended ENMU-Roswell in 1973 and 1974. He graduated, "finally," from Portales in May 1990. As a student, he worked in Special Collections for two semesters.
He worked toward a Master of Library Science degree at the University of North Texas.
He was hired at ENMU by being "in the right place at the right time," and has held a myriad of other jobs, including spending about 20 years in retail sales.
Retail sales brought Gene back to Portales when he had a choice of working here or in Farmington.
Gene drives his wife, Geni Flores, a bilingual education instructor for ENMU, around New Mexico to deliver classes. They visit museums, historical sites and archaeological sites during their journeys.
"My life has pretty much been on an even keel with life's normal ups and downs," Gene said. "The two worst times were the four years watching Janis [his first wife] die and the 27 'looong' months in the Navy."
Born in Enid, Oklahoma, his family moved to Albuquerque just before Gene's 10th birthday. His mother was a public school teacher. Gene has two brothers and five step-siblings. His youngest brother is retired, and the middle brother received a technical Oscar at the Academy Awards this year.
"I got lucky once when Janis Copeland married me, or let me marry her, in 1969," Gene said. "We have two daughters, seven grandchildren and four great-grandchildren. I got lucky a second time when Geni Flores consented to marry me in 2013."
Gene's personal goal is "to live until I die. There are so many books left to read in our house, plus all those I've purchased for the University, plus all those not yet written."
Gene says his philosophy of life is, "The sun goes down, the sun comes up, another day has begun. Be kind. Be gentle. Try to help someone each day. Take care of Mother Earth; she sustains us."
Politically active, he is at least a third-generation union member.
"I came of age during the 1960's and saw the possibilities," Gene said. "I'm very disappointed in the way the U. S. has gone backward. For so many people in the U. S., the 20th century was not a great time to be alive. Why would we want to go back to those times?"
He said that both of his wives have "really made me better than I ever would have been on my own.
"I have really loved working in Special Collections in Golden Library," he added.
Gene, whose ultimate career goal is "to retire someday," does not have a bucket list because "I barely know what that means."
Gene's thoughts about mortality?
"Everything dies. I just hope we don't totally destroy Mother Earth."
Note from the Author: Wendel Sloan has known Gene Bundy for decades since they played on a Presbyterian coed softball team in Portales.
The Bundys also adopted a male cocker spaniel, Dandy, from Wendel to breed with their female cocker spaniel. Although no offspring were produced, Dandy watched guard over a newborn granddaughter in their house—getting defensive toward anyone who came near her.
Gene and his wife, Geni Flores, have also attended many political functions with Wendel—locally and out-of-town.