Former President's Ambassador Lake Baker was recently hired as a recruiter in the Office of Enrollment Services at Eastern New Mexico University. He explained that his new job is the "advanced version" of a President's Ambassador, who serve as representatives of ENMU to students.
Lake graduated in May with a bachelor's degree in communication with an emphasis in public relations and a minor in history.
"Communication was my sister's major, and she recommended that I try it because I really wasn't sure what I wanted to go into," said Lake.
Growing up in Estancia, New Mexico, Lake lived "that ranch life."
"I heard about Eastern when I was looking at colleges. Some of my friends had come here, but I didn't actually know about it until I looked it up on the internet and saw the program for communication."
After his first year of school, Lake decided that public relations was something he wanted to pursue. He learned fundamental professional and PR skills which continue to help him in his new job.
"I loved what I learned in my classes. They proved very beneficial because I learned how to represent an organization, so representing the University [as a PA, and now as a recruiter] ties right into my degree," said Lake.
During his undergraduate career, Lake was the president and vice president of the Communication Club and received a leadership award as a PA. He participated in Eastern in Actin and Up 'Til Dawn.
He had an internship at the Food Bank of Eastern New Mexico writing press releases, creating flyers and planned food drives and events.
Former ENMU President Dr. Steven Gamble and Dr. Patricia Dobson were two leaders that had a tremendous impact on him. He describes Gamble as a "stellar leader who is always helpful with students" and Dobson as an "encouraging advisor" who helped him find internships.
Everything he experienced as an undergraduate gave him a solid foundation and framework for working with prospective students.
"I enjoyed my time here. I felt very prepared to go out and get a job, and I felt prepared for the future; wherever my career may take me. Well, I have a job now," he said.
Lake saw the recruiter position was open after he graduated, so he applied.
"I was excited this popped up because I would have to opportunity to recruit students. I thought applying for this job sounded like a great idea," Lake said. "One of the reasons I appreciate this job so much is that I already know Eastern and I love it. I'm really excited to share that with potential students."
He is in charge of recruiting a certain area of the state. His job is to do high school visits, asking students questions and getting all the information he needs for their applications.
The transition from PA to recruiter was "a little bit tough," because Lake is getting used to the "fine details of working technology."
For now, he is excited to have "my own cubicle, which I have yet to decorate."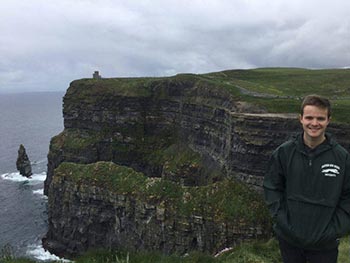 Before taking a trip to the Student Academic Services (SAS) building to say "hi" to Lake, there are a few things you should know about ENMU's new recruiter:
First, Lake loves ENMU, which makes him qualified for anything ENMU-related.
Second, he enjoys nature and being outside. He especially enjoys hiking because he used to live near mountains in Estancia.
Third, he just spent the summer traveling to Ireland, New York City, Utah, Colorado and Wyoming before becoming a recruiter. Ask him about the Cliffs of Moher, which he just crossed off his bucket list.
Fourth, he loves all food. Put it in front of him, and he will probably eat it. However, coffee is his all-time favorite thing, not food, but thing. He is dependent on it.
"I would say a vast majority of communication students are dependent on coffee," explains Lake.
Fifth, his ultimate goal is to start a PR firm in a large city, which he says is years and years down the road.