Eastern New Mexico University has been on Dr. Stephanie Beinlich's list of schools to teach at for a couple of years.
Originally from Marquette, Michigan next to Lake Superior, the new ENMU professor of music has conquered the Midwest and even experienced the Deep South. Now, she is excited to dig into the Southwest through hiking, whitewater rafting and attending the Albuquerque International Balloon Fiesta.
"It was a long road here. My undergrad degree is in music education with a choral emphasis, and I did both my masters and doctorate in vocal performance," explained Stephanie, who attended Western Michigan University for her bachelor's degree and University of South Carolina for her master's degree and doctoral degree.
Stephanie's life has always involved music. Her family isn't especially musical, but they are appreciative of music. Her father is a classic rock devotee, who can sing lyrics anywhere from 1970 to 1985, and her parents took her sister and her to musicals and concerts all the time.
"I love classic rock more than anything else. My mom liked the pop-end of things," said Stephanie. "[My parents] went to every concert I ever gave. They helped encourage me and supported me, and it's finally starting pay off, so it is really great for me and them."
Her older sister is a preschool teacher who sings all the time. "She constantly tells me stories about how her kids tease her for not being a great singer, but I think her love of music still inspires me," she said.
Throughout high school and college, Stephanie played the violin and participated in choirs, orchestras, dramas, musical theatre, forensics and public speaking. She explained that public speaking is good for musicians because "whether you're a vocalist or not, you have to get used to people looking at you."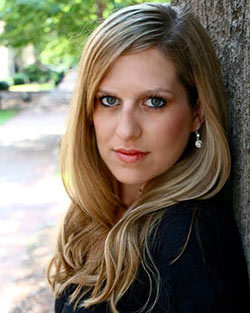 In graduate school, Stephanie did a lot of opera. Her favorite show she's performed in is "Candide," and her favorite Italian Opera is "Rigoletto."
In 2011, she sang the Brahms' "Requiem" in an ensemble nominated for a Grammy in "Best Choral Recording."
"It was an incredible experience and really cool to have it on my resume even though I was with 50 other people."
Stephanie says it took her a while to figure out what she wanted to do in musical education but she realized she wanted to work one-on-one with older students, which is what she does now.
"I figured out at the end [of college] that I can't be anything else but a musician. That's who I am, and I've spent the last two years bouncing around the country, getting my education and going where it leads me," she said.
Focusing one-on-one with students and on pedagogy, the science of music, Stephanie's philosophy is that everybody can sing. Pedagogy is how sound is produced when singing and how voice is created in the body.
"It's a pretty unique instrument [because it's] in our body, and you can't just take it out and clean when it's not working right. It's a fascinating science," said Stephanie.
"The voice is completely internal. It is completely who you are. A lot insecurity comes with young singers in that if they don't sound good, they can't blame it on an instrument or anything else because it's totally them.
She explains lessons are challenging but rewarding because she sees students that have struggled with something they can't fix in their body or in their mind, such as hitting a note, finishing a phrase or pronouncing a language correctly.
Her goal is to encourage students in their individual strengths, because the little successes are what make her go home and think, "I can't wait to go back to work tomorrow."
"We need to be careful about what our expectations are and be realistic about what's possible for us, but that's why there are experts in the field who can you help you figure out what you want to do with your singing," she said.
Stephanie still teaches students who aren't music majors, including adults far out of college who love to sing.
"I always ask what they want to get out of this. Some will say they don't want to sing alone, but sing in a choir or feel more confident when they sing the hymn at church. Great, I can help you with that," she said. "I think as long as you're realistic about your expectations, everyone can be a great musician."
As an instructor at ENMU, she teaches individual voice lessons to students that come in an hour every week. They work on vocal techniques, talk about diction and vocal health and prepare repertoire in many languages. She says depending on their age levels, they work on improving skills they need or preparing them for recitals and auditions.
"From day one, students are inundated with pressure from faculty, students and what it's like to be a professional musician outside of school. I try to work with my students as individuals and as people. Sometimes, I feel like the music part comes second, and it's about making them strong adults," said Stephanie.
"It's really hard to be a professional musician [with the inevitable rejection and pressure financially], so I want my students to leave my studio feeling that they can be successful despite all of that. I want them to leave college and say, 'this is something I do really well and I am confident in this.'"
This coming year, Stephanie is looking forward to investing in students, seeing where her freshman are in two years and watching her students grow and develop.
"Since I've arrived for my interview, I have been so overwhelmed by the faculty and students because they are so welcoming," said Stephanie. "It really is a jewel here."
She is ready to dig into the music program and see how she can useful and bring her creative strengths. Eventually, she would like to be a tenured professor.
For right now, she is excited to have a piano in her office and show regional students that when they get out in the world, they will become more appreciative of what they have here at ENMU.