Esthela Banuelos, the tutoring and educational activities coordinator for TRIO Student Support Services at Eastern New Mexico University, was born in Mexico "in a town of little consequence. It is an oasis flanked on the left and right by mountain ranges. I think it was lovely."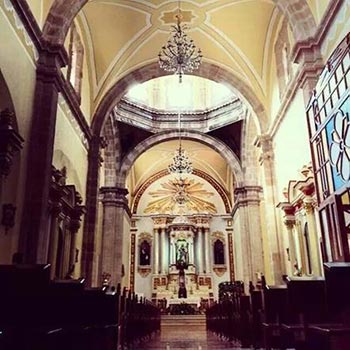 Esthela, who began working at ENMU in 2005, says what she likes most about her job is being able to provide guidance or input to students. "I don't have to give the answer; I just have to provide a starting point," she said.
What she enjoys least is "when it all fails for a student. Regardless of what we tried, or how often it was attempted, the situation could not be remedied. Yes, it's a learning situation, but still infuriating."
Before her job at ENMU, she worked at Doña Ana Branch Community College (previous name) as an adjunct instructor. Esthela taught lower-level mathematics in the Las Cruces branch and the Sunland Park branch campus. Although the commute to Sunland Park was close to an hour each way, she says it was a great time to get ready for classes and decompress.
Considering she came from a small town, Portales was a step up because it has more than one grocery store and three places to shop. She likes that "ENMU and Portales have a family feel to them."
A graduate of Tucumcari High School, she was active in the National Honor Society and Spanish Club. She was also a published writer in small magazines and created a magazine for her community college course.
Esthela has three degrees, including a bachelor's in mathematics with a bilingual education minor and a master's degree in education.
While working on her associate degree at Mesalands Community College in Tucumcari, she took an eclectic collection of classes – including shorthand, computer applications and computer programming ("I'm pretty good with HTML coding."), creative writing and anthropology. She also got to work with pouring bronze.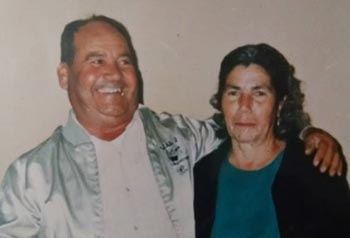 "I've always been interested in the educational field," Esthela said. "My parents always pushed me to go into education, but I think they wanted me to be a teacher, not an administrator."
Esthela says she prefers working behind the scenes, so her fantasy career includes being part of development, tech, engineering, an education company, etc., "with a goal of making something exciting that impacts the world."
Her hobbies include crocheting, which she took up at an early age because her grandmother did it, too.
"I like to sew and be crafty. I am a recovering Pinterest-holic," she joked.
After moving to the U.S., Esthela's family lived on a farm, and her parents insisted their five kids focus on school.
"Dad is a hard laborer," Esthela said. "He can weld, farm, drive anything with wheels and is extremely creative. Mom tried to keep peace in the house, a physical impossibility with all of us."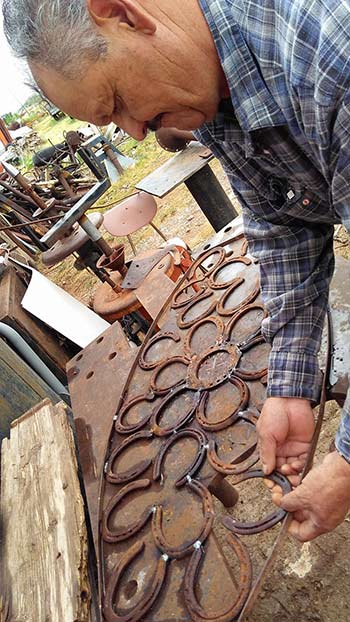 "It's hard to explain what our lives were like growing up, but I can tell you that the good times were good, and the bad times were bad. One memory is all the kids playing baseball in the yard. Our ultimate goal was to see who made the longest hit, the hardest hit and who ended up with the best bruise!"
"It's hard to explain what our lives were like growing up, but I can tell you that the good times were good, and the bad times were bad. One memory is all the kids playing baseball in the yard. Our ultimate goal was to see who made the longest hit, the hardest hit and who ended up with the best bruise!"
All the kids have an associate degree or higher, with two having master's degrees and two others in the process.
She has many happy moments. "Trying to figure out my favorite happy moment starts a landslide of memories about other happy moments."
She also has sad memories.
"My saddest moment was when it dawned on me that coming to the U.S. meant not seeing my grandmother and my grandfather every day. The other was returning to Mexico and seeing the devastation that flooding caused to my childhood home. As a child, we had floods, but the one that caused the most damage took most of our childhood pictures and mementos."
Esthela says, as the oldest of five children, she is the typical stereotype – "bossy."
Except for her youngest sister, she and her siblings were born in Mexico and came to the U.S. when young.
"I got to see my first snow during one of the harshest winters in New Mexico and wanted to go back to our desert oasis so badly," Esthela said. "My mother was educated and worked for the local government offices in Mexico, and my father worked at a secondary vocational school as an auto-tech instructor. Watching him put together a copper motor from scratch was fascinating."
Esthela says pets were part of farm life. Their dogs guarded the house, and, although they raised cattle, pigs and chickens for meat, these animals were also considered pets until it was time to eat them. "We couldn't bring ourselves to eat the ducks," she reminisced.
Her dad and his family were migrant workers in the U.S. who attained permanent residency with social security numbers. Esthela has also become a permanent resident, but not a citizen. She has all the rights of a citizen except to vote and run for office.
She received her permanent residency weeks before turning 21, when she could have been sent back to Mexico.
Esthela came to the U.S. at age nine and was part of a family amnesty immigration act that allowed her and her family to reside in the United States while applying for permanent residency. She can relate to the "Dreamers" children who were brought to the U.S. by non-citizen parents and now face the possibility of being sent back to Mexico. "There was always fear of being sent back for the smallest infractions on our part," she said.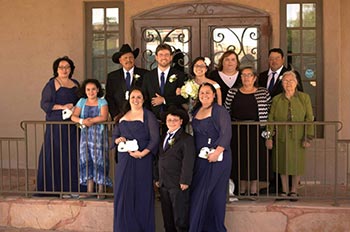 "Dreamers live in fear every day and are cautious about what they do. They are generally driven to be successful because they do not want to do anything that would get them in trouble," Esthela said. "The U.S. is all many have ever known, and some do not even speak Spanish and may not have relatives to stay with if they get sent back. Not all are from Mexico, and many were escaping violence in their home countries. Of course, there are always a few bad apples who give the rest a bad name."
Two of Esthela's sisters have become citizens: one in the Coast Guard who now works as a counselor in Clovis and another who works as an academic advisor at New Mexico State University. The sister who was born a citizen works for Lockheed Martin and her brother, a permanent resident, works in construction all over New Mexico and Texas.
Esthela's dream is to travel more, especially after retirement.
"I hear living on a cruise ship is pretty cheap," she jokes. "I am a pretty lazy person; I could spend a whole day wrapped in a blanket, drinking coffee and reading – just like I could spend the whole day people-watching. If I travel, it will be off the beaten path, no tourist spots, no well-explored sites, but the spots where the locals go to enjoy their countries."
One of the achievements Esthela is most proud of is "becoming a Gates Millennium Scholar, a full-ride scholarship that allowed me to attend ENMU with no worries of debt and carried me through my master's degree. This was a godsend to a money-strapped family."
Esthela's success has required persistence in overcoming self-doubts.
"I am here; I am worthy," she said. "I could have given up so many times because I felt that I did not belong, or I was not good enough. What keeps me going is family, the fact that if I don't try and do my best, my family will hold me accountable.
"I get the 'Did you actually do that? I know you know better. You have no excuse to hold back' statements that you make you think. So my philosophy of life is: 'At least try. The worse that could happen is that it doesn't work . . . this time.'"